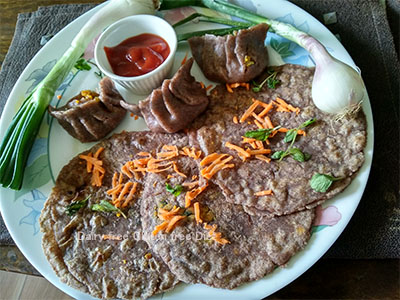 10 Dec

Sattu Ragi Momos & Parathas

Sattu is flour of toasted gram. Momos are steamed dumplings. Sattu Ragi Momos are momos using sattu flour. You can also make Paraths with this flour. 

The difference between sattu and besan is that while besan is flour of raw channa, sattu is the flour of  roasted channa. Also Sattu is slightly coarser than besan. It is quite a nutritious flour with low glycaemic index and so is believed to be safe for diabetics too. 

Momo is a steamed dumpling native to East and North eastern parts of India & Nepal. It hails from Tibet. Traditionally the filling was typically meat due to the scarcity of vegetables in Tibet. However, like all other dishes, it has evolved over a period so that vegetarians too can get the benefit of tasting this delicious dish.

Traditionally, momos use all purpose flour (maida) or wheat at times. However, I have used Ragi & rice flours to make it gluten free and filled them with sattu flour.  I must say Sattu and vegetarian momos are both my favourites.

While making momos with ragi flour filled with spiced up sattu flour, I realised that we can make our parathas too using the same ingredients. The result is this—Sattu Ragi momos and parathas.

However, you are free to make any one or both as per your wish and convenience.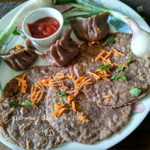 Print Recipe
Sattu Ragi Momos & Parathas
Ingredients
For Filling

1/2

cup

Sattu flour

1

green chilli finely chopped

Coriander leaves and mint leaves finely chopped

2

tbsp

onions finely cut

2

tbsp

carrots grated / finely chopped

1/2

tsp

caraway seeds (Ajwain / Omam)

1/2

tsp

chilli powder

1/2

tsp

coriander powder

1/4

tsp

cumin powder

1

tsp

lime juice

1

tsp

oil

salt to taste

For Momos & Parathas

1/4

cup

Ragi flour

1/4

cup

Rice flour

1

cup

water

1/2

tsp

oil

salt to taste
Instructions
Instructions for filling:

Mix all ingredients in a bowl thoroughly.

The mixture should not be dry.

Add little water and mix it till it becomes wet but still crumbly.

Instruction for momos :

Roast the flours separately till you get nice aroma. Do not over roast. Mix after roasting.

Boil water with salt and oil.

Once the water starts boiling, reduce flame and add the flour, constantly stirring till it forms a lump.

Cover and leave for 10 minutes.

When cooled, knead the dough, divide into lemon sized balls and roll into as thin roti as possible.

Cut into 3" rounds with the help of a cutter / katori

Take one round. Fill the centre with enough sattu filling. Make pleats on one side and stick with the other side.

Make all momos and steam for 7 to 10 minutes

Instructions for Parathas:

Divide the dough into lemon sized balls.

Roll into as thin rotis as possible

Take one roti and spread the filling.

Cover with another roti, seal the edges and lightly roll / pat gently with hands to make parathas.

Heat a skillet and roast the parathas till brown spots appear on both sides.
Notes
This measurement gives 6 momos and 3 parathas.