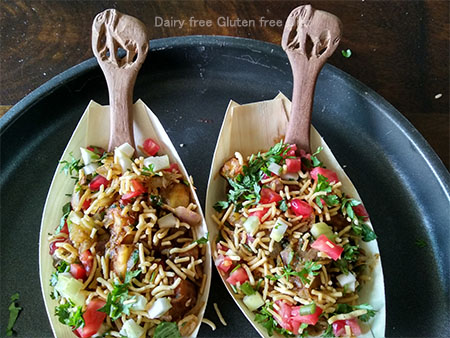 18 Dec

Sweet Potato Chaat

The word Chaat immediately brings to mind a sweet, sour, spicy & crunchy, snack. Sweet Potato Chaat is one such chaat. Though we call it a snack, it is one dish which can be relished any time of the day.

In India, chaat is almost a way life. Though it is originating from Uttar Pradesh, it is now popular all over India. In addtion you can find it practically everywhere including USA.

You may call it Gol gappa in Delhi and Pani puri in Mumbai, but the common denominator is, it is a "Chaat". At the end of the day, irrespective of social status, everyone loves chaat.

You need these to prepare a basic chaat: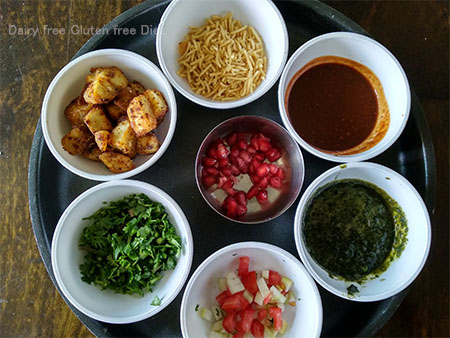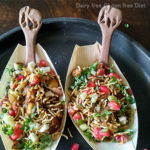 Print Recipe
Sweet Potato Chaat
Ingredients
1/2

cup

steamed (half cooked), peeled and cubed sweet potatoes

1/2

tsp

chilli flakes

2

tbsp

sev for decoration

2

tbsp

cucumber finely cut

2

tbsp

tomato (seeds removed) and finely cut

2

tbsp

onion finely chopped

1/4

cup

green chatni

1/4

cup

hot & sweet chatni

1

tsp

lime juice

Finely cut coriander

Pomegranate seeds for garnishing

salt to taste

1/2

tsp

oil

1/2

tsp

Chaat masala
Instructions
To make green chatni: grind coriander leaves, mint leaves, green chillies, salt and 1 tsp lime juice to a paste.

To make hot & sweet chatni, boil ¼ cup tamarind extract, ¼ cup jaggery powder, 1 tsp chilli powder, ½ tsp salt till it becomes thick.

Heat oil and sauté half boiled sweet potatoes, adding salt and chilli flakes. Sauté till the potato becomes brown.

In a bowl add onion, lime juice, some coriander leaves, half of tomato and cucumber, chaat masala & salt. MIx well.


Add sweet potatoes and mix.

Add little of both chatnis (as per taste) and mix well.

To serve, take 2 small plates / bowls.

Divide sweet potato onion mixture into 2 and add to the plates / bowls.

Add sev, as per your desire

Add balance tomato & cucumber. Add more chatni if you want

Garnish with coriander leaves and pomegranate seeds.
Notes
While adding salt, keep in mind that chaat masala has salt in it. So adjust accordingly.
You can top it with 2 tsp curd (dahi) if you want.
During mango season, you can add finely chopped mango to get a tangy taste. 
You can serve it right away or chilled too. 
You may find more healthy snack items here