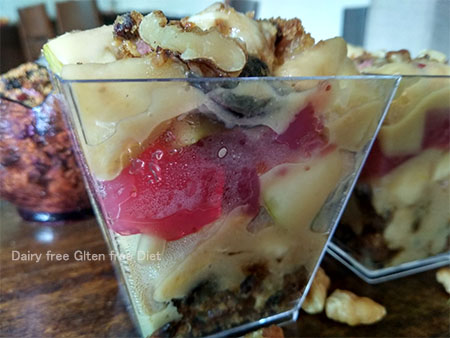 25 Dec

Trifle Pudding / Vegan & Gluten Free

Merry Christmas to all my dear readers. May Santa bring you joy & happiness in abundance. Celebrate Christmas with this Trifle pudding. 
As you all know, Christmas celebrations are incomplete without a dessert. That veganism and gluten free limits the variety of desserts is a myth. Trifle Pudding is the easiest and healthy dessert. Though the original recipe uses cream and sponge cakes, making a vegan & gluten free version is not all that difficult. All you require is gluten free cake, dairy free milk, corn flour, lots of fruits and agar agar powder (for setting the jelly). You can also use readymade custard powder in place of corn flour and store bought gluten free cake for this recipe.
However, I have already given recipes for gluten free cakes and written all about agar agar.
Once you collect these, all you need to do make the custard and the jelly and just assemble them. You have 2 options for assembling. Firstly in individual bowls or glasses. Secondly in one large bowl and serve portions individually.
I personally prefer to set them in individual bowls.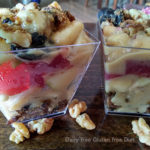 Print Recipe
Trifle Pudding
Ingredients
1

medium size any Gluten free eggless cake cut into cubes

1½

cups

almond milk

2

tbsp

corn flour

½

tsp

vanilla essence

2

tbsp

jaggery powder

2

cups

mixed fruits cut into bite size pieces

5 to 6

strawberries for making jelly

2

tbsp

date syrup

3

tsp

agar agar powder

1

cup

water

chopped nuts for garnishing
Instructions
To make the jelly:

Blend strawberries with a little water (from 1 cup) & date syrup to a smooth consistency. Add the balance water and agar agar powder and blend again till everything blends well. Boil till it thickens. Pour in a flat vessel and let it set.

To make the fruit custard:

Blend the corn flour with almond milk and boil till it thickens to custard consistency. Cool and add jaggery powder and the cut fruits. Mix well.

To assemble:

Take individual bowls or glasses.

First arrange the cake cubes at the bottom in all bowls.

Pour 2 tbsp of fruit custard on top.

Cut the jelly into pieces and add on top of the custard.

Repeat the layers and end with fruit custard.

Garnish with chopped nuts.
Notes
You can use ready made custard powder in place of corn flour. 
For making jelly, you can use any fruit crush / pulp if you have in place of fresh fruits. 
Any dairy free milk other than coconut milk, either home made or store bought, can be used to make custard. I personally avoid using Soya products and hence avoid soya milk.