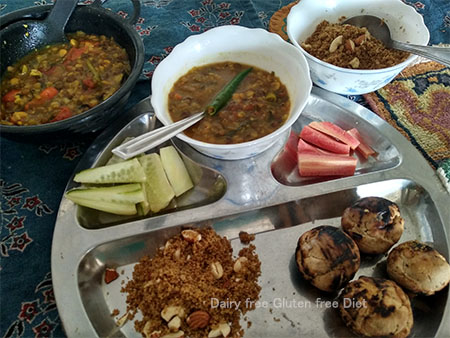 12 Jan

Dal Baati Churma

True to the format of this site this is #Dairyfree, #Glutenfree, #whitesugarfree, #oilfree, #gheefree Dal Baati Churma 

The one dish that I have always loved from Rajasthani cuisine is this Dal Baati Churma. The protein filled spicy panchmel dal, carbs in the form of Baati and sweet Churma with nuts make it an uniquely flavoured one pot meal. It also provides ample nutrition. This dish bowled me over the first time I tasted it in Jaipur years ago. It never ceases to delight me till this day.

Generally, wheat flour goes to make Baatis. Though whole wheat flour is healthier than refined flour, those who are sensitive to gluten can stay assured that they can have gluten free version.

Ever since I became gluten sensitive, I make this with jowar flour. Today I tried adding Rajgira flour with Jowar flour and made this baati. Rajgira atta makes it healthier and soft.

Secondly, traditional Rajasthani recipe soaks the baatis in lot of ghee before consuming. Perhaps because, being an arid region, Rajasthan has extreme weather conditions and ghee helps you in keeping warm.

Of course, they say ghee is good in moderation. But again, it depends on how you look at it. For me, by default, I avoid ghee. So I brushed the baatis with coconut cream. However, if you feel so, you can use ghee. Though I wish you do not soak them in ghee ? but just brush ghee on top.

Lastly, the dal for this recipe refers to Panchmel Dal for which I have already posted the recipe. You can check the link here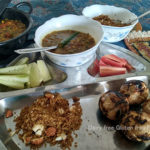 Print Recipe
Dal Baati Churma
I have used standard measuring cups for this recipe. 1 cup= 250 ml
For Baati
Ingredients
1/2

cup

Jowar flour

1/2

cup

Rajgira flour

1

tbsp

coconut milk

1

tsp

caraway seeds (ajwain / omam)

Salt to taste
Instructions
Keep adding water slowly and knead to a tight dough. It should be stiff.

Shape them into small lemon sized balls.

Switch on the gas and keep a steel wire rack on the flame.

Keep the balls on the wire rack & roast baatis directly on the flame. Keep the flame low.

Keep rotating them to make sure that they get cooked all over.

Roast them till they are crusty. This way, they have a rustic look.

Brush baatis with thick coconut milk / coconut cream. (Optional)
For Churma
Ingredients
2

baatis

1/3

cup

jaggery powder

2

tbsp

coconut milk

1/8

tsp

cardamom powder

2

tbsp

chopped almonds and cashews
Instructions
Take 2 baatis and break into small pieces with your hands and blend in a mixer into a fine powder.

Dry roast the almond and cashew and add ground powder.

Dry roast till it becomes warm.

Switch off the gas and add the jaggery powder while the mixture is still warm.

Add cardamom for flavor and mix all.