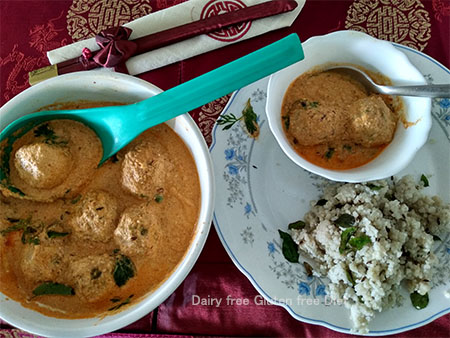 28 Feb

Palak Kofta in Peanut Kadhi

Kadhi is a favourite food in India that has Curd / Yoghurt as its basic ingredient. Kofta on the other hand, originates from Middle Eastern and Central Asian cuisines. Thus Palak Kofta in Peanut Kadhi is the amalgam of both. 

Kadhi is popular across the cuisines of India. Each region may call it by different names. Each cuisine may use different other ingredients to embellish it to make it tasty and flavourful. But the fact remains that it is the most comfort food. Very versatile & Sathwik food that can be made on any occasion be it a celebration or when someone is sick. By default, I have used Groundnut Curd in this recipe.

In the simplest form, traditional koftas were balls of ground meat mixed with spices, garlic and onions. However Indian cuisine converted it to an interesting element replacing the meat with vegetables, paneer, malai, etc. In general, you need to deep fry the koftas in oil to make it tasty. That makes Koftas not as comfort food as kadhi since overdose of fried foods can cause restlessness mentally as well as physically.

Hence, in this recipe, I have made koftas by steaming them and not deep frying. Further, adding Palak (Spinach) makes this palak Kofta in peanut kadhi more nutritious.
Palak Kofta in Peanut Kadhi
This recipe use standard measuring cups. 1 cup= 250 ml
Palak Kofta
this recipe uses standard measuring cups. 1 cup = 250 ml
Ingredients
½ cup Channa dal

¼ cup Masoor dal

2 green chillies

½ cup tightly packed Palak (spinach) chopped finely

Salt to taste
Instructions
Soak the dals together for 2 hrs.

Drain the water completely and grind the dals and green chillies to a coarse paste without adding water. Just pulse them in the mixer.

Add finely chopped palak and give it two or three more pulses.

Add salt, make lemon sized balls and steam them in a sieve for approximately for 5 minutes. The koftas should be firm but not hard.
For the Kadhi
Ingredients
1 cup thick Groundnut curd

¼ cup roasted peanuts

2 tbsp fresh grated coconut / 1tbsp desiccated coconut

1 tbsp coriander seeds

1 tsp cumin seeds

2 dry red chillies

½ tsp Turmeric powder

Salt to taste

FOR TEMPERING

1 tsp oil

1 tsp cumin seeds

4 cloves

1" piece cinnamon stick
Instructions
Grind the ingredients for kadhi to a fine paste adding enough water.

Mix with beaten curd and adjust the consistency. Add more water if you feel it is too thick.

In a skillet, heat oil and add cumin seeds, cloves and cinnamon stick.

Pour the kadhi and bring to a boil.

Add the koftas and boil on low flame till the koftas absorb the flavours of kadhi.

The koftas will start floating when they are done.

If the kadhi has thickened a lot, add more water and bring to desired consistency.
Notes
You can use normal curd if you are a non vegan
Adjust the spice level and thickness as per your desired levels.
Serve with Jeera rice or parathas