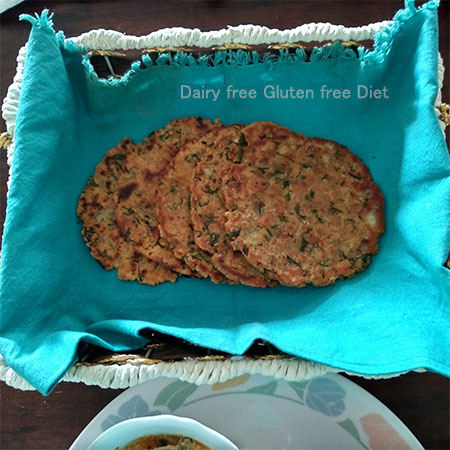 26 Feb

Rajgira Paratha / Gluten free Paratha

Rajgira paratha /Amaranth Flatbread. In North India, Rajgira is the favourite flour for Upvas / Vrat days. Ramdana as it is known in some regions of India, is power house of nutrients. But it does not mean that we cannot make these healthy parathas on normal days as well. Rajgira paratha an all time favourite in many households as a healthy substitute for gluten.

Amaranth is very healthy grain that is native of India. Aamaranth leaves make the best sabzi. Popped Amaranth seeds are excellent for tasty porridge and health bars / laddus.  I deem it as a counterpart of Quinoa which is native of South America. I have always maintained this concept of eating regional & seasonal food than going in for fancy food from other regions.

As in all gluten free flour, Amaranth flour also is tricky to roll. Adding boiled Potato takes care of this issue.  Keeping them between 2 baking sheets and pressing them gently with a Roti / Tortilla maker makes the job even easier. As they stay soft for several hours, they make a good item for tiffin box both for children and elders.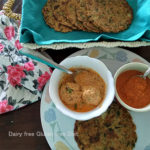 Print Recipe
Rajgira Paratha
This recipe uses standard measuring cups. I cup= 250 ml
Ingredients
½ cup Rajgira atta

½ cup boiled and mashed potatoes

½ cup fresh coriander finely chopped

1 green chilli finely chopped

½ tsp turmeric powder

½ tsp cumin powder

½ tsp chilli powder

½ tsp coriander powder

½ tsp jaggery powder

Salt to taste

1 tbsp dairy free curd (non-vegans can use normal curd)
Instructions
Mix all dry masalas with rajgira atta

Add mashed potatoes and coriander leaves.

Mix everything thoroughly.

Add curd and knead into a stiff and pliable dough.

You may not require additional water. Amount of water required depends on the quality of the flour and wetness of potatoes.

Make small balls, keep between two oiled baking sheets / plastic sheets in a roti maker and gently press.

Remove the top sheet, gently peel the lower sheet either keeping it inverted in your left hand or directly on the skillet.

Roast till brown spots appear on both sides.
Notes
You can adjust the spice levels as per your family levels.
This paratha stays good even for 3 days. 
Serve with Kadhi or Plain curd & Red capsicum Chatni