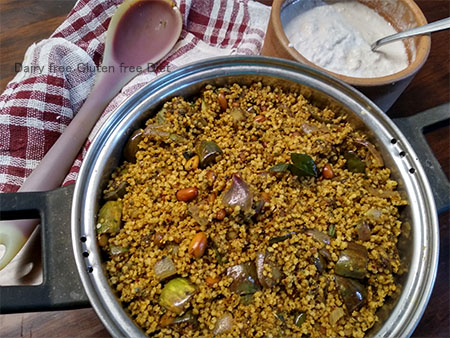 22 Feb

Vaangi Bhaat / Brinjal Curry leaves Bhaat

Brinjal rice or Vaangi bhaat is quite a popular dish both in South India and Maharashtra. I have already shared a Maharashtrian favourite dish Masale Bhaat using brinjal and ivy gourd (Tendli / Tindora / Kovakkai). This Vaangi bhaat uses lots of curry leaves that a friend had given me from her tree. You can feel the flavour of Curry leaves taking the recipe to a different level. That marks the difference between normal Vaangi Bhaat and this dish.

I have also used Foxtail Millet (Thinai / Navane / Kang / Rala) to make this dish. Millets are the best substitutes for Gluten, These are very ancient grains that were forgotten for some time and are gaining their legitimate place in recent times. The frequent gluten intolerance occurrences, point towards the consumption of these nutritious grains.

Brinjal is recommended by health specialists for its capacity to boost overall health and wellbeing. Many vegetarians do not like brinjal equating it to sea food. But it is low in calories, so it can contribute to a healthful, low-calorie diet.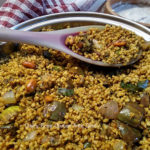 Print Recipe
Brinjal Curry leaves Bhaat
Ingredients
2 cups cooked Millet / rice (You can us any millet / rice. Make sure it is not mushy)

2 cups Brinjal cut into cubes

½ cup onion chopped medium

1 tsp oil

1 tsp mustard seeds

1 tsp urad dal

2 tsp roasted peanuts

½ tsp turmeric powder

Salt to taste

For the masala

4 broken dry red chillies

½ cup tightly packed curry leaves (washed and pat dried)

2 tsp coriander seeds

2 tsp sesame seeds

2 tsp roasted peanuts

2 tsp channa dal

1 tsp cumin seeds

1 tsp fennel seeds (saunf)

1 tsp urad dal

4 tsp desiccated coconut

½ tsp fenugreek seeds (methi)

½ tsp oil
Instructions
In a skillet heat ½ tsp oil and roast the red chillies for few minutes. Then add the curry leaves and roast for few more minutes. Do not over roast. Curry leaves should not lose colour.

In the same skillet, add all other ingredients and roast for few minutes. Just to make them hot enough to powder in the mixer.

Mix with chilli and curry leaves and grind all to a coarse powder.

Heat 1 tsp oil in the same skillet, add mustard seeds, urad dal, channa dal and roasted peanuts .

Once they are roasted, add onion and sauté till onion becomes translucent.

Add the brinjal pieces and sauté further till they become soft and cooked well.

Add salt and turmeric powder.

Add the ¾ of masala powder (keep few spoons in reserve) and mix well.

In a broad vessel, add the cooked millet. Make sure its not mushy.

Add the brinjal mixture and mix well (as for Tamarind rice).

Adjust the seasoning. Add the balance masala powder if need be. Otherwise it can be stored and used in any other curry.
Notes
Pl use the masala powder as per your family's spice requirements. 
The balance masala can be stored in an airtight container in the frig for many days. 
You can use Rice or any millet. this recipe can be prepared with leftover rice too. 
Serve hot with plain curd (I have used groundnut curd)