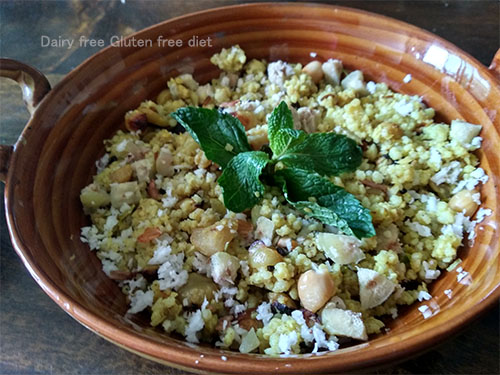 26 Mar

Ara Nellikkai Saadam with Millet

Ara nellikkai is a variety of gooseberry that is small in stature. It's other names are Harfarauri (Marathi, Hindi, Urdu), Rajamvali (Konkani).  In other regions of the world, they call it Country gooseberry, Star gooseberry, Starberry or simply Gooseberry. South Indian homes are famous for making pickle with these berries. This Ara Nellikkai Saadam is prepared healthy Kodo Millet.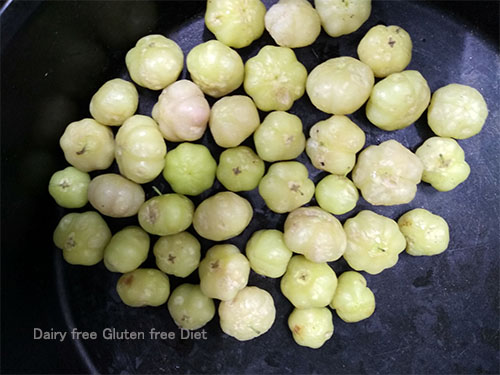 By nature this variety of gooseberry is more juicier and fleshier than its counterpart, the normal Amla (gooseberry).  However, it is overwhelmingly sour. Hence you need to take care when adding it to cooked millets. Else the dish might become too sour.
On the other hand, Aranelli has many therapeutic values that helps in curing many illnesses.
Mixed with any millet, this Ara nellikkai Saadam makes a nutritious and healthy main course dish as well as one that is great for lunch box.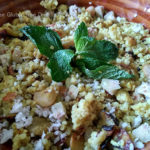 Print Recipe
Ara Nellikkai Saadam with Millet
Ingredients
1 to 1½ cups cooked kodo millet

1/3 to ¼ cup finely chopped Gooseberries (seeds removed)

-------------

grind to a coarse paste:

3 green chillies

1" piece ginger

2 tbsp fresh grated coconut

Handful of coriander leaves

1/2 tsp cumin seeds

Few mint leaves (optional)

--------------

For tempering:

1 tsp oil

1 tsp mustard seeds

1 tsp urad dal

1 tsp channa dal

1 tbsp roasted peanuts

Pinch of asafoetida

Salt to taste

Few curry leaves

1/4 tsp turmeric powder
Instructions
Grind green chillies, ginger, coconut, coriander and mint leaves to a coarse paste adding little water.

Heat oil, splutter the mustard seeds and add the dals & peanuts and sauté till they become brown.

Add chopped gooseberries, turmeric powder & curry leaves and sauté further for few more minutes till gooseberries get cooked.

Let the gooseberries be crunchy. Do not overcook.

Add the coconut paste and mix well.

Mix the cooked millet and adjust seasoning.
Notes
I used Kodo Millet (Varagu). However you can use any millet. 
The ratio of gooseberries : rice varies depending on the sourness of berries. Hence adjust accordingly. 
Serve with plain dairy free curd (normal curd for non-vegans)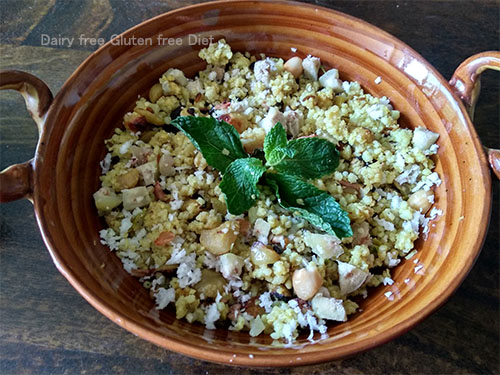 Check here for more healthy Millet recipes