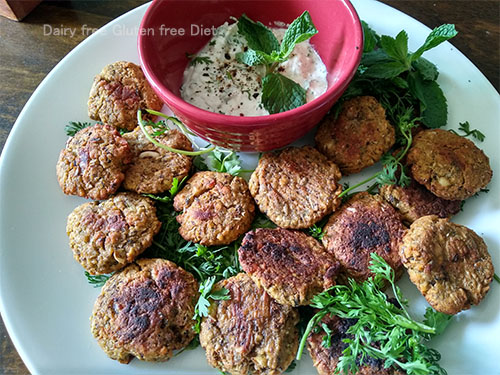 18 Mar

Baked Falafel with Black eyed beans

A famous food from Arab country, Falafel is fried fritters that uses chickpeas. This is a falafel with a difference– Baked Falafel with Black Eyed beans. Blackeyed beans are Karamani in Tamil, Chawli in Marathi & Hindi, Lobia in English, Alasande kalu in Kannada & Bobbarlu in Telugu

Coming from a predominantly meat-eating country, Falafel is surprisingly a vegan food. Perhaps, Falafel was created to compensate for the protein in the meat. It is relatively low in fat, high in proteins and has no cholesterol as long as you do not deep fry them. Falafel generally is stuffed in Pita bread  and topped with plenty of raw vegetables. This makes Falafel a nourishing meal in itself.

Not surprisingly, It is a number one fast food in Israel and Middle East where you can see numerous Falafel stands and fast food restaurants that serve Falafel.

However, I wanted to make this Falafel with Black eyed beans (Chawli beans / Karamani) oil free. So I baked a few and roasted few in cast iron skillet without oil, for the sake of people with no oven. Both had same results. Enjoy this oil free Baked Falafel

To confirm lastly, its a zero oil recipe, for those who would like to avoid oil altogether for various reasons.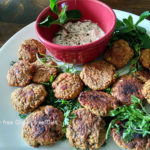 Print Recipe
Baked Falafel with Black eyed beans
Ingredients
½ cup Black eyed beans

1 medium onion roughly cut

Handful chopped coriander leaves

3 cloves garlic

½ tsp chilli powder

¼ tsp cumin powder

¼ tsp cumin powder
Instructions
Soak the Black eyed beans in water for 2 hours.

In a food processor / mixer, pulse all ingredients except the beans

Once they are done, add the beans and pulse to a coarse paste without adding water.

Make sure not to make paste like consistency. It should be Dal vada consistency.

If the mixture is too wet, add 2 tablespoon of besan to thicken and mix thoroughly.

Make lemon sized balls & flatten them.

EITHER bake them at 200˚ for 10 to 15 minutes each side OR roast them in cast iron / heavy skillet without oil.

Serve stuffed in Pita bread / with hummus / plain salad
Serve with Yoghurt Dip.
To make the yoghurt dip, hang dairy free yoghurt in a muslin cloth. Grate the cucumber & strain the juice. Mix hung curd, cucumber pulp, coriander leaves, mint leaves, salt and pepper powder.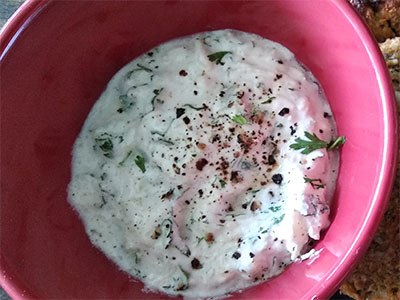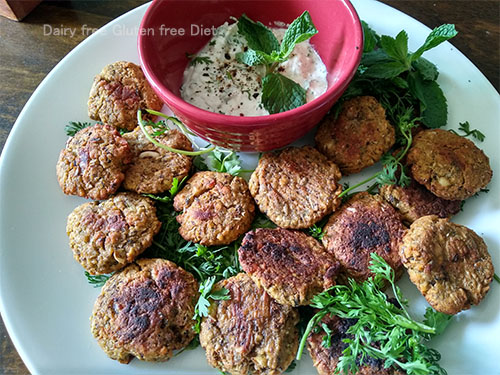 You may also check for more International Recipes