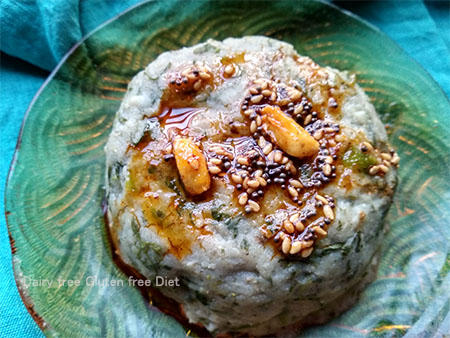 05 May

Bajra Khichu Recipe / Gujarati Khichu

Khichu is a very famous street food in Gujarat, India. Its normally made with Rice flour and hence is also known as Papdi no Lot which is a dough to make traditional Rice Papads. I have made healthy millet Bajra Khichu.

Indian cooking has amazing varieties.Our ancestors have innovated different healthy recipes. Bajra Khichu is equvivalent of Mor kali in Tamil Nadu, Pitla in Maharashta, etc. Most of them, unfortunately have given way to fast foods and street foods with processed flours. Recipes such as Khichu, Mor kali, Pitla, etc have to be revived and made atleast once month to make the younger generation familiar with these foods.  Every region has such recipe in their vault.

Traditionally it's a home-made snack. But of late, it has gained popularity as a street food. Many streets and stalls in Gujarat serve this for breakfast. Secondly, moms used to serve Khichu with a drizzle of raw peanut oil. But with the onset of craze for street foods, street vendors serve Khichu with garlic flavoured tempering on top.

It's a simple, easy to make and delicious snack that is easy on the stomach. You can make Khichu with many flours like Wheat flour, Jowar flour, Bajra flour, Ragi flour, etc.

This Bajra Khichu is a must try specially in winter. Serve it really hot.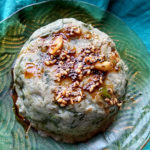 Print Recipe
Bajra Khichu
Ingredients
1 cup Bajra flour

2 green chillies

1 tablespoon coriander leaves chopped

½ tblsp cumin seeds

Salt to taste

2½ cups water

1 tsp oil

Few curry leaves chopped

-------------

For tempering

1 tsp oil

1 tsp chilli powder

1 tsp sesame seeds

1 tsp mustard seeds

Pinch of asafoetida

1 tsp chopped garlic (optional)
Instructions
Roast Bajra Flour till it gives nice aroma

Crush green chillies, cumin seeds and coriander leaves in a mortar to a coarse paste

Add crushed paste, salt, curry leaves & little oil

When the water boils, add flour slowly and keep stirring with a wooden spoon to avoid lumps.

Cover & cook on a low flame for few more minutes.

Grease a small bowl, add Khichu, flatten the top and invert into a plate.

In the meantime, heat oil for tempering. When the oil is hot, add mustard seeds, asafoetida, chopped garlic & sesame seeds.

When it stops spluttering, switch off the heat and add chilli powder and mix well.

Pour on the Khichu and serve hot
Notes
You can make Khichu with many flours like Wheat flour, Jowar flour, Bajra flour, Ragi flour, etc.
You can check for more healthy millet recipes here
You can also check for more Gujarati recipes here