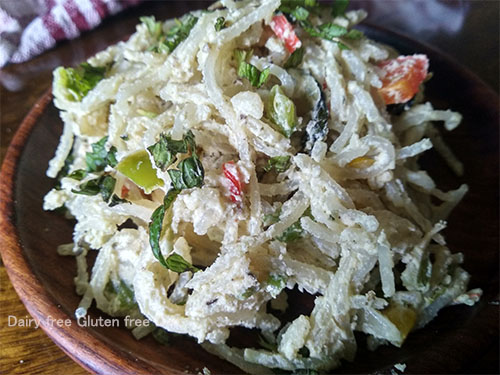 09 Jun

Cheesy Rice noodles / Rice Sevaiyan

Noodles have always been a comfort food with younger generation. However, Cheesy Rice noodles offer a safe alternatives to people with gluten & lactose intolerance. Fresh rice noodles, known as Idiyappam / Sevai / Santhakai / Shevige are popular in South India & Sri Lanka. They make the best breakfast options in their steamed avatar. This recipe also uses vegan cheese to make it Dairy free recipe.

However dried rice noodles are freely available currently in the market. In addition, these resemble Pasta. Rice noodles from China and Thailand are the most popular. A friend from North East had gifted me packets of dried rice noodles. I had pumpkin seed cheese from previous recipe. I decided to make use of both. Consequently, inspired by cheesy pasta, I tried this recipe. To add colour and nutrition, I added some vegetables too. But I wanted to keep it very simple & less spicy. Hence added only pepper powder and pasta seasoning. Avoided chilli flakes and other masalas. Also did not use any oil.

Final outcome was a very tasty and healthy vegan & gluten free cheesy rice noodles. The pumpkin seeds provided a nutty flavour to the noodles. Lastly, in my view, this is good as a main course dish rather than a breakfast item. The nutty cheese and coconut milk make it quite filling. Added with vegetables, it becomes a wholesome meal.

Try this healthy, easy to make rice noodles without fail.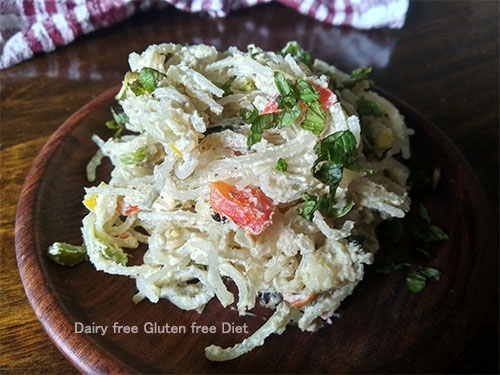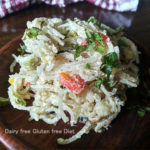 Print Recipe
Cheesy Rice noodles / Rice Sevaiyan
Ingredients
100 gm / a small packet rice noodle packet

1 cup grated pumpkin seed cheese

1 cup coconut milk

2 tbsp finely chopped onion

2 tbsp each finely chopped red, yellow & green capsicum

2 tsp finely chopped garlic

1 tsp pasta seasoning (optional)

1 tsp pepper powder

Salt to taste
Instructions
Cook the noodles in hot water.

Add cheese, coconut milk, salt and half of pepper powder in a bowl.

Blend to a thick sauce with hand. Do not use mixer.

Heat a heavy bottomed pan.

Sauté garlic, onion and mixed vegetables for a few minutes. Let them be crunchy.

Add salt, pasta seasoning and the remaining pepper powder and mix.

Add the sauce and mix well.

Once the sauce is slightly cooked, add the noodles and mix.

Remove in a bowl and serve topped with mint leaves.
Notes
You can adjust the consistency as per your desired level.
Increase / decrease quantities of cheese sauce or noodles.
Add seasonings of your choice.
Make it more spicy, if you like.