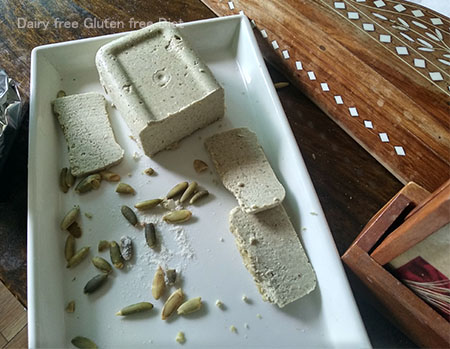 08 Jun

Pumpkin seed Cheese

The demand for Vegan cheese continues to grow. This is due to the continuance of growing health concerns, dietary restrictions as more and more people are becoming dairy intolerant, and popularity in veganism. This Pumpkin seed cheese is the answer to these issues. 

However, a difficult challenge lies in creating a vegan cheese that melts and stretches like dairy cheese. Melting and stretching happens because of the presence of Casein in dairy products. But many children are developing intolerance to Casein. Medical profession has found that eliminating gluten and casein from food help change symptoms and behaviours of autism in children.

I have already posted a recipe for nut based cheese. A friend happened to tell me that her child has also been advised casein free diet by doctors. This child is allergic to nuts as well. It dawned on me that many elders too face this issue. Should such people be deprived of cheese their life time? The result is this pumpkin seed cheese that is free from casein and nuts.

My choice of pumpkin seeds for this cheese is due to the multiple health benefits that these seeds offer. Nutritionists believe that Pumpkin seeds are a good source of oils, magnesium, and other nutrients that help in the health of heart, bones, and other functions.

This is a simple, healthy and easy to make cheese at home. Many home made cheese make use of ingredients such as miso paste, dijon mustard, nutritional yeast, etc. These are beyond reach for consumers in India. Hence  I have made sure to make this with ingredients that are easily available and affordable to all here in India.

This cheese is made using agar agar powder, a plant based ingredient for gelling. You can find details on agar agar powder in my earlier post here.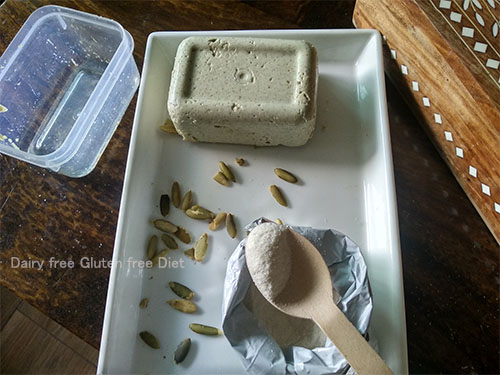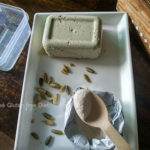 Print Recipe
Pumpkin seed Cheese
The measurements used here are standard measuring cups. I cup= 250 ml.
Ingredients
2/3 cup pumpkin seeds

1 tsp rock salt

½ tsp garlic powder

½ tsp onion powder (optional)

½ tsp white pepper powder

3 tsp agar agar powder

¾ cup water
Instructions
Powder pumpkin seeds in a blender.

Add salt, garlic, onion & pepper powders and blend further.

Add Agar agar and water and blend to a fine paste.

Heat the paste on a heavy bottomed pan.

Keep stirring till it becomes thick and leaves the sides of the pan.

Cool and refrigerate for 30 minutes or till it thickens.

Unmould and cut into wedges / slice /grate.
This cheese is great as a spread, sliced and used on crackers / bread or grated on pizzas.