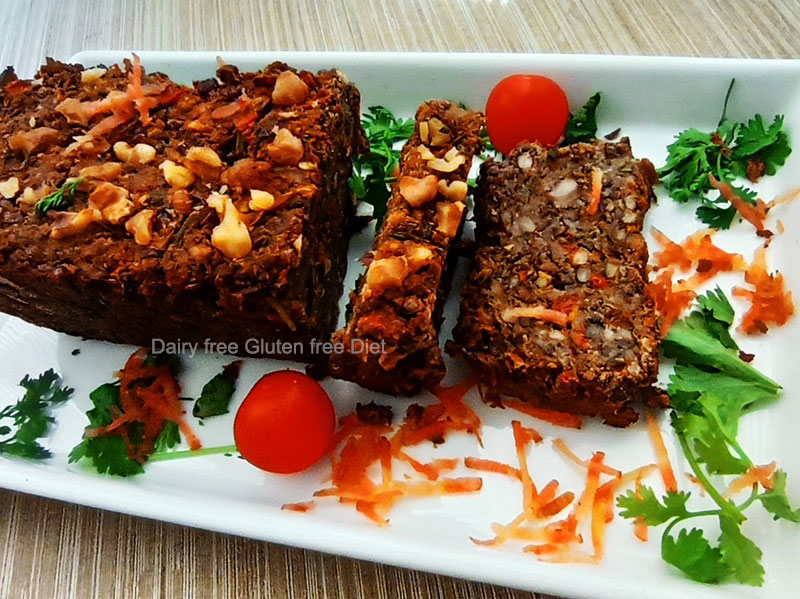 20 Jan

Lentil Loaf | Vegan & gluten free

Lentils are a staple in India. Every household in India, be it rural or urban, uses lentils almost every day in their cooking. Different varieties of Dal, Sambhar, Rasam are the most common dish using lentils. This Lentil Loaf introduces lentils in a different avatar.

Whole Lentils are the world's oldest cultivated legume. They fall under the groups of beans and peas as part of the legume family because, like all legumes, they grow in pods. They add a high-fibre and high-protein element to food. Because of their hearty texture, lentils make a wonderful substitute for meat in recipes of all kinds. Hence it makes an excellent staple for the vegetarians and vegan diet followers.

The most popular whole lentils in Indian cuisine are green mung, black eyed beans (lobia), chickpea, etc. Sprouted green mung makes an excellent salad. Chickpea or Chole is a common and popular side dish in all cuisines. The lentils that go to make this Lentil Loaf is whole red lentils known as Whole Masoor in India. Whole red lentils play an integral role in Western countries as well in the form of soups, curries and loaf.I have highlighted the benefits of whole lentils as against split ones in many of my previous posts using lentils. Traditionally, we often serve lentils with rice and to thicken curries.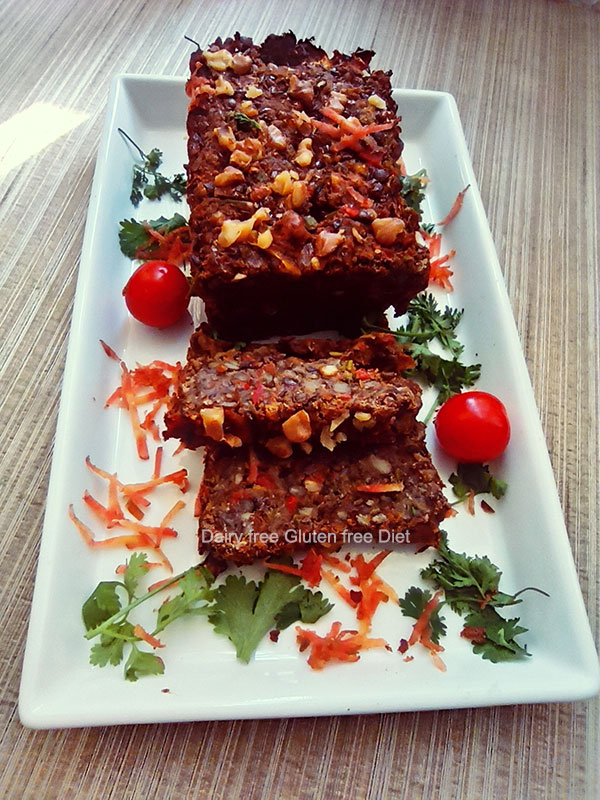 This is a highly nutritious recipe since it has oodles of vegetables along with the lentils.  To add, this recipe is so versatile that you can use any vegetable and any spice of your choice. I have used Mixed Italian herbs to give it an International flavour. However, if you prefer, you are free to add typical Indian spices. For texture I have used some chopped walnuts reserving some to top the loaf. You can add roasted seeds such as pumpkin seeds, melon seeds etc to add to the nutrition levels. Let your creativity loose. After all cooking is an art and science, right?
Foe more recipes using whole lentils, you can check here.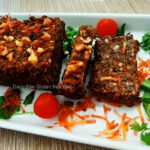 Print Recipe
Lentil Loaf | Vegan & Gluten free
In India, different varieties of Dal, Sambhar, Rasam are the most common dish using lentils. This Lentil Loaf introduces lentils in a different avatar.
Ingredients
1¼ cup whole lentils

(whole masoor with skin)

1 cup finely chopped mixed vegetables

(Carrots, French beans, Bell peppers, cabbage, etc)

¼ cup finely chopped onions

½ tsp black pepper powder

½ tsp cumin powder

1 tsp mixed Italian herbs

(optional)

1 tomato finely chopped

2 tbsp flax meal

(powdered flax seeds)

¼ cup walnuts broken into small bits

1 tsp oil

(optional)

salt to taste

2 tbsp powdered poha

(powdered flattened rice)
Instructions
Chop the vegetables VERY finely.

Cook the lentils with 1 cup water in a pressure cooker / steam cooker.

Once they are soft, drain and keep aside to cool. Reserve the water.

Heat oil in a pan and add onions. Sauté till it turns pink.

Add mixed vegetables and sauté further for a few minutes.

Add tomatoes, salt and dry spices and cook till dry and switch off.

Allow to cool to room temperature.

Preheat the oven to 190˚ C .

Pulse the lentils along with flax seeds powder coarsely in mixer / food processor.

Add the cooked vegetables and give one more quick pulse to make a fairly thick dough.  

Remove in a bowl and mix with a spatula to a thick dough and add the chopped walnut, reserving few for topping.

Transfer the mixture to a loaf pan lined with parchment sheet.

Press into an even layer and top with the remaining walnuts.

Bake at 190°C for 40 to 45 minutes or until golden brown on the top.

Remove from oven and let rest for 15-20 minutes in the pan. And then cool on a wire rack.
Notes
Make sure that the mixture is thick and dry. If you feel it is wet, add 2 tablespoons of powdered poha (flattened rice). This substitutes bread crumbs.
This stays in the refrigerator for 2 to 3 days. Store in the freezer for longer consumption.