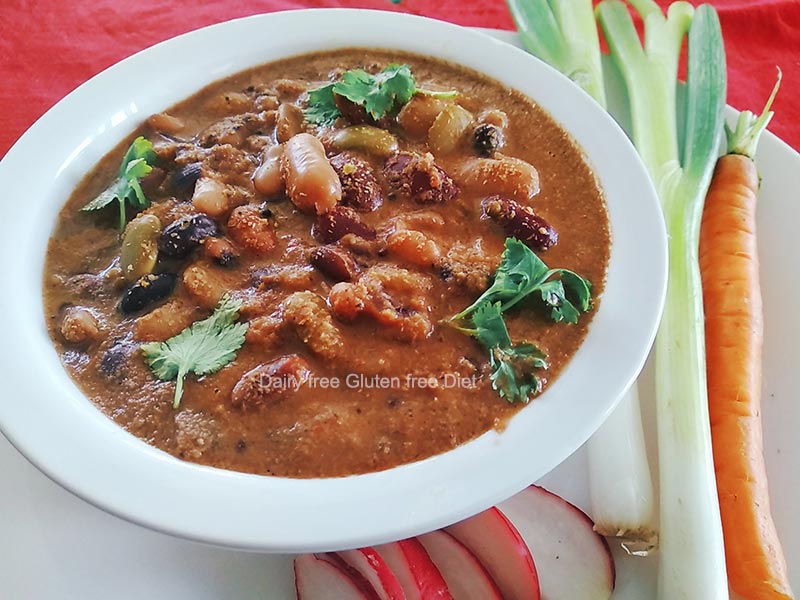 18 Sep

Navratan Dal Korma | Nine lentils korma

This Lentil Korma is a healthy mix of nine types of whole lentils and beans. For convenience sake I'm calling these lentils and beans as "Dal" which is a commonly known term in India. Hence it is fitting to call it Navratan Dal Korma.

In a nearby small time grocery shop, I happened to come across a packet of different types of colourful whole lentils. A close look at it and I realised it is a treasure trove. It contained all possible whole lentils and beans in all possible colours. The colours made them very attractive. I was awe struck. And it had nine types of lentils, legumes and beans. Navratan indeed. It was a gentle reminder of how Nature is abundant with colour and nutrition.

Out of many ways to get nutrition into your system, consuming whole lentils takes the priority. Looking from this perspective this Navratan Dal Korma fits the bill perfectly.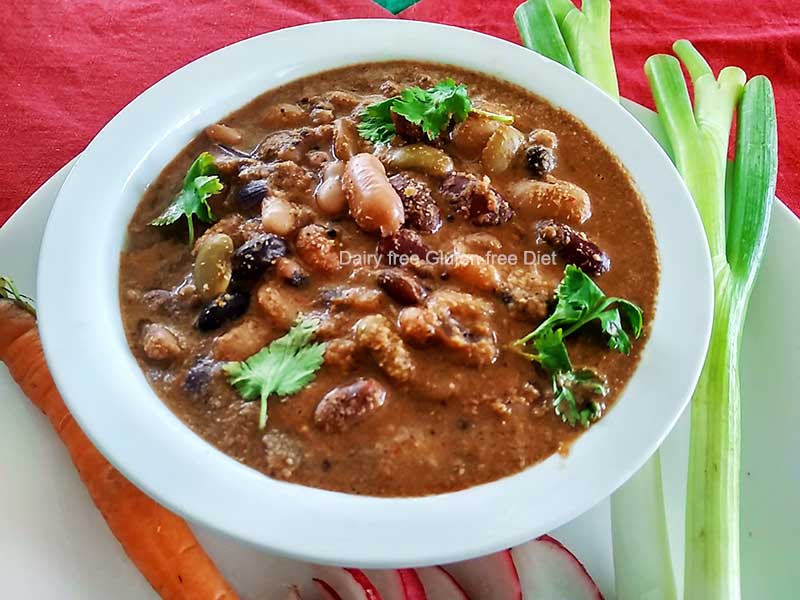 What is right way to call these precious gems? Lentils? Dals? Legumes? Beans?
The better word for all these little gems is pulse. Whatever be it, they were very attractive and being an avid admirer of whole lentils I bought it without any second thoughts. On the way back home, I was deciding how and what to cook with them. These are special dals. Whatever I make, they have to take the centre stage. So it is Dal korma à la vegetable korma.
I have posted the origin of the word Korma and few more information on Korma in my Aloo Bhindi Korma recipe. You can check it.
Normally, korma is a side dish for Idli, dosa, etc in South India. However, I have made this Korma South Indian style to go with rice. Slightly tweaked it by roasting the spices as against keeping them raw and grinding them. No South Indian Korma is complete without yoghurt / curd. However, I have avoided curd and instead added a dash of coconut milk at the end. It added to the flavour and taste. You can say, it is a cross between Kerala stew and Tamil Nadu vegetable korma.
Finally, few tips:
I have steam cooked the pulses to retain most if its nutrients.
This is a NO OIL recipe. I have totally dispensed with oil to retain the goodness of the pulses.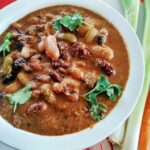 Print Recipe
Navratan Dal Korma | Nine lentils korma
This Lentil Korma is a healthy mix of nine types of whole lentils and beans. Hence it is fitting to call it Navratan dal Korma.
Ingredients
1 cup whole mixed dal

(store bought or home mixed)

½ cup finely onion chopped

½ cup chopped tomatoes

1 green chilli

1 tsp grated ginger

½ cup coconut milk

salt to taste

For the paste:

2 tsp coriander seeds

6 dry red chillies

4 cloves

1" piece cinnamon / ¼ tsp cinnamon powder

(I ran out of cinnamon sticks and hence added cinnamon powder)

1 tsp Fennel seeds (Saunf / sombu)

1 tsp poppy seeds (Khus Khus)

(can skip if your region does not allow poppy seeds)

1 tsp sesame seeds

¼ cup desiccated coconut / fresh grated coconut

1 tsp roasted chana

(pottu kadalai)

7 to 8 cashew nuts

Tempering:

1 tsp cumin seeds

1 tsp mustard seeds

asafoetida
Instructions
Soak dal overnight or 7 to 8 hrs. Yields approximately 2 cups after soaking.

Cook with just enough salt as per convenience.

Dry roast coriander, red chillies, saunf, khuskhus, cloves, sesame seeds, cashew, roasted channa and cinnamon till they give out nice aroma.

Grind all to a paste adding coconut, green chilli, ginger and tomato.

Heat a skillet and add the tempering ingredients one by one.

Once they are done, add onion and sauté for few minutes.

Add the masala paste and salt for the masala (remember we have cooked the dal with salt) and sauté for 5 to 6 minutes.

Add the cooked dal with little water and mix well.

Boil on low flame till the dal absorbs the flavours of the spices.

Finally add the coconut milk.

Boil till you see bubbles on the sides.

Keep the consistency as per your preference. Adjust the liquid levels accordingly.
Notes
I have steam cooked the dals. However, you can either pressure cook or cook by any means as per your convenience.
These are store bought mixed lentils / dals. But you can mix whatever available at home and customise it.
Though I have not added oil, you can go ahead and use oil / ghee for tempering.