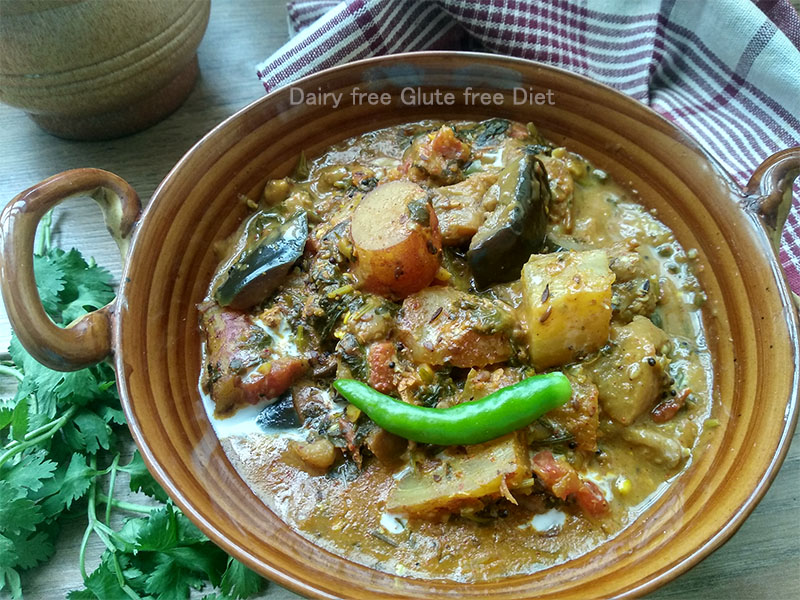 24 Jun

Eggplant Sweet potato in coconut milk

Eggplant and potato (Alu Baingan) is a very common sabzi in many homes across India. Potato lends a unique taste to the dish when paired with Eggplant. There are various versions of it available. Dry sabzi, semi day and gravy ones. Each home has their keeper recipe.

But I wanted a slight deviation from the normal Alu Baingan.

Firstly, I love sweet potatoes. There is always a stock of couple of them in my refrigerator. I decided to pair it with eggplant in the place of potatoes.

Secondly, of late I have been hearing about many people being advised oil free diet. So wanted to avoid oil as well. In my view, most dishes do not require oil for tempering. Because, the mustard seeds and cumin seeds when dry roasted lend a fresh aroma. Just ensure that the mustard seeds crackle fully. Of course, there are few recipes where use of oil is obligatory. In such recipes, we can use oil though much less than what the recipe demands. I, for one, squirm when I see many chefs using 2 to 3 tablespoons of oil for tempering when you could've done with just 1 tsp of it.

Thirdly, I did not want to use onion and garlic.

After much contemplation, I achieved my purpose by marinating the vegetables in the masala. Threw in a big cupful of fresh coriander chopped and added in the marination. This lent an awesome aroma when the vegetables were cooking. The crushed peanut and grated coconut added to the taste. To add some thickness to the gravy, I decided to add coconut milk sauce.

Finally this turned out to be a sathwik and oil free dish with the all the goodness of sweet potato.

This is a quick and easy semi-dry sabzi recipe. Just the marinated vegetables topped with coconut milk sauce. Makes an ideal side dish for roti or rice.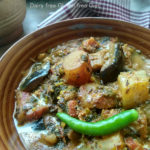 Print Recipe
Eggplant and Sweet potato in coconut milk sauce
Ingredients
2 cups brinjal cubed medium size

1 cup sweet potato cubed medium size

1 cup chopped tomato

2 green chillies chopped finely

1" piece ginger grated

½ cup chopped fresh coriander leaves

1 tsp each chilli powder, garam masala powder & amchur powder

1 tbsp roasted peanut crushed coarsely

½ tsp turmeric powder

1 tbsp freshly grated coconut / desiccated coconut

Salt to taste

_______________

For tempering:

1 tsp mustard seeds

1 tsp cumin seeds

1 tsp roasted sesame seeds (Til / Ellu)

Asafoetida

_________________________

Coconut milk sauce

½ cup coconut milk

1 tsp arrowroot flour / rice flour

½ tsp chilli powder

½ tsp jaggery powder
Instructions
Mix the vegetables with all ingredients mentioned.

Cover & leave it for 30 minutes.

Heat a kadai and add the tempering ingredients.

Once they splutter add the marinated mixture.

Add ¼ cup water and boil on low flame.

After some time, check if the potatoes are done.

Mix all ingredients for sauce and beat well.

Pour over the vegetables and cook for 2 to 3 minutes / till you see bubbles on top.

Switch of flame and serve with roti / rice.
Notes
If you do not have 30 minutes to marinate, you can do it in 10 to 15 minutes too. 
You can add corn flour / tapioca flour instead of Arrowroot flour. 
You may like my other Eggplant (brinjal) recipes:
Venkaya Pachadi –Brinjal Chatni