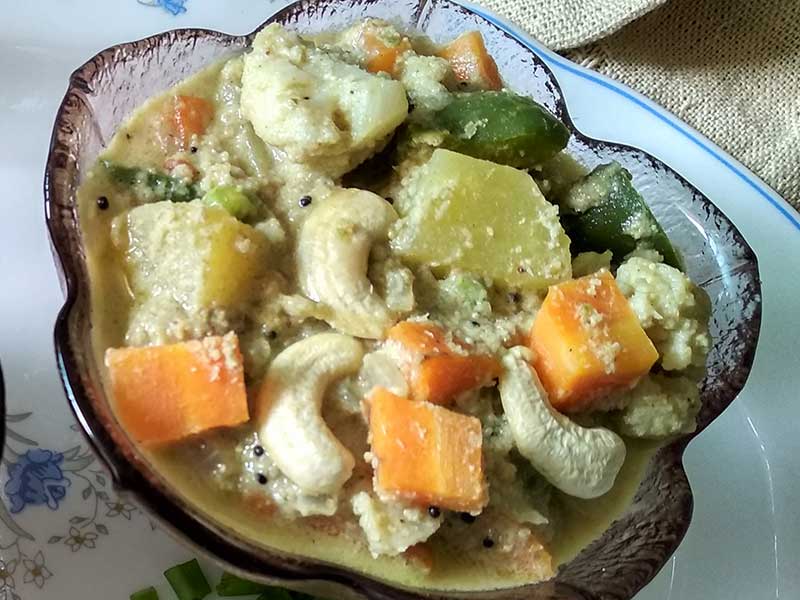 13 Jul

Sagu Recipe / Mixed Vegetable Sagu

If you have ever eaten breakfast in any restaurant in Karnataka you do not need any introduction to Mixed Vegetable Sagu. It is the most favoured side dish with Puri, Roti, Dosa, Rawa Dosa, Set dosa, you name it.

The use of Khus Khus and coconut give a creamy texture to Sagu. One thing to remember is not to make it too spicy. It's a mild dish. As with all Indian recipes, Sagu has so many variations with the use of spices. Each family has its own recipe as per the taste buds of the members. However, the basic spices are what I have used in this recipe. The quantities might vary. This basically uses green chillies and green masala to maintain a mild white colour. Hence red chilly powder and tomatoes are normally avoided. But again, there is no hard and fast rule. You can play around with it and add them if you wish.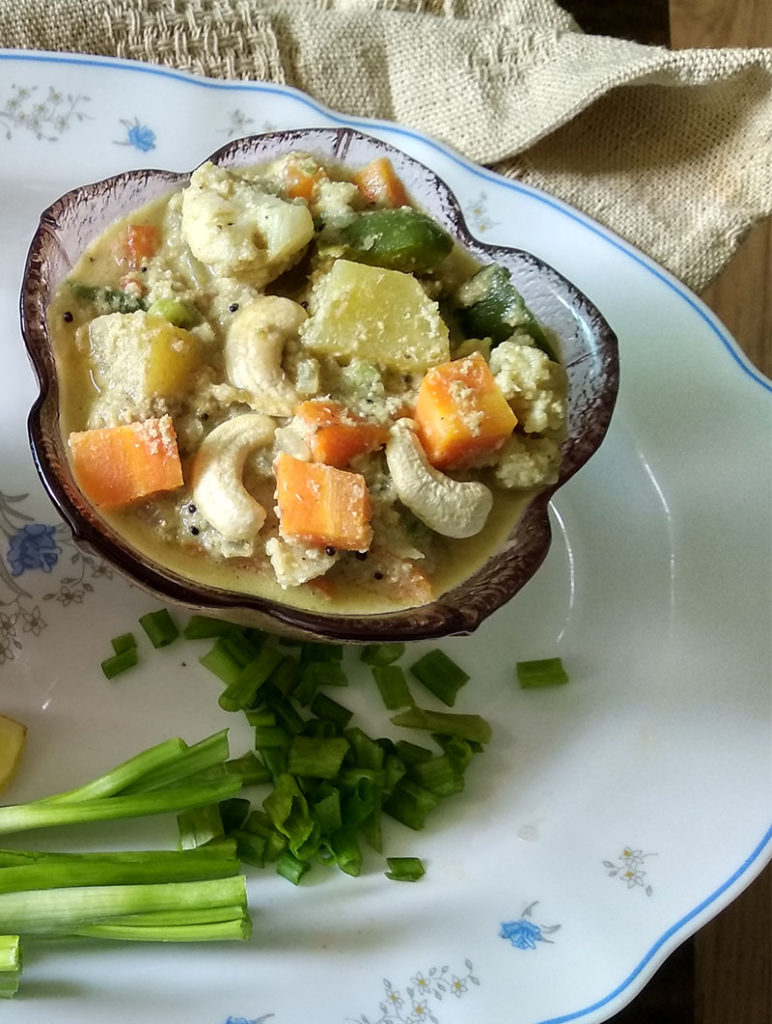 Mixed vegetable Sagu is a coconut based curry a la vegetable korma of Tamil Nadu. Mostly, Kurma of Tamil Nadu uses curd. I may also equate it to Veg Kolhapuri of Maharashtra, except for the fact that Veg Kolhapuri is heavily spiced dish and red in colour in contrast to Mixed vegetable Sagu. Only resemblance in all these dishes is that they all use the same vegetables. Only the spices vary. Well, that is the beauty of our cuisine to say the least. How a subtle change of spices and their quantities can turn out an entirely new dish is something which our heritage filled Indian cuisine teaches us.
The two things that I normally follow for healthy cooking is this: Firstly, I have steam cooked the vegetables instead of boiling, as I always do. Secondly, instead of deep frying the cashewnuts, I have dry roasted them. Hence you will find them to be white in colour instead of deep brown. ?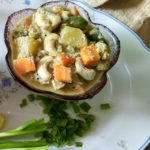 Print Recipe
Sagu Recipe / Mixed vegetable Sagu
Ingredients
2

cups

mixed vegetables (diced carrot, beans, peas, cauliflower (any vegetables of your choice

1

cup

onion chopped finely

1 tsp oil

1 tsp mustard seeds

1 tsp urad dal

1 tsp turmeric powder

Curry leaves

salt to taste

10 roasted cashew nuts for garnishing

Grind to a paste:

½

tsp

Freshly grated coconut

3 green chillies

1" piece ginger

3

tbsp

Chatni dal (roasted channa / pottukadalai )

1

tsp

khus khus

2

tsp

garam masala

1

tsp

coriander seeds

1

tsp

cumin seeds

Fistful coriander leaves
Instructions
Steam cook the vegetables. Make sure not to overcook.

Heat oil in a skillet. Temper with mustard seeds and urad dal.

Once the mustard seeds splutter, add curry leaves and turmeric powder.

Add onions and sauté till the onions are translucent.

Add the vegetables, salt and the ground masala.

Add 1 cup water and bring to boil till the raw smell of the coconut goes.

Garnish with roasted Cashewnuts.