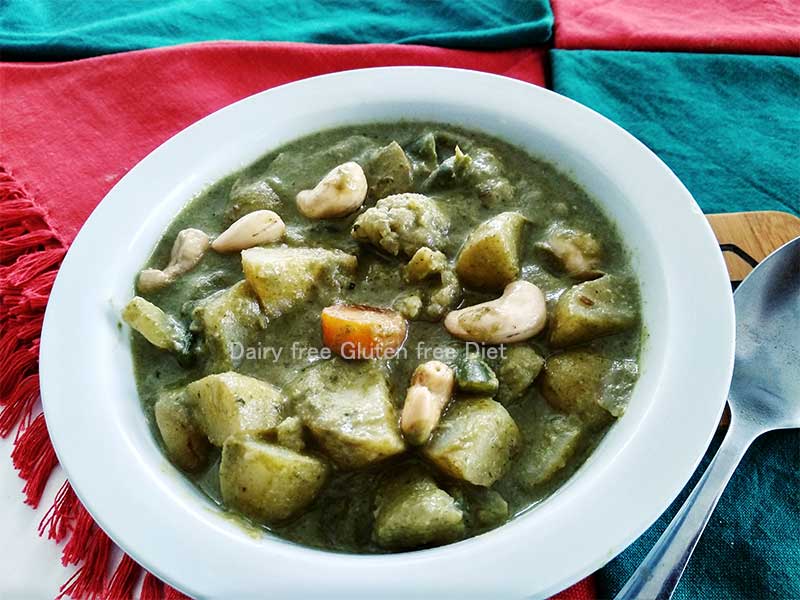 10 Aug

Bhopali Mixed Vegetable

Bhopali Mixed Vegetable from Bhopal, North India. In general, mixed vegetable korma is found in possibly every cuisine in India and across different cultures. I have already shared mixed vegetable sagu of South India, Veg Kolhapuri of Western India. This Bhopali Mixed Vegetable stands out mainly due to its richness contributed by roasted cashew and milk. The gravy of greens adds an intense flavour to this dish. The sweetness of milk and cream aside of enriching the dish, balances the spicy greens gravy. It's a great combination of spice and sweetness.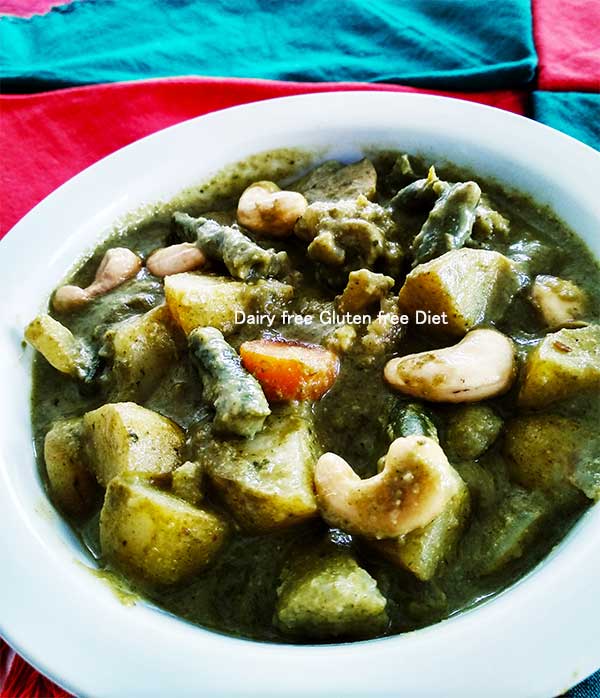 Bhopal, a city of Nawabs is mostly influenced by Mughlai culture. Hence is famous for its elaborate non veg cuisine. However, their poha, jalebi and namak wali chai are somethings you can't afford to miss when you visit Bhopal. The natives' passion for food have churned out many exotic recipes with amazing blend of spices in the vegetarian fare too. This is one such korma.
This is a very easy to prepare dish. It gets done in 15 minutes. Further, it does not need any complicated ingredient. Milk and vegetables are always available in all homes. Cream is an option. You can skip it though it adds an unique touch to the dish. But you can do without it. I added cashew milk instead of dairy milk. It added to the richness. So I decided to use the rich and creamy cashew curd that I always have in my refrigerator in place of dairy cream.
Make this creamy mixed vegetable for a change. Serve it hot with paratha or plain roti.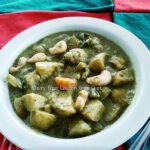 Print Recipe
Bhopali Mixed Vegetable
A creamy vegetable korma from the province of Bhopal. Added with milk cream and cashews, its very flavourful and tasty.
Ingredients
½ cup potato diced into cubes

½ cup carrots diced into cubes / rounds

¼ cup french beans cut into long strips

½ cup cauliflower florets

10 to 12 whole cashew

½ cup thick cashew milk

2 tbsp thick creamy cream

( i used creamy cashew curd)

salt to taste

½ tsp jaggery powder

1 tsp oil

----------------------

Grind to a paste:

⅓ cup finely chopped coriander

3 green chillies

1" piece ginger

3 cloves garlic

1 tsp cumin seeds

1 tsp garam masala

(optional)
Instructions
Steam cook the vegetables with salt till they are half done.

Add oil in a pan and roast the cashew, remove and keep aside.

In the same pan, add the ground paste and sauté for a while.

Add water, half done vegetables.

Cook covered on a low flame.

Once the vegetables are done, add milk, cream and jaggery powder and cook for further 2 minutes

Switch off and garnish with roasted cashew
Notes
Since I had creamy cashew curd, I substituted it for cream. However, you can use regular  cream if you prefer.