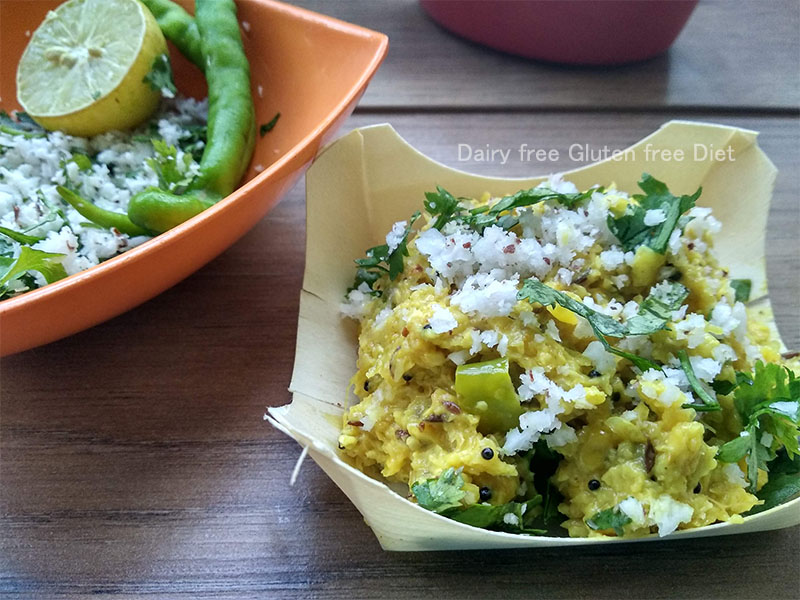 15 Jul

Bhutte ka Kees / Grated Corn Snack

Bhutte Ka Kees / Corn Kees / Grated Corn is famous street food in Indore and also in Rajasthan households. Bhutte ka Kees literally means corn grated. Kees is a Marathi word for grating. Though this dish is popular in Northern region, I still wonder how it added a Marathi word in it. Corn and rains go hand in hand. As I had written already come monsoon and streets in Mumbai are flooded. Both with rainwater and corn cobs / Bhutte ?.  Have already posted many recipes with corn which you can find down below the post. Can't emphasise more on the versatility of corn. Incidentally Mexican cuisine uses corn in almost all their dishes. You may check Burrito Wrap and Burrito Bowl. 

I have used fresh corn on the cob for this recipe. There are two ways of grating it. Remove the corn from the cob and pulse it to a coarse paste. This method works when you use the store bought sweet corn as well, if you are using it. Second method is to grate the corn directly from the cob using a grater. This gives a more liquid paste since the corn juice / milk also gets added to it. Also this is very tasty.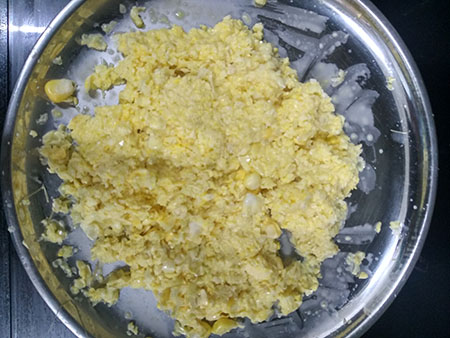 As you all know fresh sweet corn is one more choice along with millets for gluten free cereals / grains. It is also a good source of dietary fiber, vitamins, and antioxidants in addition to minerals in moderate proportions. However, its health benefits are controversial. Because it is high in starch and can spike blood sugar. Hence it is always better to eat it in moderation.
To make hay while the sun shines, I have been trying to make as many recipes with corn as possible now that it is available in abundance. Try this tasty corn kees. It is the easiest to make. I took 5 minutes to grate the corn & 10 minutes to cook.
I added thin Coconut milk in place of dairy milk. However, you are free to use just dairy milk OR even just plain water in place of milk. It is the best snack for a monsoon evening with a steaming cup of herbal tea.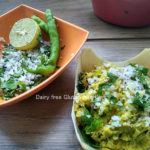 Print Recipe
Bhutte ka Kees
It is the best snack for a monsoon evening with a steaming cup of herbal tea.
Ingredients
2 corn cobs

½ cup coconut milk / Dairy milk / water

2 to 3 green chillies

¼ tsp turmeric powder

½ tsp grated ginger

salt to taste

Juice of half a lime

**********************

For Tempering

1 tsp oil

1 tsp mustard seeds

½ tsp cumin seeds

Big pinch asafoetida

**************

Garnishing

Grated fresh coconut

Chopped coriander leaves
Instructions
Grate or grind the corn into a coarse paste and set aside.

Heat oil in a heavy bottomed pan and add the mustard seeds and cumin seeds.

Once they splutter add the asafoetida.

Add finely chopped green chillies and grated ginger and sauté for a few seconds.

Add the grated corn and turmeric powder and mix.

Sauté until it leaves the sides of the pan.

Add the coconut milk, salt and mix well.

Cover the pan with a lid and cook on a low flame till the mixture thickens.

Turn off the flame and add the lemon juice.

Serve hot garnished with grated coconut, coriander leaves and lemon wedges.
Notes
Though I have given ½ cup milk, I did not require the whole lot since the grated corn was already watery. Hence adjust the quantity of milk as per requirement. 
If you want it more spicy, you may add some red chilli powder too.