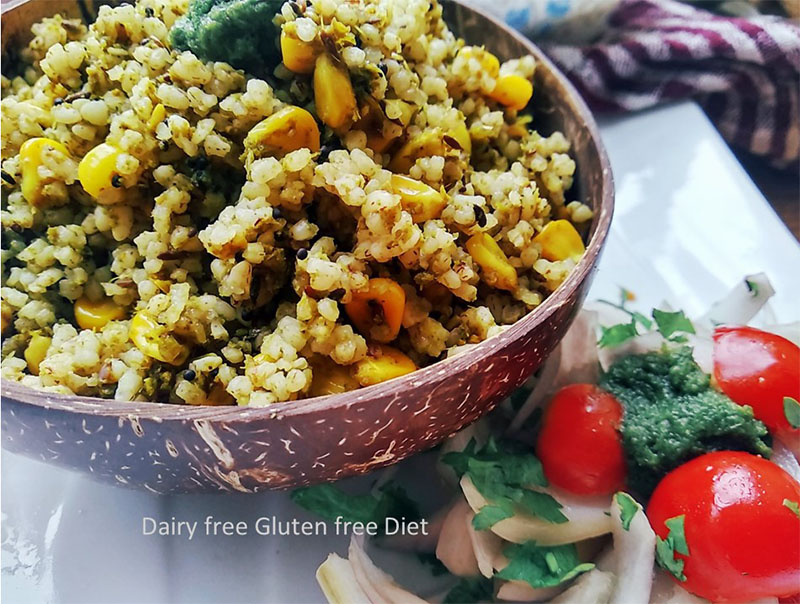 04 Jul

Matta Rice Corn Pulao

Matta rice is an indigenous variety of rice from Palakkad district of Kerala. It's other names are Rose matta rice, Palakkadan Matta rice, Kerala Red rice, or Red parboiled rice. Close on the heels of my earlier Corn Kichdi recipe, which has been received well, comes this Kerala Red Matta Rice Corn Pulao. Other than Kerala, Sri Lankan cuisine also uses Matta Rice widely.

You cannot strictly classify this rice under Red Rice nor is it Brown Rice. But it has all the goodness of both. It is more nutritious than white polished rice because parboiling before milling retains some nutrients. But one downside is, parboiling makes it harder. That's why matta rice has a lengthy cooking time and requires addition of extra water, apart from soaking time. This deters many from consuming it. I know people who are used to soft white rice, not liking the hard texture of matta rice.

However, we do get the broken variety of matta rice, which is not so hard and which does not take long to cook. I have used this variety for this pulao. Though its red in colour, after soaking and cooking it turns pink. But it tastes unique. Flavour wise, it stands a little apart from normal white rice as it possesses a fine earthy flavour.

For this pulao with corn, I decided to use all green masalas like green chillies, green coriander and mint leaves. These in fact enhanced the flavour.

Another important feature is, this is a zero-oil recipe. Yes. Totally oil free. This breaks the myth that pulao in general requires lots of oil / ghee. The addition of sesame seeds in the tempering gives a nutty taste and aroma that replaces the need for oil.

Try to include this healthy matta rice in your diet, if you have not done already. Take the first step with this matta rice corn pulao. Enjoy it hot with any Raita or a simple salad of raw onion and tomato.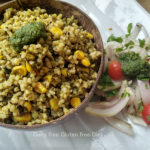 Print Recipe
Matta Rice Corn Pulao
Ingredients
½ cup broken red rice

1 cup fresh corn grated from the cob

Salt to taste

½ tsp turmeric powder

1 tsp lemon juice (optional)

*****************

Grind to a paste:

1 onion

3 green chillies

1" piece ginger

3 cloves garlic (optional)

1 tsp garam masala

½ cup fresh coriander chopped

¼ cup fresh mint leaves chopped

*******************

For tempering:

1 tsp sesame seeds

1 tsp mustard seeds

1 tsp aniseeds (saunf, sombu)
Instructions
Wash the broken red rice well in fresh water 2, 3 times and soak for atleast 2 hrs.

Drain and cook as per your convenience adding 2 times water till it gets cooked well.

Whichever we you cook, make sure the grains are separate.

Steam cook the corn with salt and turmeric powder.

Grind the masala to a paste adding enough water.

Heat a kadai and dry roast the tempering ingredients till they are roasted well.

Add ¼ cup water and add the paste.

Bring to boil adding just enough salt. Remember that we have added salt to the corn.

After few minutes and the corn and keep cooking sautéing till the mixture becomes dry.

Mix the cooked rice and adjust salt.

Serve with fresh salad & curd (dairy free for vegans)
Notes
You can use any rice / millet for this recipe
Can add few vegetables of your choice with corn. 
You may also like: