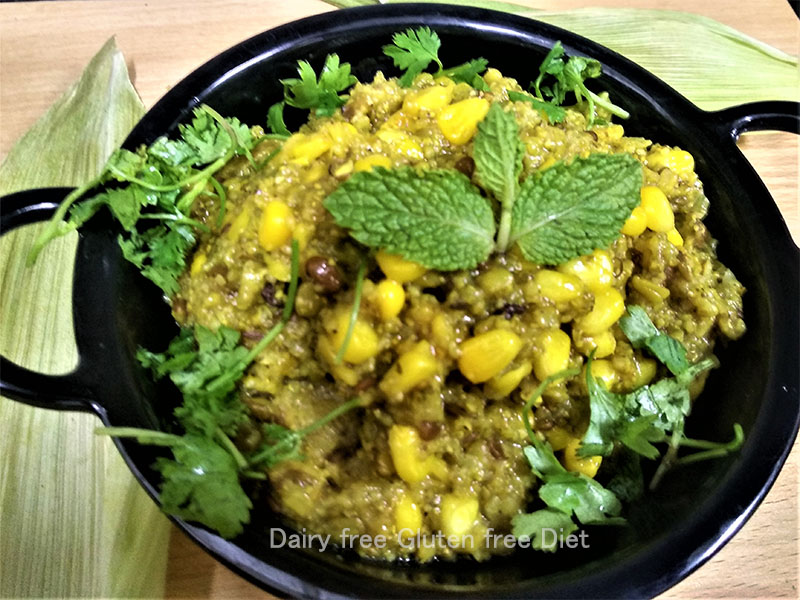 30 Jun

Bajra Corn Kichdi

A hot steaming Bajra Corn Kichdi on a wet rainy night is all you need to comfort your soul. Your appetite gets a boost. Bajra (kambu) is a healthy Gluten free staple. Above all, Corn is seasonal here in Mumbai. That made me cook this dish.

States like Rajasthan & Gujarat recommend consuming Bajra in Winter. I got to taste the best Bajra rotis when I visited Jaipur at the peak of winter in December. Roasted in coal chulas, it was so rustic and delicious. And their Bajra raab is very very popular winter drink. They feel it helps to keep your system warm.

On the contrary, in Tamil Nadu and few other places, Bajra is consumed in Summer. It is the staple of many villagers in South India. They cook the Bajra (Kambu as they call it) and soak it in water overnight in mud pots. Eat the Bajra next day and drink the water. They believe that it is the power drink that helps cool your system. 

Two opposing views!! Any thoughts on this?

So, ultimately I decided, be it winter, summer or monsoon, a healthy millet stays healthy always. Moreover, millets are not seasonal staples. They grow all through the year and so how you consume it is season independent.

Interestingly I was googling for the English equivalent for the term Kichdi. And not surprisingly I found none. ? Just as we do not have an Indian equivalent for Pizza or Quesadilla, Kichdi stays Kichdi. It is essentially an ethnic Indian dish and why should it have an English name? ?

And so finally this Bajra Corn Kichdi is a healthy gluten free alternate to all those who are gluten intolerant like me. You are free to add more vegetables of your choice. But I wanted the sweet taste of Corn to be predominant in this dish.  Adding more vegetables might steal that taste away and so decided to stay away. However, its totally your choice.

Enjoy this healthy kichdi. Why bother about winter, summer or monsoon?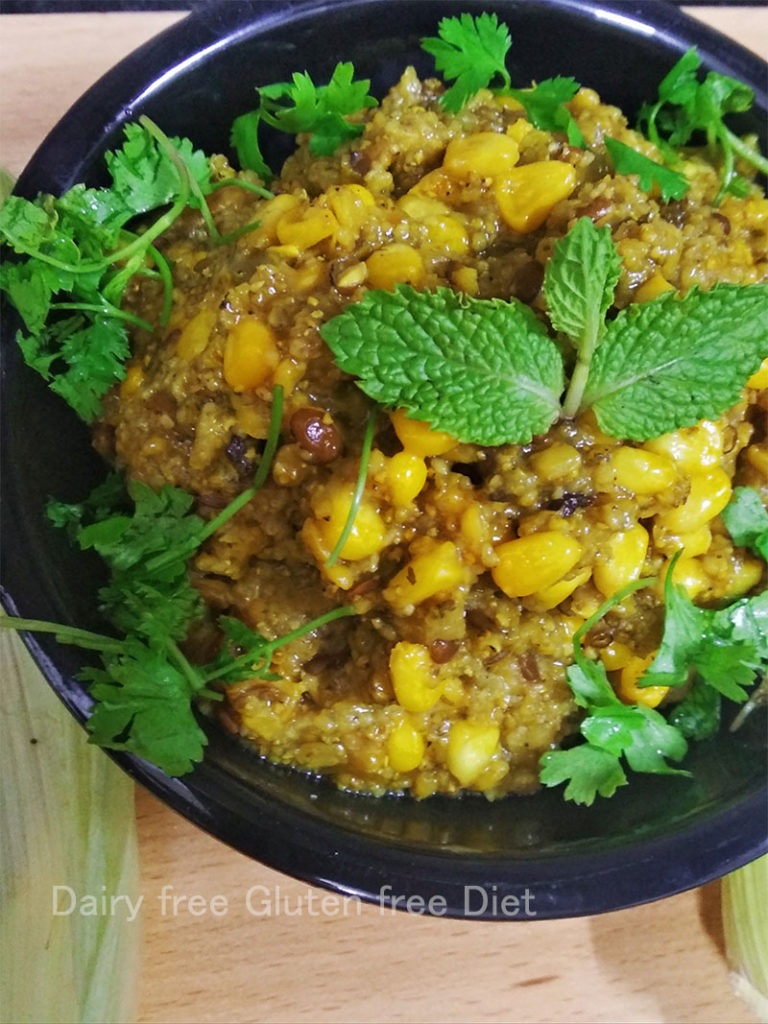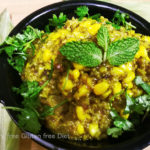 Print Recipe
Bajra Corn Kichdi
You can use any measuring cuo for this recipe
Ingredients
1 cup Bajra (Dehusked)

1 cup Corn removed from fresh kernel

½ cup split green Mung dal

1 onion finely grated

3 to 4 green chillies

1" piece ginger

1/2 tsp turmeric powder

salt to taste

______________

For tempering:

1 tsp oil

2 cloves

2 pieces cinnamon

1 Bayleaf

1 tsp cumin seeds

1 tsp black pepper crushed coarsely
Instructions
Wash and drain Bajra and mung dal separately.

Heat oil in a pressure cooker and add the tempering ingredients.

Sauté green chilli ginger and add the onions.

Once the onions turn pink, add Corn and sauté further.

Add the drained Mung and mix.

Finally add the drained Bajra, salt, crushed black pepper and turmeric powder.

Add 3 cups water and pressure cook for 3 whistles or as per your cooker.
Notes
I used pressure cooker. However, you can use any method to cook.
Adjust the spices as per desired level. 
You can add garlic if you wish.
You can use ghee for tempering. 
You may also like my other recipes: