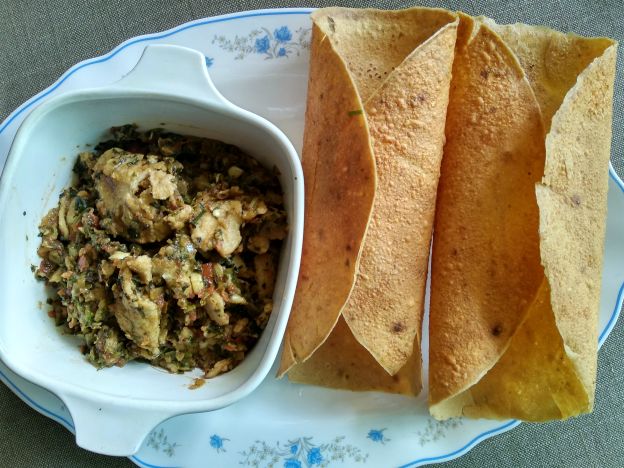 17 Sep

Seyal Roti / Sindhi Seyal Roti Gluten free

Seyal Roti is a popular Sindhi dish that's is served mainly for breakfast. For a gluten free version, I prepared this with Jowar (Sorghum flour) rotis. Its a simple, healthy and delicious breakfast item.

The word Seyal in Sindhi means something which is cooked in a gravy with onion, garlic & tomatoes on slow flame or simmered till water dries.

Its a dish that can be prepared either with left over rotis or with bread. Though essentially a breakfast item, it can also be had at lunch / dinner. In India, we do not generally believe in the concept of freezing food for long days and reheating it, perhaps because this being a tropical country. We also do not allow the food to remain in the refrigerator for more than a day and prefer to consume freshly cooked food on daily basis. Based on this concept, Seyal Roti is prepared with previous day's leftover rotis. Its also called Seyal Maani  when it is prepared with roti / Seyal Double Roti when prepared with bread / pav.

In order to save time for preparing breakfast in the morning rush hours, this dish is prepared with the leftover rotis. However we can also make this using fresh rotis.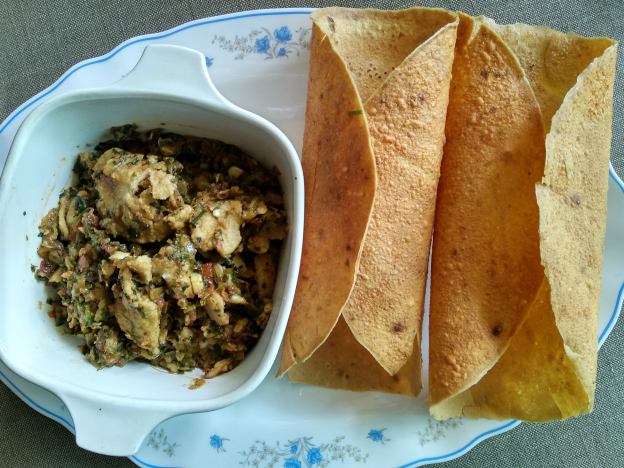 Ingredients:
4 to 5 leftover millet rotis (jowar roti / ragi roti / bajra roti)
6 to 7 cloves garlic crushed in a mortar / cut into fine pieces
1/3 cup onion chopped finely
1 cup coriander chopped
2 to 3 green chillies
1" piece ginger
1 tsp kasuri methi
2 medium tomatoes / 1 large tomato
1 tsp chilli powder
1 tsp dhania powder
1 tsp mustard seeds
1 tsp oil for tempering
1/2 tsp turmeric powder
Pinch of asafoetida
Salt to taste
Directions: 
Pulse the coriander, chillies, ginger and kasuri methi to a coarse paste without adding water in a blender and remove in a bowl.
In the same blender, blend the tomatoes to a coarse paste.
Heat oil in a thick bottomed pan and add the mustard seeds.
Once it splutters, add the garlic and roast till it becomes brown.
Add the onion and sauté till onions become translucent.
Add the coriander paste and sauté for few more minutes.
Add the tomato puree, chilli powder, dhania powder & turmeric powder and sauté till the masalas blend.
Add ½ cup water and cover and cook for 5 to 6 minutes.
Break the rotis into bite sized pieces either with hand or with knife.
Add to the gravy and cook on slow flame till the rotis absorb all the flavours and the water dries up. Keep stirring with light strokes.
Garnish with coriander and serve hot with papad.
You may look for more Sindhi recipes here