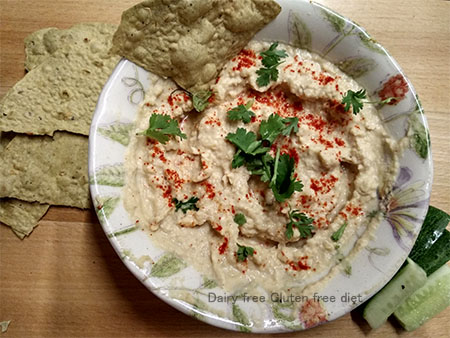 15 Mar

Hummus Recipe / Homemade Hummus

Hummus is a dip or spread using cooked, mashed chickpeas (cholé) blended with tahini, olive oil, lemon juice, salt and garlic. It hails from Middle Eastern cuisine and hence is popular in the Middle East and & Mediterranean. Now that the world has shrunk due to global expansion, it is gaining popularity around the globe as well.

Hummus is very easy to make at home and tastes better too. All you need basically is pre cooked cholé,  tahini and lime juice. You can play around it by adding any other flavour, grilled peppers with it to give that extra sense of taste. Even if you do not have tahini, you can still make it without it. It is still quite delicious.

How do you serve Hummus?

Hummus is the best among dips and serves as a versatile spread.
You can serve this as a dip with fresh vegetables / roasted papad
Pair it with falafel, gluten free pita chips, etc
Make a healthy salad dressing.
Spread it on your favourite gluten free pita bread / bread / stuffed with falafel.
I had it with dosa one day. Believe me, it tasted delicious. ? isn't it how you make an international dish desi?
In this recipe I have avoided use of oil. However, if you want you can add 1 tbsp olive / any oil while grinding / pulsing.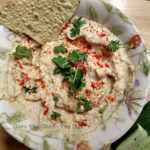 Print Recipe
Hummus
Ingredients
½ cup boiled chole / chickpeas

2 tbsp lemon juice

2 tbsp tahini paste

2 cloves garlic finely chopped

¼ tsp cumin seeds powder

Salt to taste

1 tbsp oil (optional)

Enough water to grind
Instructions
In the food processor / mixer, pulse the tahini and lemon juice and process for 1 minute.

Add the garlic, cumin, and salt & pulse / process until well blended.

Finally add the chickpeas and process until thick and quite smooth.

Adjust the seasoning and sprinkle red chilli / paprika powder and chopped coriander /cilantro leaves.
Notes
You can mix tahini, lime juice, garlic, cumin and salt in a bowl and add to the pulsed chickpeas at the final round. 
As a variation, you can saute / grill red bell pepper (red capsicum) and grind with boiled chickpeas and other ingredients. This gives a flavoured Hummus.