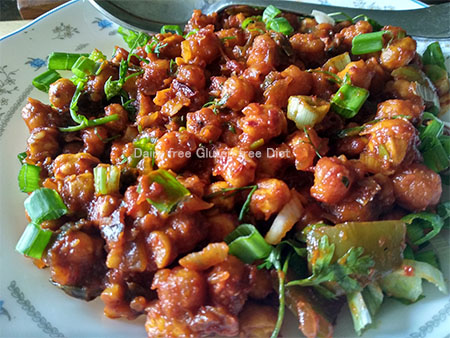 19 May

Chilli Channa Crispy and Crunchy

Chinese cuisine is gaining popularity in India. Fusions such as Chilli idli, Manchurian, Spring rolls, Hakka noodles, Chinese fried rice, etc are favourites of many Indians. One such Indo Chinese dish is Crispy Crunchy Chilli Channa. Indian Chole takes Chinese Avatar in this recipe.

You may not find this strictly Chinese. Because I have tweaked this recipe a little as per my standards.

Firstly, most Chinese dishes use Soya Sauce. I personally avoid Soya products due to many reasons. Hence I didn't use soya sauce. Nor did I substitute it with any other ingredient. However you are free to use it if you have no qualms.

Secondly, Chilli channa uses chilli sauce and tomato Ketchup. I avoid store bought sauces and ketchups. As the consumption is very low in our house, I find even a small bottle lies in the refrigerator for years and finally I have to throw them. So I stopped buying them. Hence in this recipe, you can see that I have substituted it by blending soaked tomato and red chilli. I got a fusion of chilli and tomato sauce.

Thirdly, I also avoid oil as much as possible in all my recipes. Chilli Channa is always deep fried in oil. To avoid it, I tried to bake the channa at 190˚ for 20 minutes. But I was not happy with the result. The channa became slightly hard and browning didn't happen. It was as white as I kept it in the oven. Not wishing to compromise on the taste, I decided to shallow fry with as little as 2 tsp oil for the entire batch. The result was a crispy, not oily, roasted channa.

This Crispy Crunchy Chilli Channa assumes multiple roles. It is the best snack item both for children and elders. Though there is a slight loss of protein due to shallow frying in oil, it still is one up on many other deep-fried snacks. You can consume it as a side dish with Indian roti / puri etc. It can be as dry or as gravy-like as you want. So much for flexibility.

Lastly, such a versatile dish is very easy to prepare too. Try it without fail.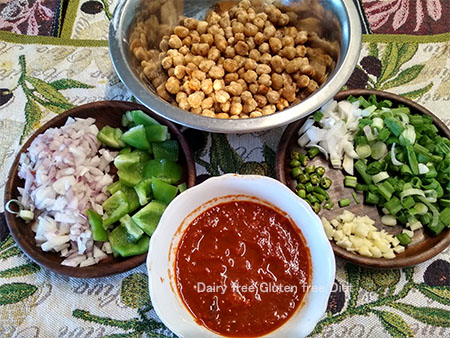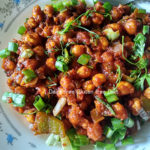 Print Recipe
Crispy Crunchy Chilli Channa
Ingredients
½ cup Kabuli Channa (Chole)

2 to 3 tablespoon Corn flour

½ cup finely chopped onion

1 tsp finely chopped garlic

½ cup green capsicum diced OR ¼ cup chopped finely

2 green chillies

4 dry red chillies (Byadgi or Kashmiri that has deep red colour)

2 spring onions chopped finely with the greens

1 tsp coriander leaves chopped finely

2 tsp jaggery powder

¼ cup water, if necessary

Salt to taste

3 tsp oil
Instructions
For the Channa:

Soak Channa in water for 6 to 8 hrs OR overnight.

Cook with salt in a pressure cooker / as per convenience till they are soft.

Drain and keep aside. (The water can be used for cooking)

Add corn flour, mix well till every channa peace is coated well with the flour. Adjust the quantity of the flour accordingly.

Heat 2 tsp oil and shallow fry in batches till channa becomes crisp.

For the Chilli:

Soak tomatoes and red chillies in hot water.

Peel tomatoes, blend to a fine paste with red chillies without adding water

Heat balance 1 tsp oil in a pan

Add garlic and green chilli and sauté for few minutes

Add onions and sauté further till the onions become translucent. Do not brown.

Add Capsicum pieces and sauté till the capsicum is half cooked. Let it be crunchy.

Add the tomato chilli paste and keep sautéing and mixing.

Add half of spring onions with greens and mix well.

Add salt and jaggery powder and boil the sauce.

The consistency should be neither thick nor watery.

If it is too thick add a little water.

If it is too watery mix 1 tsp corn flour in ¼ cup water and add to the paste to thicken.

Cook the sauce for 2 minutes.

Switch off the flame and add the roasted channa and mix well till channa is coated well with the sauce.

Garnish with chopped spring onions and coriander.
Notes
If your chilli does not have deep colour, you can add 1 tsp Kashmiri Chilli powder. I didn't add it though.
I have not added Tomato Ketchup. However, you are free to use it when the sauce is boiling. 
You can bake the channa if you do not want to shallow fry. 
You may check for more channa based recipes here