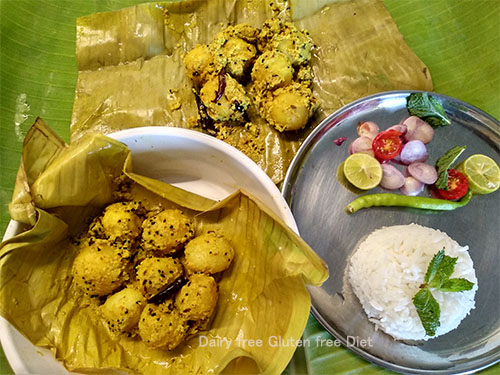 03 Jun

Bhapa Aloo / Steamed Potatoes

Foodies & vegetarians that we as a family are, we love vegetarian food from anywhere across the globe. In India, Bengali cuisine is our favourite. However, there is a general feeling that Bengali cuisine's vegetarian spread is very few. Bengalis' love for fish is well known. But we did find that they have some super delicious vegetarian dishes as well. Bhapa Aloo (steamed potatoes) is one such simple but delicious recipe. You can find more Bengali vegetarian dishes here.

This recipe uses Panch Phoron for tempering. Panch phoron is a whole spice blend that East Indian cuisine lavishly uses. It literally means five spices. Equal Quantity of the 5 seeds : Mustard seeds, Fenugreek seeds, Fennel seeds, Cumin seeds & Nigella seeds (Onion seeds / Kalonji), go to make Panch Phoron masala mixture. However, authentic Panch Phoron in Bengal uses Radhuni seeds instead of Mustard. When it is hard to obtain, we can substitute Mustard seeds.

The quintessential Bengali Panch Phoron and mustard paste make this steamed potatoes in banana leaf a traditional and healthy dish.
Is Bhapa Aloo a Healthy dish? Yes. 
Many weight watchers avoid potatoes due to its starch content.
Firstly, research has proved that potatoes contain something called "Resistant Starch" which passes through your digestive track unchanged. In other words, its resistant to digestion and feeds the friendly bacteria in your gut. Many studies show that this kind of resistant starch has many health benefits. However, if you are on a very low carb diet for any medical reasons, you may have to think twice.
Secondly, traditionally Bengalis steam the potatoes wrapped in banana leaf. Banana leaf contains lots of anti oxidants but cannot be eaten as it is since it is hard to digest for humans. By steaming and serving hot food on a banana leaf, one could get a lot of those good stuff. That's probably why our elders preferred to eat in banana leaf. Apart from eco friendly disposal and more hygienic, in South India, serving food in banana leaf is the preference till date.
Resistant starch or no, banana leaf or no, my personal view though is that anything in moderation is the key to good health.
No worries if you can't find banana leaf. You can still steam the potatoes normal way.
Try this easy to make, delicious and differently flavoured Bhapa Aloo (steamed potatoes).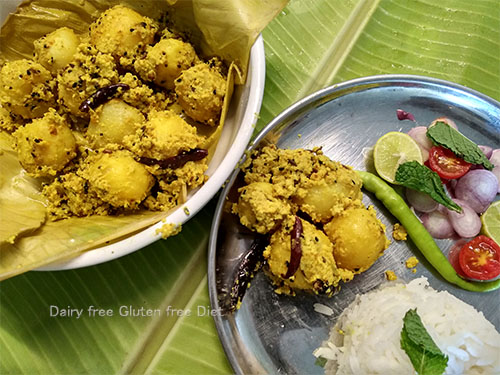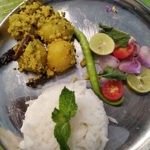 Print Recipe
Bhapa Aloo / Steamed Potatoes
Ingredients
12 to 14 baby potatoes, peeled and boiled with salt

1 tsp mustard seeds / paste

2 green chillies

2 tablespoons freshly grated / desiccated coconut

½ tsp turmeric powder

2 tablespoons Peanut curd

1 tsp lime juice

Salt to taste

1 tsp oil

1 tsp Panch Phoron Masala

2 to 3 dry red chillies

Banana leaf for steaming
Instructions
Heat oil in a pan and add panch phoron and dry red chillies

When they are roasted well, switch off the flame, add the potatoes and mix well.

In the meantime, blend the mustard seeds / paste with green chillies and coconut to a smooth paste.

Add the curd, turmeric powder and lime juice and mix well to make a marinade.

Gently mix the potatoes in the marinade without breaking them.

Make parcel in the banana leaf.

Steam cook for 10 minutes. The banana leaf adds a unique flavour to the potatoes wrapped in it and steamed.

Serve with Rice or Puris.
Video
https://youtu.be/6LB4lOTDpgI
Notes
Make sure the potatoes are not over cooked. They must be firm.
I have used non dairy curd. However you can use normal dairy curd if you want.
You can use normal potatoes cut into big chunks in the place pf whole baby potatoes
If you have no access to banana leaf, you can steam the potatoes normal way. 
You may also like my other Bengali Vegetarian dishes: