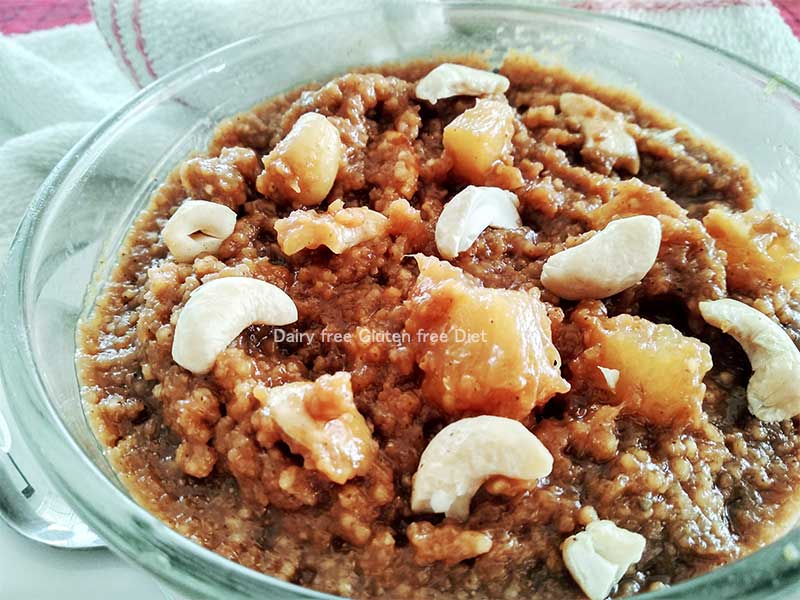 06 Aug

Sama Pineapple Pongal

Sama Pineapple Pongal. The name itself suggests that it is a vrat / fasting recipe. Festival season has commenced. There are many festivals when people in North and Western India observe fasting. They avoid rice and wheat and instead consume Sama / Vrat ka chawal in its place. This Sama Pineapple Pongal is one such for them, though all can enjoy it.

This dish is inspired by popular pineapple halwa. That uses Sooji / semolina / rawa roasted in ghee and added with lots of white sugar. But unlike halwa, this is purely gluten free, dairy free and refined white sugar free.

If you have followed my blog from the start, you would be aware that aside of gluten free and dairy free I also do NOT use white sugar. I have a separate post where I have detailed all about white sugar. I stopped using white sugar for the past 7 to 8 years. Not that I'm diabetic, thankfully. I love sweets and I do have a sweet tooth. But jaggery / cane sugar has been my saviour. I have developed a palate for sweets with these. Of course, it rules out many sweets that can be made only with sugar. Needless to say I have stopped eating them.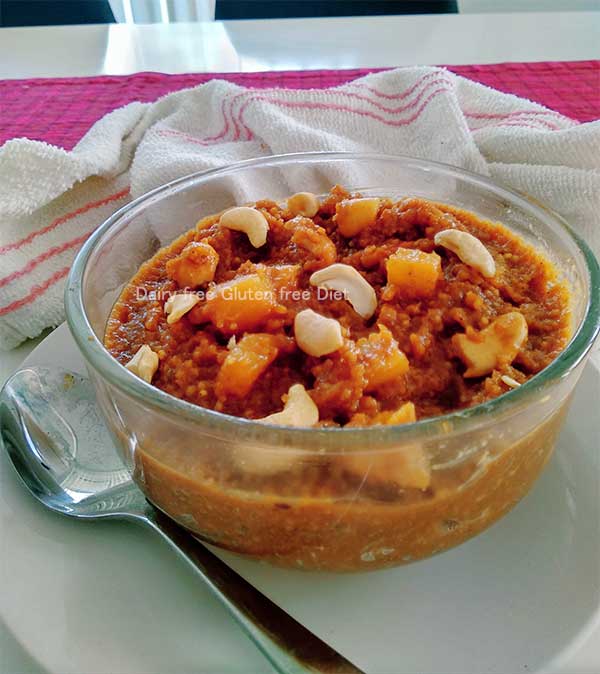 Pongal is the favourite sweet dish of Tamilians. Cooked in jaggery, it makes a healthy dessert. Though it is made only during festival, I used to wonder why don't we make it on normal days? Why does everyone prefer Halwa to Pongal? Perhaps because, many do not like the brown colour. Every one likes sweets to be fair and lovely looking. In India, fair is the favourite colour of skin and sweets. ?
To add to the woes, I have used Dark brown cane sugar. ? Because that is what I had and I do not mind the dark brown colour. If you do, you may use light coloured jaggery or cane sugar. But unfortunately, no white sugar. I have also used coconut butter in place of ghee. I got it as a gift from a friend in Srilanka. It has a nutty and sweet flavour. If you do not have access to it you can use any nut butter / ghee if you do not mind / just coconut oil or any oil. Just a tablespoon does not alter the taste.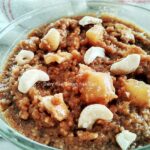 Print Recipe
Sama Pineapple Pongal
Sama pineapple pongal is inspired by pineapple halwa. Unlike halwa, this is purely gluten free, dairy free and refined white sugar free.
Ingredients
½ cup Sama

(Little millet)

½ cup pineapple chunks

½ cup cane sugar

(raw sugar / nattu sakkarai)

¼ cup pineapple juice

1 tbsp coconut butter

(ghee if you are non-vegan)

1 tsp cardamom powder

(or ginger powder / nutmeg powder / flavouring of your choice)

1¼ cups water
Instructions
Pulse Sama to coarse rawa consistency.

Heat coconut butter and sauté the millet rawa for few minutes.

Add water and pineapple juice and cook covered till Sama is cooked and turns into lump.

In another vessel, heat the cane sugar with ¼ cup water.

Boil till syrup consistency and switch off the flame.

Mix the cooked millet, syrup and the balance pineapple pieces and cook on a slow flame till everything blend together.

Switch off and add dry roasted cashew and cardamom powder.
Notes
You can use any millet / rice of your choice
You can replace 1/2 cup water with milk if you prefer
Lastly, the addition of pineapple makes it a tangy sweet Pongal with all the goodness of the millet and cane sugar. Do try and let me know.