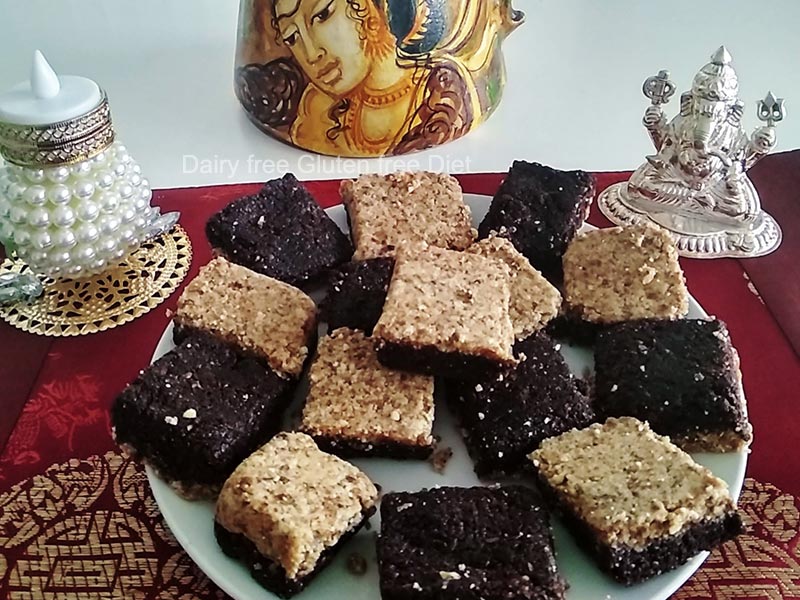 22 Oct

Flax seeds Cocoa Burfi | Indian sweet

Here is a healthy Flax seeds Cocoa Burfi for Diwali. This is a no ghee, no white sugar sweet.

Diwali is around the corner. The grand festival of lights for Indians all over the world. Diwali / Deepavali is synonymous with sweets. It is raining sweets all over. Everyone is busy preparing for the festival. All sites, all channels are full of videos with sweets both traditional and contemporary.  Hence, not to be left, I have added this recipe using flax seeds, cocoa and poha.

Flax seed, (ஆளி விதை, ಅಗಸೆ ಬೀಜಗಳು, अलसी)  as you all know is emerging as super food for its health benefits. Grown since the beginning of civilization, flax seeds are one of the oldest crops. They are rich in dietary fibre and omega 3 fats.

To top it all, Flax seed is a very versatile ingredient. Right from substitution for eggs in baking to Flax seeds Molagapodi (variation of popular Gunpowder of South India) it takes various avatars. There are many recipes for flax seeds, both savoury and sweets. I have also posted a sweet dish Flax seeds laddu and western style crackers using flax seeds.

Needless to add that Chocolate based sweets are hot favourites among many for Diwali. Hence this time I wanted to pair it with Cocoa. To add bounce, I have added coarsely ground Poha (beaten rice). Inspired by cheesecake, I prepared a base with nuts and Dates. Half of the sweetness for this recipe comes from Dates and the other half from jaggery powder. Hence I did not require any ghee. The result is this healthy and delicious Flax seeds Cocoa Burfi.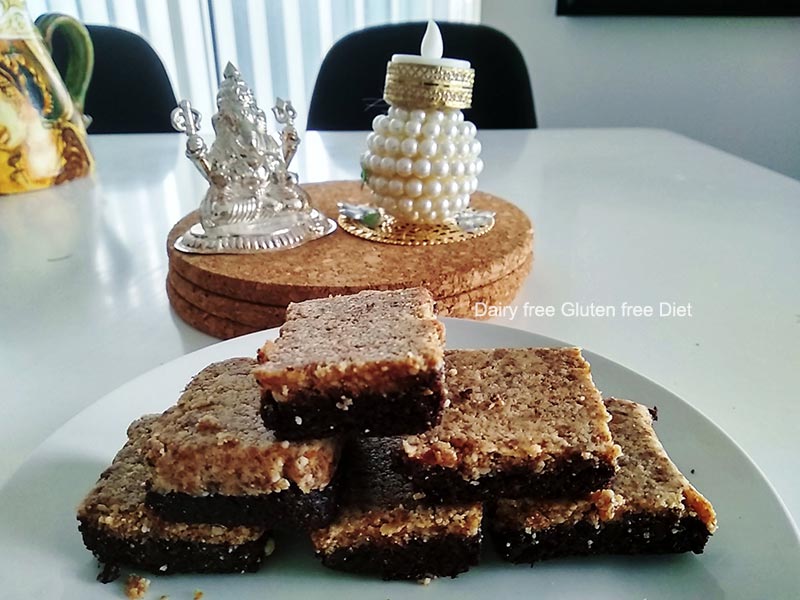 Talking about Cocoa powder there are different views about its health benefits. In general, Cocoa has quite a few health benefits. However, to derive the optimum benefits, it is better to use unsweetened cocoa. If chocolate is a guilty pleasure, then unsweetened cocoa powder is worth spooning up, guilt-free.
All said, Diwali is a grand festival. So enjoy. Celebrate Diwali guilt free. If you are sweet toothed, gorge your sweets without any guilt feeling. You can always make up by increasing your raw fruits and veggies to bring balance to the system.
Happy Diwali to all of you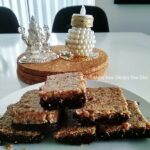 Print Recipe
Flax seeds cocoa burfi | Indian Sweet
Here is a healthy Flax seeds Cocoa burfi for Diwali. This is a no ghee, no white sugar sweet. I have used standard 1 cup=250 ml as base measurement for this recipe. You can use any cup / katori. But keep the same cup / katori for all measurements.
Ingredients
½ cup Flax seeds powder

½ cup coarsely ground poha powder

(2 cups poha when ground coarsely, yields 1 cup rawa like powder)

¼ cup unsweetened cocoa powder

½ to ¾ cup jaggery powder

½ tsp cardamom powder

¼ cup water

⅓ cup each cashew, almond & walnuts

½ cup finely chopped Dates
Instructions
Coarsely pulse the nuts and the Dates to a coarse paste in a blender. It should form a lump when you hold it tightly in your palm.

Line a plate / square tin with parchment paper (or plastic sheet) and spread the mixture tightly on it.

Even out the surface. This is the base. Keep aside.

Dry roast the flax seeds powder on a low flame just till it becomes warm. Do not over roast.

Dry roast the poha powder similarly.

Mix both and powders and cocoa powder and keep aside.

Add the jaggery in a pan with water.

Boil till the jaggery dissolves and starts bubbling. Add Cardamom powder.

Lower flame, add the flax poha cocoa mixture and mix till it forms a lump. (You can even switch off flame for this step).

Pour over the base and even out the surface.

Cut into pieces when still warm.
Notes
I have used white Poha. However, you can use red poha too.
Use thick or medium Poha. Thin poha might not work. 
I have used standard 1 cup = 250 ml as base measurement cup. This has yielded 16 pieces. You can double up the quantity for more pieces.