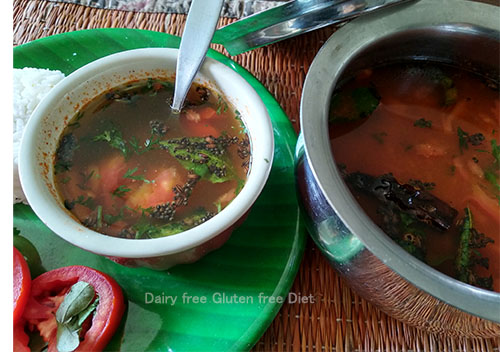 20 Dec

Poricha Rasam– Resplendent Rasam 2

The second one in my Resplendent Rasam series is this special Poricha Rasam. We make this on special days like Dwadashi (a day after Ekadashi). In India, fasting is a traditional way of cleansing the system. Many people fast on Ekadashi. However, it is advisable to go easy on your diet the day after you fast. Because your stomach rests on fasting days.

You normally take time to warm up after waking up before you begin an active day. In the same vein, you need to treat your stomach gently to become active the next day. Bombarding it with high carbs and sour ingredients puts a burden on the digestive process and so might produce acidity. Hence, our elders have specially formulated this rasam to consume on days after fasting.
What is special about this poricha rasam? 
The speciality of this rasam is that our elders did not use tamarind nor dal, which is little heavy to digest. But, not to miss the nutrition part, they added the water in which the dal is boiled. How thoughtful of them though they were not qualified dietitians or nutritionists.
In this rasam, use of tomatoes is also optional. Some families use tomatoes while some don't. Some use lime too.
In my family rasam is a 'must'. Our dining table is never complete without this item. Since this this is the only rasam I can make without any sour ingredient, I used to make it without tomatoes during Santoshi Maa Vrat days. So that I never missed my rasam. ?I love it this way.
Whenever you happen to eat heavy food on any day, you can be kind to your stomach the next day by treating it with this rasam.
Now that the winter is on, enjoy this rasam when it is hot. It is really soothing and light.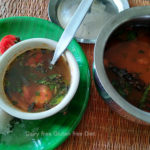 Print Recipe
Resplendent Rasam 2--Poricha Rasam
Ingredients
1

tomato finely chopped (optional)

2

tbsp

tur dal / masoor dal

salt to taste

Asafoetida

To roast:

1

tsp

urad dal

2

dry red chillies

1/2

tsp

black pepper

1/2

tsp

cumin seeds

1/2

tsp

oil

For tempering:

1

tsp

mustard seeds

1/2

tsp

cumin seeds

1

broken red chilli

Asafoetida

Curry leaves
Instructions
Cook dal as per your convenience adding 1 cup water. I normally cook dal in the steamer.

Boil tomatoes (if using), asafoetida and salt in a vessel. If you are not using tomatoes, boil all in a cup of plain water.

Roast urad dal, red chilli, cumin seeds and pepper in very little oil till dal becomes brown and grind to a powder.

Take only the water from the top of the cooked dal. Dal can be used for any other purpose. Add powder to the dal water and add this to the boiling rasam. If you feel its very spicy, add part of the powder. The rest can be stored.

Add more water if required.

Bring it to just one boil and switch off the flame.

Make the tempering and pour it on rasam.

Garnish with coriander leaves and serve hot.
Notes
This powder can be made in large quantity and kept for use any time. This way, this rasam can be made in jiffy.
You can use tomato or just squeeze a lime if you like it sour.
The spiciness of the powder depends on the chillies you use. So use your discretion when adding it to rasam.
I have used masoor dal. I prefer it to Tur dal.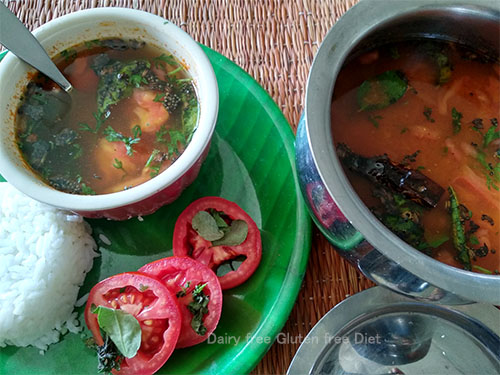 You might also like: