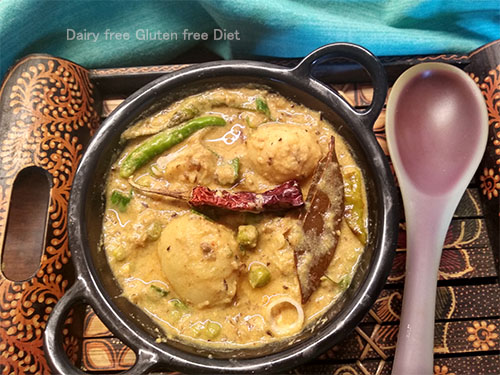 21 May

Dahi Alu Matar / Potato Peas in Yoghurt

Alu (potato) is a universally favourite vegetable with all age groups. You can hardly find one who does not like potato. Basically from Punjab, Dahi alu matar is a yogurt / curd based curry. I have used Peanut curd in this recipe. If you are non- vegan you can use normal dairy curd.

Akin to Kadhi but not exactly Kadhi is the uniqueness of this dish. What makes this Dahi Alu Matar stand out is that no besan is added here. Also the addition of roasted potato makes this dish different from normal Kadhi.

I would like to add that when we use a lot of yogurt, there are chances of it curdling when you boil it. More so when you do not add stabilizers like Besan. But one best thing about using peanut curd, is there is no such fear of this happening. Not only does it never curdle but also lends an unique flavour to the dish.

As a variation, I have added Peas with it. I have also used onion and garlic in this recipe. However, on vrat / upvaas days, both these can be done away with. It tastes equally good.  This type of no onion no garlic Dahi Alu is the most favourite dish during Navratri days.

Like any other recipe, this too is easy to make and tasty. It goes very well with Roti or Rice. You can make it as thick or as thin as you prefer. I prefer the sauce like consistency that is neither too thick nor too thin.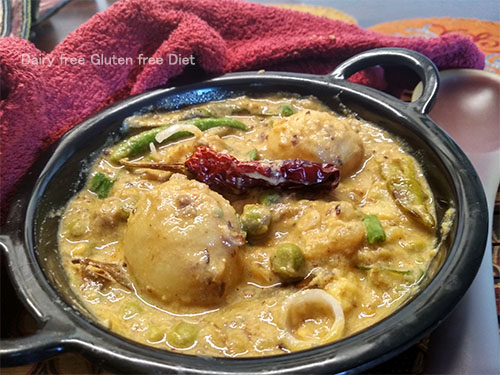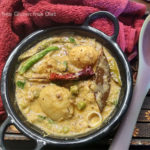 Print Recipe
Alu Matar in Curd Sauce (Potato & Peas in Yoghurt Sauce)
Ingredients
6 to 7 small to medium sized potatoes

½ cup fresh green peas

1 cup finely chopped onion

3 green chillies chopped fine / slit

1" piece ginger chopped fine

2 to 3 cloves finely chopped garlic

1 tsp oil

4 cloves

1" piece cinnamon

1 bay leaf

1 tsp cumin seeds

1 tsp Coriander seeds

½ tsp ajwain seeds (omam, caraway seeds)

2 dry red chillies broken

½ cup thick beaten peanut curd /any non-dairy curd (dairy curd for non-vegans)

1 tsp chilli powder

1 tsp dhania powder

½ tsp amchur powder

½ tsp turmeric powder

½ tsp garam masala powder

Salt to taste
Instructions
Boil and peel potatoes. Prick them with fork. If the potatoes are big, dice them.

Heat a cast iron pan and dry roast the potatoes till they slightly brown on all sides.

Take the well beaten curd and add chilli powder, dhania powder, amchur powder, garam masala powder & salt. Mix well.

Add cumin seeds, coriander seeds, cloves, cinnamon, bay leaf, dry red chillies, caraway seeds and roast till they emit a nice aroma.

Add onion, garlic cloves, green chillies and ginger and roast till onion becomes brown.

Add the curd mixture and sauté.

Add the roasted potatoes and peas.

Mix till the dahi mixture and the masalas are coated in the vegetables.

Add enough water and bring the mixture to boil in a very low flame till

the potatoes absorb all flavours. Add a little more water if need be.

The gravy should be of thick sauce consistency.

Make sure the potatoes are coated well with the curd sauce.

Garnish with fresh greens and serve with rice or roti.
Notes
You can use any curd as per your wish.
The consistency can be adjusted as per your desire. 
You can omit Peas and make it just with Potatoes
The gravy should neither be too thin else it looks like Kadhi nor too thick. 
If you wish, you can deep fry the potatoes for few minutes. To make it healthy, I have roasted them in cast iron pan.
You can also check for more peanut curd based recipes here