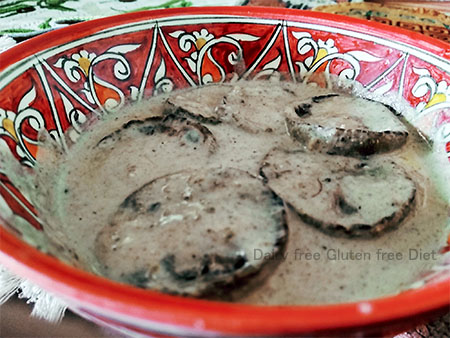 30 Apr

Kashmiri Al Yakhni / Dahiwali Lauki

Many consider lauki (dudhi / ghia / bottlegourd / suraikkai) as a boring vegetable. From the valley of Kashmir comes this Kashmiri Al Yakhni, an interesting dish made from boring lauki cooked in curd with added spices that lend an unique taste to this dish.

Kashmiri cuisine mostly favours Non-veg dishes. Originally Yakhni is one such, using meat cooked with various spices. But over the years it has gone on to include even vegetarian versions like Paneer Yakhni, Lauki ki Yakhni, Lotus root yakhni, etc.

Lauki ki Yakhni in general avoids onion and garlic as Kashmiri Pandits never used them in their cooking. One more uniqueness of this dish is it never uses Tomato & turmeric powder. It uses curd instead. Its well known that most of the North Indian dishes are never complete without onion, garlic, turmeric powder and tomato. Yakhni stands apart in this respect. Kashmiri cuisine also liberally uses saunf powder and dry ginger powder. This dish is no exception. These add a subtle flavour to this recipe.

While the original authentic recipe demands deep frying the vegetable, I have avoided that step here. Just roasted the bottlegourd pieces in a cast iron pan as we do Baingan / brinjal. Also by default, I used the peanut curd in place of dairy curd.

Here is Kashmiri Al yakhni,  the boring lauki made interesting with a dash of Kashmiri spices and dairy free curd to give it an unique flavour & texture.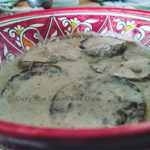 Print Recipe
Kashmiri Al Yakhni—Dahiwali Lauki—Bottlegourd Yakhni
Ingredients
4 cups Bottle Guard cut into thick rounds

2 cups Peanut Curd (you can use normal curd if you are a non-vegan)

1 tsp fennel seeds powder

½ tsp dry ginger powder

½ tsp garam masala powder

1 tsp cumin seeds

1" piece Cinnamon

4 to 5 green cardamom

2 to 3 black cardamom

Salt to taste

1 tsp oil for tempering (optional)
Instructions
Remove skin, de-seed if necessary and cut the lauki into ¼" round pieces

Mix fennel seeds powder, dry ginger powder, garam masala with a little water to make a thin paste

Beat the curd with salt to a creamy state.

Brush oil on a thick bottomed skillet, arrange the pieces on it and roast both sides sprinkling some salt.

If you want, you can shallow fry the pieces

Heat oil and add cumin seeds, cinnamon and both cardamom. Roast till they emit nice aroma.

Add the masala paste and sauté for few minutes.

Reduce flame and add the curds and mix well till the spices mix with the curds.

Add the roasted lauki pieces and boil on a low flame till the lauki absorbs the falvours of dahi and the masalas.
Notes
You can try this recipe with Brinjal as well.