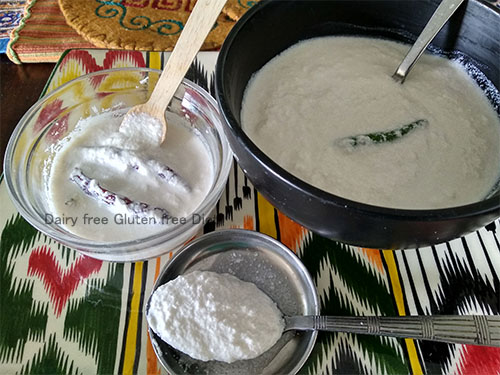 13 Apr

Peanut Curd / Groundnut Yoghurt

All those who are ardent fans of yoghurt, miss it very badly when they adopt veganism. In South India, they make sure to include curds to kids right from the 1st year. Else, they fear, the child might not take to curd. And they insist that curd MUST be a part of your daily diet. As one who has been brought up in such surroundings, not surprisingly, I missed my curds very badly when I adopted veganism for health reasons. However, keeping my health in front, I went without curd for a year without knowing that there does exist plant- based & non dairy yoghurt / curd. Once I came to know about this peanut curd, there has been no looking back.

Of course, there are many plant-based milk such as almond milk, cashew milk, coconut milk, rice milk, soya milk, etc. But frankly, my almond milk and coconut milk never set. I generally avoid soya products.  I didn't try other two. But I succeeded with peanut milk and stuck to it.

Peanut curd, research says, has quite a few health benefits like healthy gut bacteria, rich in antioxidants and improves metabolism.

Many readers had asked what is groundnut / peanut curd and how it is prepared. I have already provided a recipe for groundnut curd mixed with ground rice / rice powder. This recipe does not use rice flour. Its more grainy than the earlier one. Groundnut being a legume, even if you are allergic to nuts, you can safely include it in your diet.
How do you set this peanut curd?
There are different ways for this.
If you are a non vegan but want to try this just for the sake of it, you can set it with normal curd.
Vegans who already have non dairy curd, can set it with that.
People who have access to probiotic capsules can use them. However, I have not tried them and so cannot comment.
You are a vegan and do not have vegan curd, not to worry. You can set with Chilli stems (crowns as some call it). I have tried both dry red chilli / green chilli with stems. However again, for me this method worked best when I set a small cup (1/4 cup– 60 ml) of peanut milk with 10 to 15 chilli stem / crowns. You can use this as the starter / Jaman to set further curds.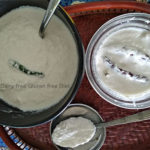 Print Recipe
Peanut Curd / Groundnut Yoghurt
I have used the standard measuring cup for this recipe. 1 cup = 250 ml
Ingredients
½ cup raw peanuts / groundnuts

1½ cups water
Instructions
Wash the raw groundnuts and soak in water for a minimum of 6 hours.

Drain and rinse well number of ttimes and grind to a very fine paste adding little water at a time.

At this stage you can either strain it or use it as it is.

I prefer to strain it through a cheese cloth so that not much of pulp remain out. It is neither too thin, nor too thick.

Boil the strained milk till it comes up like normal milk.


Cool and when it is warm enough, set as explained in the post.
Notes
I use 3 times water to grind the peanuts and extract the milk. However, for a thicker / thinner milk you can adjust the water.
When I tried to set the entire curd with chilli stems / crowns, it took more than 24 hrs to set. But when I set a small quantity ( 1/4 cup) with green chilli crowns it got set overnight. However, people do succeed in setting the entire curd with chilli crowns. You can try.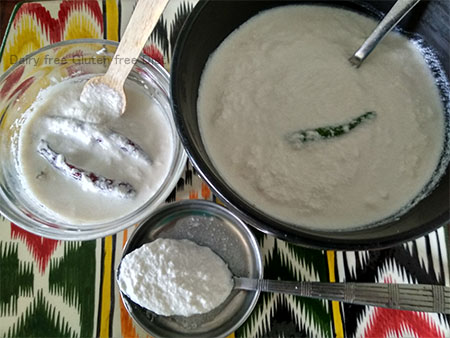 You can also check more recipes with groundnut curd here: