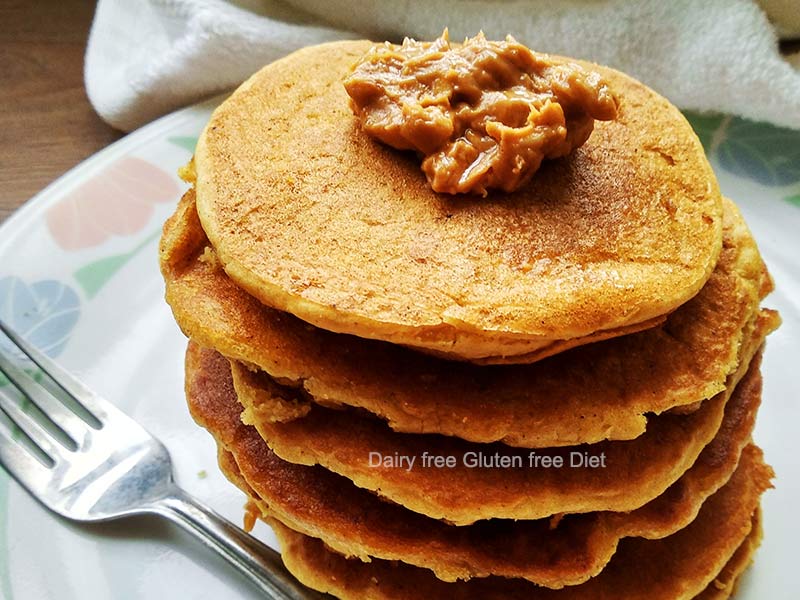 19 Jul

Buttermilk Pancake/ Vegan Gluten free

This Buttermilk Pancake is the easiest to make, soft and fluffy pancake using the home made Gluten free flour mix  and buttermilk from non-dairy peanut / groundnut curd. The sweetness of the jaggery, tanginess from the buttermilk and the salt perfectly balance the taste. So much so that they do not even need to be overpowered with maple syrup or honey!

Pancakes traditionally are prepared with processed wheat flour, milk and eggs. Mostly, leavening agent like baking soda go to make fluffy and soft pancakes. In Britain, leavening agents are not used and pancakes resemble a crepe, a thin and soft dosa like pancake. Though ideally a breakfast item, you can serve pancakes at any time of the day with a variety of toppings including jam, fruit, syrup, honey, jaggery powder.

These Buttermilk pancakes do not require eggs or egg substitute as the buttermilk and the leavening agents react together making them super soft. Added to it, most Indian homes have curd ready at home, homemade or store bought. So, this recipe is a pancake walk for you. ? It gets done in 15 minutes and so is the best for a quickest breakfast on a frenzied morning.

Interestingly, a Pancake day is celebrated in Britain & Commonwealth as Shrove Tuesday, a day in February or March immediately preceding Ash Wednesday and ends approximately six weeks later, 3 days before Easter Sunday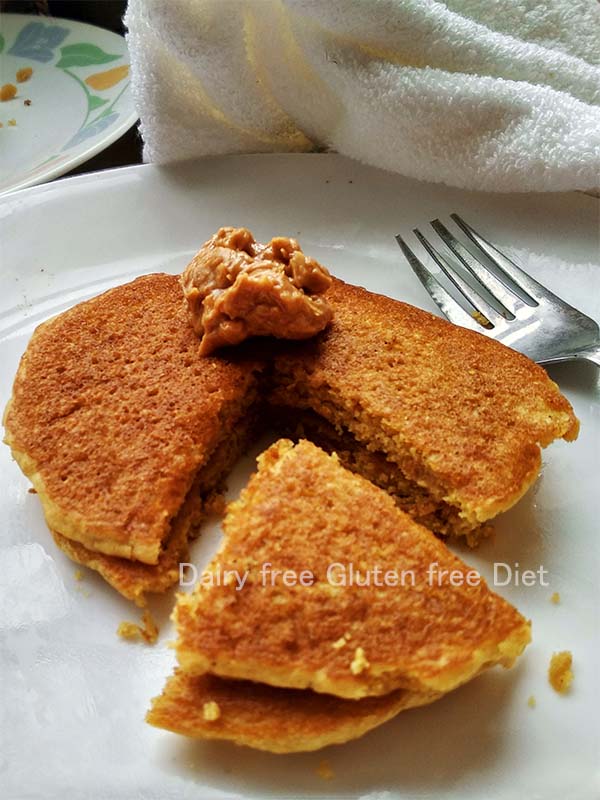 Finally few more tips for making this pancake
Firstly, make sure the batter is neither too thick nor too thin. If it is too thick, it might be undercooked and too thin, it might become like a crepe.
Secondly, do not beat the batter too much. The pancakes might become hard.
In this recipe, I blended the ¾ cup curd, ¼ cup water and 3 tbsp jaggery powder in a blender to get the jaggery dissolved completely in the buttermilk. The aeration caused by blending did the trick. I gently mixed the wet with the dry to make the batter. The pancakes turned out super soft and fluffy. I normally use date syrup to serve with pancakes. Unfortunately, I ran out of it. Hence just topped it with a globule of peanut butter. However you can use any butter, honey or maple syrup to go with these pancakes.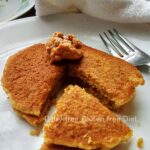 Print Recipe
Buttermilk Pancake
These are easy to make soft and fluffy pancakes best suited for breakfast on a busy morning. I have used standard measuring cups here. 1 cup=250 ml.
Ingredients
1 cup Gluten free flour mix

1 tsp baking powder

½ tsp baking soda

¼ tsp salt

3 to 4 tsp jaggery powder

1 cup peanut buttermilk

made from ¾ cup peanut curd + ¼ cup water

Any flavouring (optional)

Cardamom powder, nutmeg powder, vanilla essence, etc

1 tsp peanut butter / any nut butter for topping
Instructions
Mix together the flour, baking powder, baking soda and salt in a large-sized bowl. Whisk thoroughly.

Bend the curd, water and jaggery powder in a blender. Add the flavouring if you are using.

Add the blended buttermilk slowly to the flour mix and make a medium thick batter.

If you have time, rest it for 10 minutes. But the pancakes do turn out soft if you miss this step too.

Heat a dosa tawa / heavy bottomed skillet.

Once it is hot, reduce the flame and pour ¼ cup batter. Do not spread.

Once the top starts bubbling and the bottom turns light brown, gently flip it to cook the other side.

When the underside too turns a light brown, you can remove it.

Repeat with the entire batter.

Serve drizzled with honey (if you are a non-vegan), maple syrup, date syrup or any nut butter
Notes
Adjust the sweet level as per your preference. 
Drizzle some oil around the pancake if your skillet is not heavy bottomed. 
Adjust the consistency of the batter by adding more water / flour as the case may be.