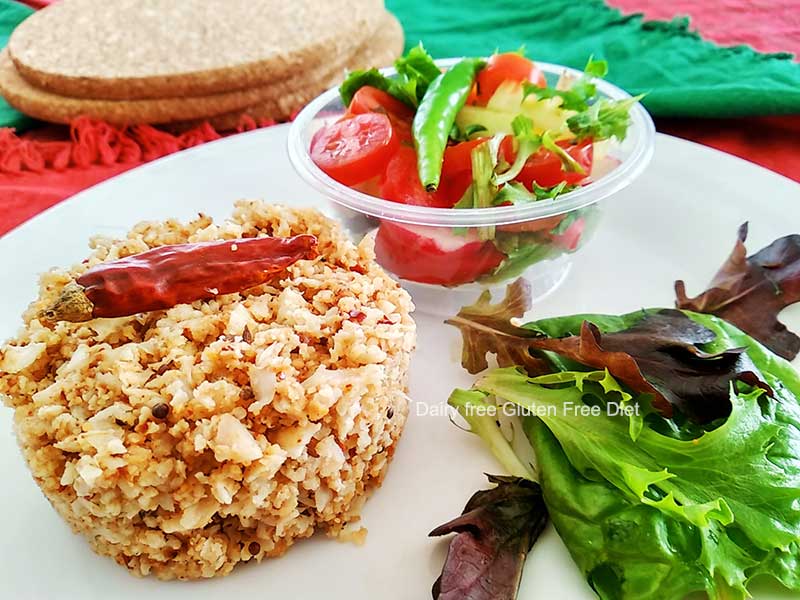 14 Sep

Cauliflower Sesame Rice | Low-carb rice

Cauliflower Rice is the new trend in Low Carb Foods, with close to 20,000 posts on Instagram featuring #cauliflowerrice. Since it fits well in my theme of dairy free, gluten free and healthy diet system, I decided to make this Cauliflower Sesame Rice.

Cauliflower Rice is the favourite of people who follow Keto diet. I am not familiar with the diet system and so I have no authority to write about it. All I can say is, if you want to go for low carb food, Cauliflower Rice is the perfect introduction to grain alternatives. As you all know Cauliflower has numerous health benefits. I already have a post Doi Fulkopi / Cauliflower with Yogurt Gravy using cauliflower.

As a first step, how do you make Cauliflower Rice? If you happen to own a food processor, you are fortunate. But a simple grater does an equally good job, if not better. You just need to grate it and surprisingly, it resembles white rice grains. But just remember that riced cauliflower is most definitely a vegetable and can not replace Rice grains in the literal sense. But due to Cauliflower's health benefits and versatility, it is the best option when you want a vegetable alternative for grains.

As a second step, once done, how do you cook it? Once the florets are "riced", you can add your own flavours and play around. However, while cauliflower is a great substitute for rice, these "grains" should not be cooked in water like rice. Doing so will leave it mushy and the fun of having a grainy texture is lost. Sautéing for a very short time gives the best results.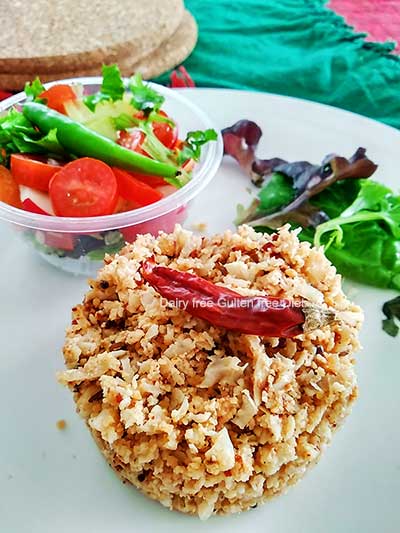 There are many recipes as Simple pulao, Mexican rice, Burrito, etc using Cauliflower Rice. When I decided to give desi touch to this, Sesame Rice is the first thing that came to my mind. Mainly because I realised, even though riced cauliflower can act as a stand-in for rice, it doesn't have the same flavour you get with rice. Instead it is mild with a nutty flavour. Sesame Rice (Ellu saadam) is a popular South Indian dish. It's a simple dish with all the goodness of sesame seeds.  Hence I thought pairing nutty flavoured cauliflower rice with equally nutty flavoured sesame would enhance the taste. And true to my belief, it did.
You can use either black or white sesame seeds for this recipe. Since I did not have the black seeds, I used white sesame seeds. Secondly, you get the best results when you use sesame oil for tempering. However, you may use any oil of your preference.
Try this Cauliflower Sesame Rice if you want a tasty, easy to make low card main course dish. Serve with fresh vegetable salad to complete a healthy meal.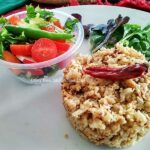 Print Recipe
Cauliflower Sesame Rice | Low Carb Rice
This is a Low carb nutty flavoured rice with all the goodness of Sesame seeds and Cauliflower
Ingredients
1½ cups Cauliflower Rice

(grated cauliflower)

2 tbsp sesame seeds

(black or white)

3 to 4 dry red chillies

1 tbsp urad dal

salt to taste

Tempering:

1 tsp mustard seeds

1 tsp cumin seeds

½ tsp asafoetida

few curry leaves

(I didn't have them, so couldn't add)
Instructions
Dry roast the sesame seeds first till they pop up. Do not over roast.

Dry roast the urad dal and red chilli .

Powder all to a breadcrumb consistency.

Heat a skillet and add the mustard, cumin seeds, curry leaves and asafoetida.

Add the cauliflower rice and sauté on a low flame for few minutes.

Make sure it does not lose its grainy texture.

Add the ground spices and mix well on a low flame.

Switch off once it is mixed well.
Notes
You can use either black or white sesame seeds for this recipe. Since I did not have the black seeds, I made with white sesame seeds.
You can also add cashew / peanuts in the tempering.
You can add desiccated coconut if you prefer. But I felt it might overpower the sesame seeds flavour. Hence didn't use it.
You can use any oil for tempering. But Sesame oil gives the bet results.