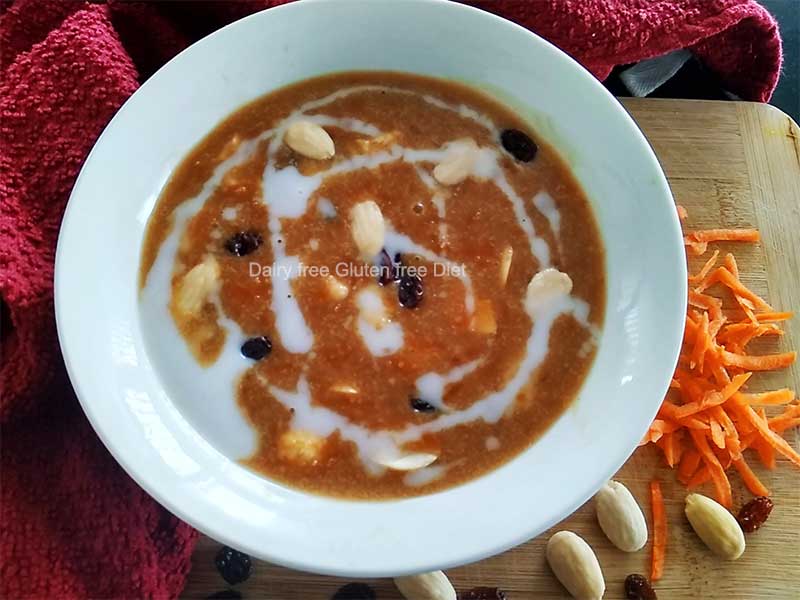 03 Sep

Rajgira Carrot Kheer | Vegan Gluten free

Rajgira (Amaranth seeds / அரைக்கீரை விதை /  Ramdana) along with carrot makes the best combination for a healthy dish. I have used Coconut milk and cane sugar in this Rajgira Carrot Kheer to make it healthier. Amaranthus is now gaining popularity world over as the best Gluten free option. But for us in India, it is not a new but an ancient grain. For thousands of years both seeds and leaves are traditionally used for its nutrient contents.

The word 'Amaranth' in Sanskrit means 'immortal /deathless'.  Many Northern States of India call it Ramdana meaning God's seed or Rajgira meaning King of seeds. True to its name, it is so rich in fibre and protein that it is equivalent to if not more nutritious than Quinoa, the wonder grain of the West. I firmly believe that the basic thumb rule to remember when it comes to consuming any food item is to make sure that that it is seasonal, local and regional. In that perspective, Rajgira gains an upper hand for Indians over Quinoa. It is purely local and regional unlike Quinoa which is not grown in India.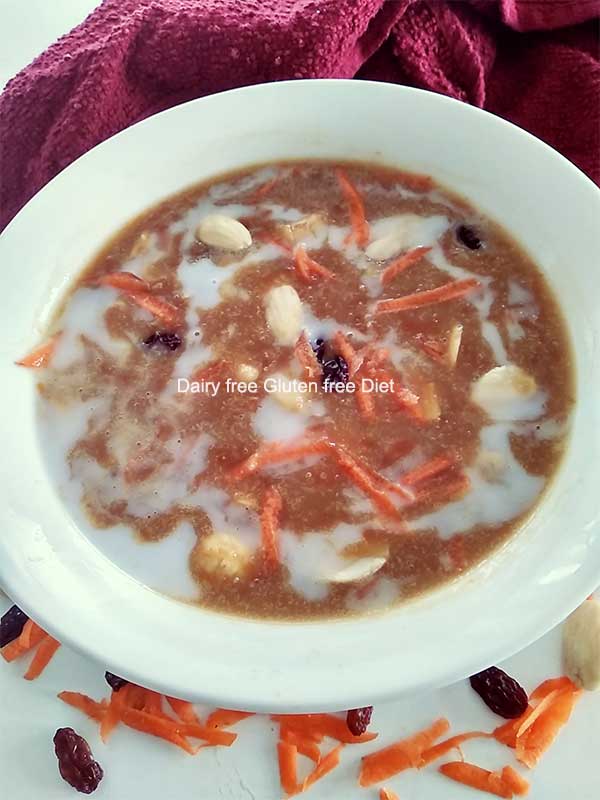 Though we call Rajgira a grain for want of appropriate nomenclature, it is strictly not a grain but seed. That is why it serves as the main ingredient during upvas / fasting among certain States in India. Furthermore it curtails hunger and keeps one satiated.
These seeds are available off the shelves in India. They are so versatile that you can cook them as you would cook rice; puff them and make a porridge or Ladoos; toast them and add it in your salads. Rajgira flour has many uses too. They make best Puris and Rotis. Amaranth leaves also make interesting recipes. Cheera Thoran in Kerala, is the stir-fried leaves with chillies and garnished with coconut. This is the most favourite in our home. You can also cook it with Dal as Andhra Pradesh calls it Thotakura Pappu. Northern States make Saag with these leaves. Check for my post on Amaranth leaves Lobia Sabzi. 
This Rajgira Carrot Kheer makes a healthy dessert for both kids and adults. Though I have used coconut milk, you are free to use dairy milk if you wish. But trust me, coconut milk lends an unique flavour.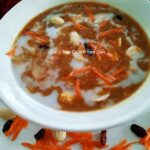 Print Recipe
Rajgira Carrot Kheer | Amaranth Carrot porridge | Vegan and Gluten free
Ingredients
½ cup Rajgira seeds

1 cup grated carrot

1½ cups water

1½ cups coconut milk

¼ cup jaggery powder / cane sugar

2 tbsp mixed dry fruits

(cashew, almond, raisins)

1 tsp cardamom powder
Instructions
Wash and drain Rajgira seeds.

Add in a pressure cooker with 1½ cups of water and cook as per the cooker timing.

Once cooked remove in a pan and add jaggery powder.

The jaggery powder melts and the mixture becomes slightly liquid.

Cook on a low flame till the mixture thickens lightly.

Reduce flame and add the coconut milk.

Mix well and bring it to one boil on a low flame.

Add dry fruits and cardamom powder
Notes
You can serve this chilled or hot. 
My cane sugar was on the sweeter side. I needed only 3 tablespoon. Adjust sweet levels as per your preference.