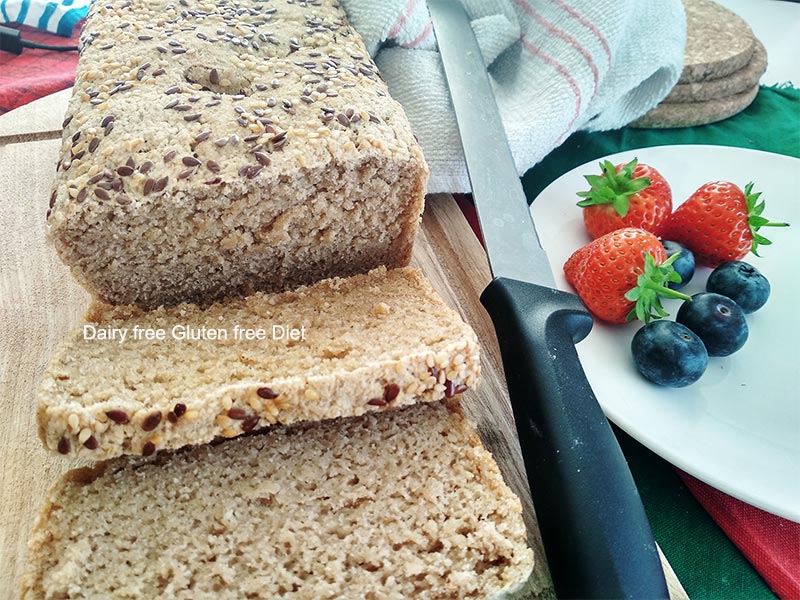 05 Oct

Gluten free Bread | Vegan & healthy

The word Bread immediately brings to one's mind a white coloured soft loaf made with processed wheat flour. A flour that is devoid of all the nutrients. Ever since Gluten intolerance came into light, this white soft bread has been replaced by Gluten free Bread, that is the most in demand today.

A variety of healthy, gluten-free alternative flours exist for people avoiding gluten for some health reasons. Many gluten-free flours have more nutrients than others, making them healthier choices to include in your diet.

Baking with Gluten free flour is a challenge. It's gluten that gives bread its elasticity and cakes their lightness. You just cannot replace the white processed flour with gluten free flour on 1: 1 basis. Mainly because the Glutenous flour consists protein and starch. On a very few instances can you bake with one single gluten free flour. However, for the most part, you have to combine 2 or 3 flours together in the right amount to make a flour mix that will work for gluten-free baking.

Pl refer to my post on Gluten free Flour mix 2 for full details for the flour mix I made finally for baking a bread.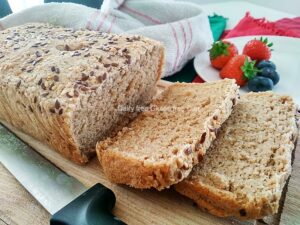 If you have been baking white bread regularly, you sure have to unlearn few things. First is to remember that the process is different. Secondly, that you cannot knead gluten free flour as you do whole wheat or refined wheat flour. Its texture is different. When you first look at the dough, you might feel, oh, this cannot be a bread dough. But keep all your doubts apart and go ahead boldly ?.
You might make mistakes. The first time I baked with different mix, I pulled out an ugly looking sunk bread that was half baked. ? After a lot of trials and errors, I can proudly say, I have been successful in baking a decent looking bread finally. Would try to improve this with different combination of flours and will keep posting.
Notes:
I have used Instant yeast that can be added direct to the flour without having to proof. If you are using active dry yeast, please add to the warm water with sugar and allow it to rise.
2. Use my homemade Gluten free flour mix 2 for this bread. There are 2 options. You are free to choose whichever is convenient to you. Both work out well.
3. The slices of this Gluten free Bread taste very heavenly when you toast them. I even cut few slices into small cubes, just mixed a tsp of coconut oil, spread on a baking sheet and baked them. The result was the best tasting croutons that can go with your soup for dinner. Try it.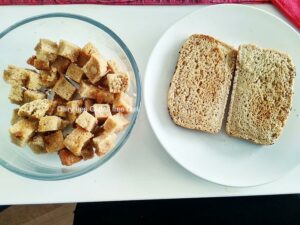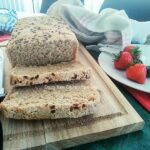 Print Recipe
Homemade Gluten free Bread | Vegan & Healthy
this Gluten free Bread is baked with homemade gluten free flour mix that is healthy, delicious and nutritious
Ingredients
Gluten free Flour mix 2

Mix 1 of 500 gm OR Mix 2 of 3 cups

2 tbsp Psyllium husk

1½ tsp rock salt

2 tsp yeast

(Instant / active dry yeast)

1 tbsp cane sugar

2½ to 3 cups warm water

1½ tbsp any oil
Instructions
Dissolve sugar in warm water

If your yeast is not instant, then add the yeast to warm water with sugar and proof it till it rises

If your yeast is instant add yeast, psyllium husk and salt to the flour and mix well

Make a well in the centre and add oil and sugar water and mix to a dough with a spatula

Line a loaf pan with parchment paper along the length leaving extra paper at the edges. This step makes it easy to lift the bread from the pan without sticking to it after it is baked

Fill the dough in the loaf pan and even out the surface

Sprinkle flax seeds and sesame seeds on top (optional)

Cover with a with cloth and keep in a warm place for 2 hours or till the dough rises to the top

Once the dough rises, bake in a preheated oven at 200˚ C for 35 to 40 minutes.

The bread is done if a skewer inserted comes out clean

Remove from the loaf tin and cool on a wire rack

Slice once completely cooled
Notes
Baking time differs from oven to oven. Adjust accordingly
Water quantity may differ due to flour quality. Adjust till you get a sticky thick dough, 
Slice the bread only after it is completely cooled.