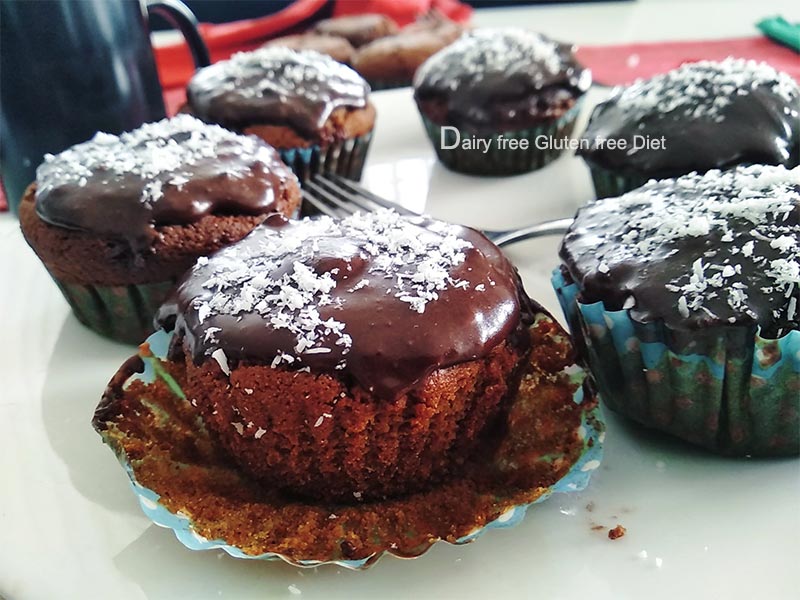 23 Aug

Millet Cupcake / Dairy free Gluten free

Baking with gluten free flours is challenging at times. And when you do not use powdered white sugar, it doubles the challenge. This totally gluten free Millet Cupcake is achieved after crossing quite a few challenging hurdles. All I need to add here is that though I have used Bajra (Pearl Millet) flour, you can use any millet flour. Does not make much difference in taste. However, the quantity of milk may differ. Hence keep adding little at a time till you get the proper consistency for cupcakes.

I have spoken a lot about cupcakes & muffins in my earlier posts on Carrot Cupcake and  Date and Raisin Muffins recipe. You can also check my post on Gluten free flour Mix that I have used in this recipe.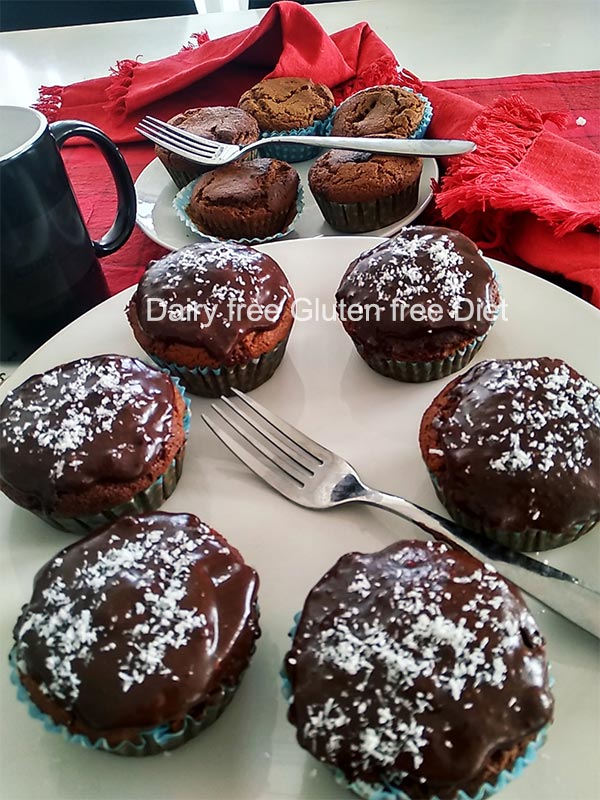 Special ingredients in this Millet Cupcake
I used Palm jaggery (Karupatti Vellam) for this recipe. This jaggery has a dark brown shade. It scores over other sweetening agents for its health benefits.  Due to its dark shade, the colour of cupcake may not match with its counterparts using white sugar. However, its your choice to use any. You may replace white sugar but the quantity might differ. You need to try.
I also made my own almond milk for this recipe by grinding soaked and blanched almonds with 3 times water. I have posted a recipe for almond milk. But since I needed only small quantity for this recipe, I soaked about 10 to 12 almonds in hot water, peeled and ground to a fine powder. Added ½ cup water and blended till smooth. Did not strain and used it as such.
Lastly, I frosted half of these cupcakes with chocolate frosting which is purely optional. Personally I prefer plain without frosting. But family prefers rich frosting. I had some dairy free butter, that claims to be made from Sunflower. ? The label said its soy free and dairy free. And so I used it. You may even use plain oil or butter or any other nut butter like coconut butter, cashew butter, almond butter. These are not available off shelves in India but you can source them from Amazon.
Enjoy these healthy gluten free, dairy free, refined white sugar free cupcakes. These taste better after a day. When you store in refrigerator, it stays good for upto a week depending on the climate.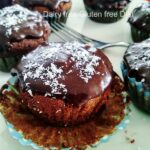 Print Recipe
Millet Cupcakes / Dairy free Gluten free
This totally gluten, dairy and white sugar free millet cupcake is made with Bajra (Pearl Millet) flour, palm jaggery and dairy free butter.
Ingredients
1 cup Pearl millet flour (Bajra / Kambu)

(you can use any millet flour)

¼ cup Rice flour

1 tsp baking powder

Pinch of salt

3 tbsp dairy free butter melted / any oil

(normal butter if you are non vegan)

¾ cup jaggery powder / cane sugar / brown sugar

2 tbsp Flax seeds powder

½ tsp baking soda

1 tsp lime juice / plain vinegar

½ cup almond milk / any non -dairy milk

(dairy milk if you are non-vegan)

1 tsp vanilla extract

For Chocolate frosting

(optional)

3 tbsp jaggery powder

1 tsp unsweetened cocoa powder

1 tbsp non dairy butter

1 tsp non dairy milk
Instructions
Preheat the oven to 180˚ C

Mix the flours, baking powder and salt, whip or sieve to blend thoroughly

Mix 2 tbsp flax seeds powder with 6 tbsp warm water and keep aside for 10 mts.

Beat the jaggery powder and oil / melted butter together till they mix well.

Add the Flax seed mixture, baking soda, lemon juice and vanilla and mix well.

Add part of the flour and part of the milk and mix till they combine.

Repeat alternating flour and milk till all the flour is added.

Fold everything lightly using cut and fold method till the batter is smooth.

You may or may not require all the milk.  The quantity of milk depends on the quality of the flours.

Line a cupcake tin with liners and pour the batter into each cup till half.

Bake in the preheated oven at 180˚ for 30 minutes.
Cream the jaggery powder, cocoa powder and butter. Add milk and mix till you get spreading consistency. Spread / pipe over the cakes. This mixture is good enough to frost 6 cupcakes.

Notes
To repeat:
You can use any millet flour, any milk, any butter as per your preference. 
Make sure the consistency of batter is not very thin, nor very hard. Adjust milk / flour accordingly. 
I have used liners for cupcakes, However, you can oil the cups and pour the batter directly. 
Baking time differs from oven to oven. Check if the cake are done by inserting a toothpick.  
You can use store bought almond milk if you have access.