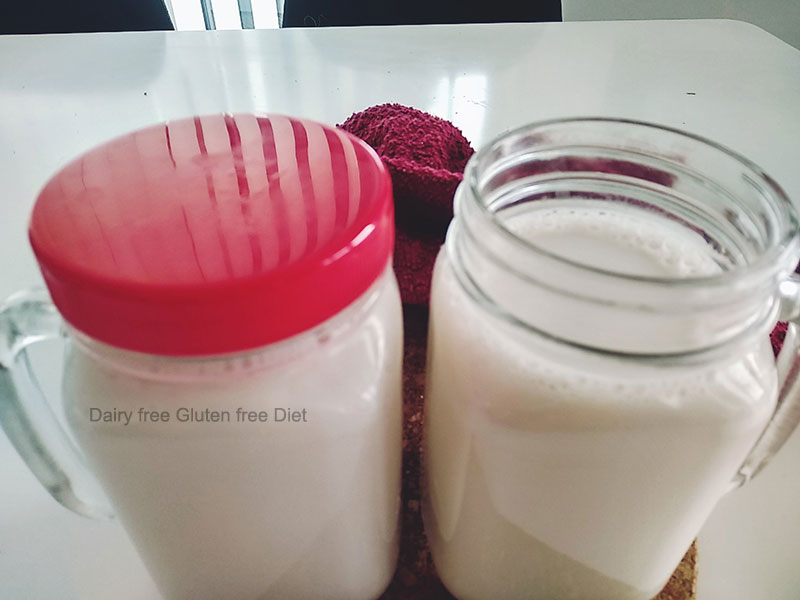 15 Nov

Homemade Almond milk | Vegan milk

Posted at 12:55h

in

Andhra pradesh

,

Bengal

,

Gujarat

,

Indian

,

Karnataka

,

Kerala

,

Lifestyle

,

Maharashtra

,

Milk & Curd

,

Punjab

,

Tamil Nadu

0 Comments

Almond milk is the popular choice for those who cannot or choose not to drink cow's milk. Even in India, Almond milk is easily available off the shelves presently. But as I always insist on homemade stuff, here is a recipe for homemade almond milk.
Why are many people not able to consume dairy milk?
While milk has always been a staple diet in India, why should people develop allergy all of a sudden? Is it real or just a myth? These are the legitimate questions that arise in everyone's minds.  Well, the answer lies in many factors.
Firstly, there is a mountain of difference between yester years' dairy milk and todays. Those were days when most of us had cows at home. We fed them with healthy grass and hay. Even in farms, any other food for cows were unheard of. As against, today's cows are pumped with hormones to produce more milk in filthy farm conditions. And humans are infected by these super bugs that cause severe allergies in all forms. I was a victim of skin allergies, continuous sneezing, etc when I was consuming dairy milk. It was a revelation to me when I realised that milk was the culprit. Ever since I stopped consuming cow's milk for the past 5 years, surprisingly, I have been relieved of major allergies.
Secondly, animal milk has a complex protein called Casein that medical professionals do not advise for children with special needs. A gluten-free/casein-free diet, GFCF diet is what doctors advise for these children. It is one of several alternative treatments for children with autism. Many parents of autistic children choose GFCF diet for them. Among the benefits they report are changes in speech and behaviour. These children can have almond milk, rice milk, coconut milk, seed milk or any plant milk. Even otherwise Almond milk has many health benefits for everyone. They are rich in Vitamin E, low in Phosphorus, with a moderate amount of Potassium. On the downside, if you have nut allergies, you may not be able to consume this milk.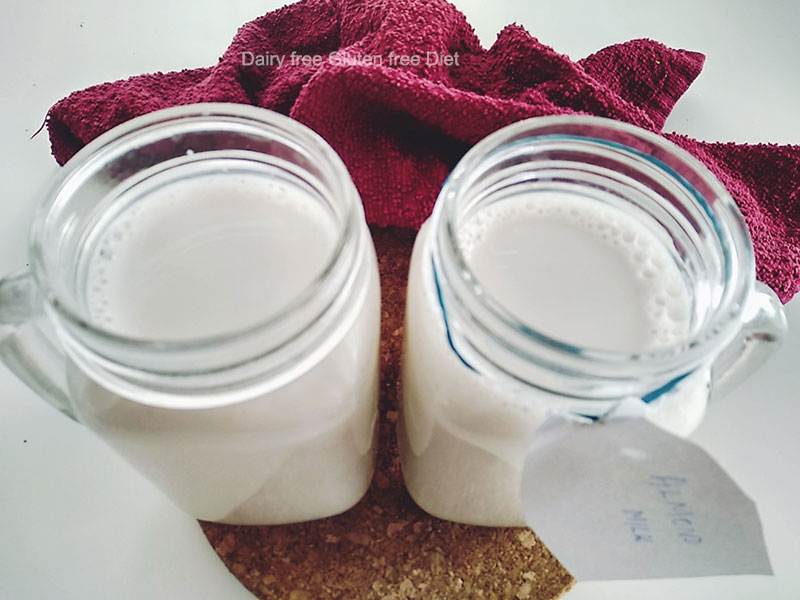 Why homemade almond milk?
Commercial almond milk has some preservatives added for sure. Secondly, they are far more pricey than what they should be. When I started this blog a year back, I have given a recipe for almond milk that was made after removing the skin from soaked almonds. I understood removing the skin makes it devoid of fibre. Hence, in this version, I have blended the almonds with skin for making milk. Trust me, the milk obtained is a beautiful golden-brown colour, creamy and is more tastier than the earlier version. Almost like store bought commercial brands sans the additives.
Making almond milk at home involves blending the almonds with water and extracting the milk as we do for coconut milk. This leaves a residue of almond pulp. Please do not throw this away. I have already published a recipe for almond pulp brownies using this pulp. I will publish more recipes using this pulp in my next post. Until such time, enjoy this delicious and healthy homemade almond milk.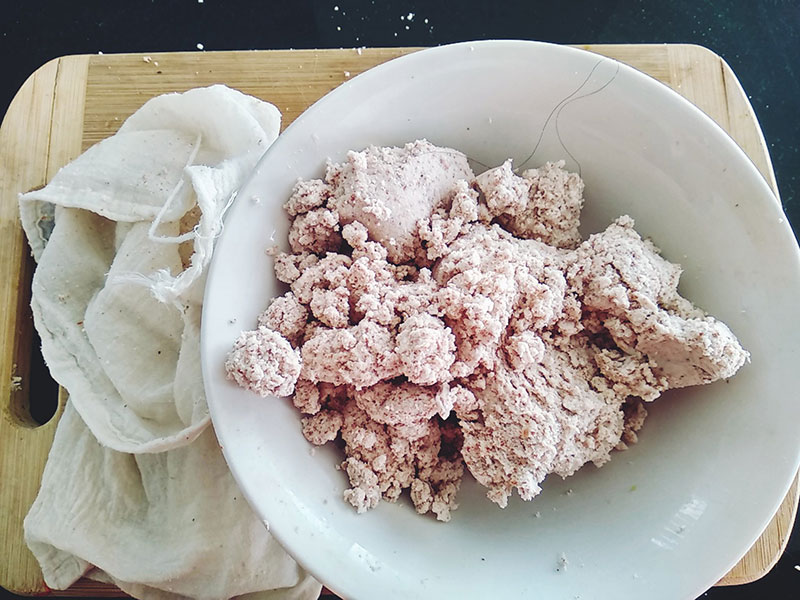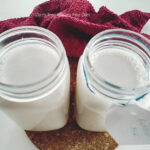 Print Recipe
Homemade almond milk
This homemade almond milk is creamy and delicious and perfect for those who are intolerant to cow's milk
Ingredients
1 cup unsalted raw almonds

4 cups water

pinch of salt
Instructions
Soak almonds in water overnight.

Next day, drain and rinse in fresh water several times.


Blend in a high speed blender adding salt and 4 times water till its creamy.

Strain through a muslin cloth / cheese cloth / nut milk bag, as you would for coconut milk.

Store in clean bottles in refrigerator. Stays good for 3 to 4 days.

Reserve the pulp. You can use it in many different ways.
Notes
I prefer unsweetened almond milk. If you wish, you can add any sweetener / 2 Dates while blending. 
You can also add any flavour such as vanilla if you wish.
Store the pulp in refrigerator for making cakes and cookies.