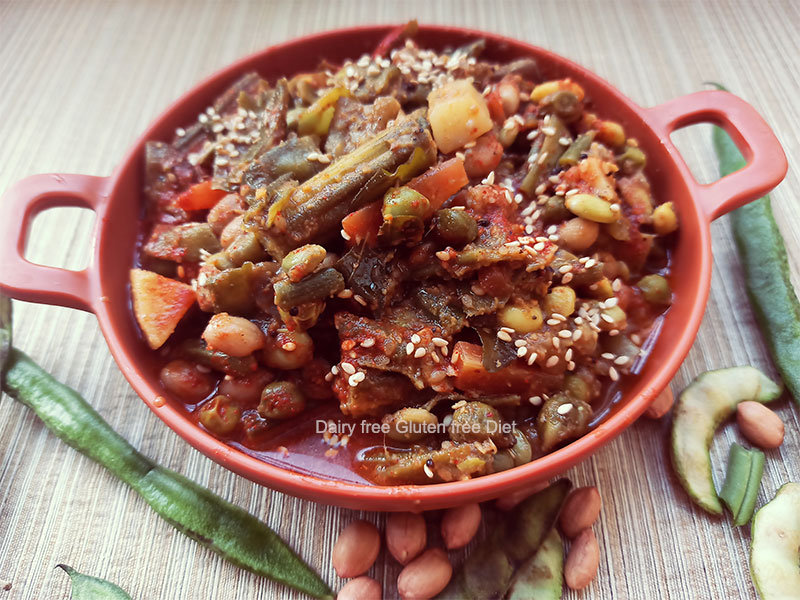 14 Jan

Bhogichi Bhaji | Maharashtrian curry

Bhogichi Bhaji is a traditional Maharashtrian mix vegetable curry that marks the first of the three day celebration of Makar Sankranti. This uses seasonal bounty of many winter vegetables that are gifts of Nature.

In India, Makar Sankranti embodies the end of the winter solstice and the beginning of the harvest season. It is a 3 day festival all over India. The first day is Bhogi. On Bhogi, people discard old and rundown things and concentrate on bringing in new things causing change or transformation. It is amazing how each State in India celebrates winter season with its own dish that makes use of all these winter vegetables. Come December, Tamil Nadu makes Ezhu Kari Kootu on the Ardra day. Gujarat makes Undhiyu and Maharashtra makes this Bhogichi Bhaji. Interestingly the vegetables that go to make these dishes are almost the same but the spices are different. That makes each of these dish a unique one in its own way.
Speciality of Bhogichi Bhaji
Bhogichi Bhaji makes use of different kinds of beans that are exclusive to winter. Beans like Lima beans, flat beans, valor beans (Surti Papdi), french beans, green channa, green raw Tur, peas, and many such nourishing vegetables go to make this curry. Other vegetables that are generally used are potatoes, brinjal, carrot and drumstick. Some families use tomatoes as well. In Maharashtra sesame seeds (Til) plays a significant role for Makar Sankranti. Hence it goes without saying that all these vegetables along with the paste made from dry coconut (copra), sesame seeds and peanuts makes this dish an aromatic one.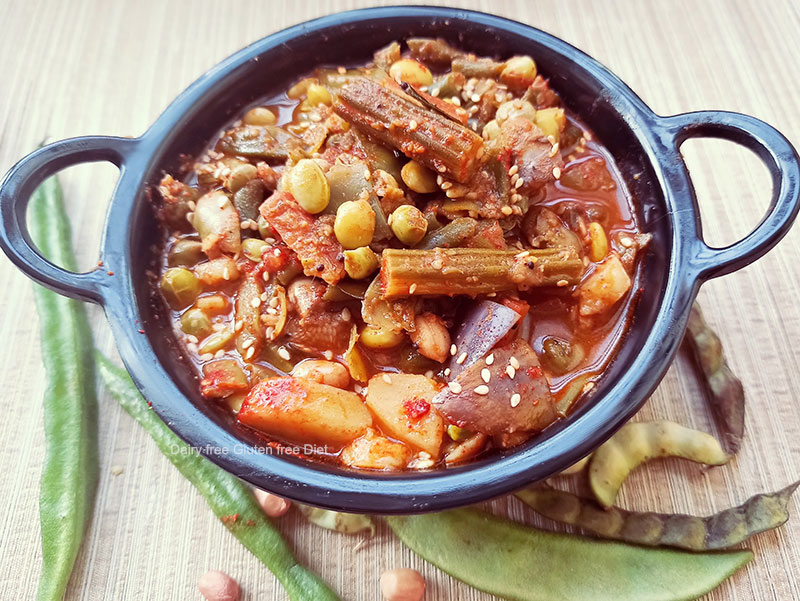 You can use any vegetable of your choice. But significantly the winter specific ones. Traditionally, if making it as naivedyam (offering) to God, we avoid onion and garlic. However, each family has its own tradition. Some use onion and garlic as well. But I have not used them thus making it a Satwik dish. Secondly, the use of Goda Masala, the spice that is specific to Maharashtra, lends it distinctive flavour to the dish. Nevertheless, if you do not have it, you can still use Garam Masala / Kala Masala.
During last winter I had shared the recipe for Undhiyu. For this year, I would love to share the recipe for this Bhogichi Bhaji. Enjoy this on any day during winter, not necessarily only on the day of Bhogi.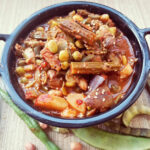 Print Recipe
Bhogichi Bhaji | Traditional Maharashtrian mix vegetable curry
Bhogichi Bhaji is a traditional Maharashtrian curry that celebrates the first of the three day celebration of Makar Sankranti. This uses seasonal bounty of many winter vegetables that are gifts of Nature.  
Ingredients
Take ⅓ cup of each of the following:

Green peas

Fresh green Lima beans

(pavta, mochai)

Green channa

Green tuvar

Flat beans

(Ghevda, Avaraikai)

Surti papdi

(valor beans)

French beans

Potato diced

Brinjal diced

carrot diced

1 drumsick cut into 2" pieces

Raw peanuts soaked for 10 minutes

2 tbsp tamarind paste

1 tbsp jaggery

(optional)

salt to taste

Grind to a paste:

2 tbsp dry coconut

(copra)

1 tsp chopped ginger

1 tsp cumin seeds

1 tsp goda masala

(or garam masala)

2 tsp chilli powder

Tempering:

2 tsp oil

1 tsp mustard seeds

2 tbsp sesame seeds

(til, ellu)

asafoetida

curry leaves
Instructions
Grind the ingredients for paste adding sufficient water to make a smooth paste

Add mustard seeds and sesame seeds and allow them to splutter.

Add asafoetida and curry leaves and roast for few minutes.

Add the ground paste and sauté for few more minutes.

Add the greens first, mix well and cover and cook for few minutes.. Then add the rest of the vegetables, salt and mix well.

Add just enough water and cook on a low flame till the vegetables are done.

Keep adding water if necessary. It should not be too thin.

Finally add tamarind juice and jaggery and boil for few more minutes.

Switch off once all vegetables are cooked well and absorb the flavours.

Garnish with sesame seeds and fresh grated coconut,
Notes
You are free to use any vegetables that are available to you. 
You can add garlic while making the paste, if you prefer. 
Use of jaggery balances the flavours. However its a personal choice.