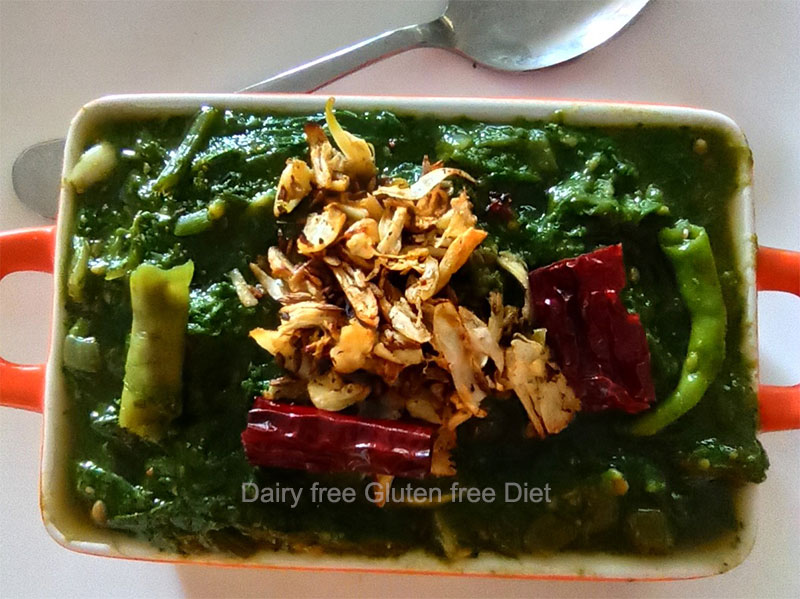 09 Jan

Lasooni Palak | oil-free garlic spinach curry

In North India, Garlic is known as lasoon / lehsun and spinach as palak. This lasooni palak is one that uses loads of garlic. As against traditional recipe that uses loads of ghee / oil, to fry the garlic, I have tried to make it oil free and healthier.

Come winter, vegetable market turns green. Palak is one green which is quite favourite among everyone. Hardly do I know one who does not like palak. It is a very amenable green. There are wide variety of recipes that you can turn out with palak. Paneer palak, alu palak, Sindhi Sai bhaji, palak dal…you name it.

Many conservative families in India, shun garlic. Because they believe that garlic produces tamsik qualities. The Tamas characteristic, is epitomised by inertia. Naturally, according to ancient Ayurveda, foods like garlic that represent this characteristic act as a sedative, making the body and mind sluggish. I have grown up in a family where elders never consumed onion and garlic. But the other side of the coin is that garlic is a medicinal plant and has many health benefits. Modern science has confirmed many of these benefits such as lowering down cholesterol and building immunity. As a result of this awareness, of late, many families have grasped the benefits and have started using garlic sans any reservations.

Coming to palak, we all know that it is great with iron and folic acid apart from several other vitamins and minerals. So, when you club garlic and spinach what turns out is a dish that is full of iron, fibre and nutritious that will keep you healthy.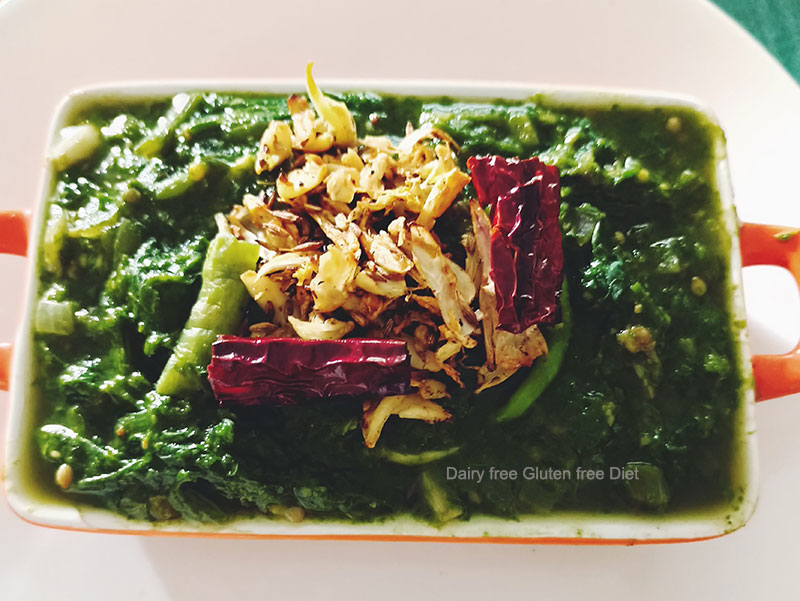 Some tips on making Lasooni Palak oil free
While frying the garlic in oil makes it brown and crisp, sautéing without oil is challenging. You may have to add a little water time to time to avoid garlic sticking to the bottom of the pan. With the result, you may not get the browning effect. And the taste may be a little different. But it is unquestionably healthier. Same with onion. Keep adding water a little at a time while sautéing, whenever you feel its sticking to the bottom of the pan.
Serve this Lasooni Palak with  Naan, roti or even rice.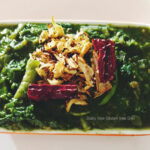 Print Recipe
Lasooni Palak | oil free garlic spinach curry
As against traditional recipe which uses loads of ghee / oil,  I have tried to make it oil free and healthier.
Ingredients
1 bunch palak (spinach) washed and drained

15 cloves garlic crushed / finely chopped

½ cup roughly chopped onion

3 green chillies cut into 1" pieces

1 tsp coarsely ground coriander seeds

2 tsp chick pea flour

(besan, kadalai maavu)

1 tsp cumin seeds

2 dry red chillies broken
Instructions
Blanching Palak

Boil lots of water in a large vessel.

Keep a bowl of ice cold water ready on the other side.

When the water starts boiling, add spinach and boil for 2 minutes. Till the bright green colour of spinach comes out.

Remove spinach from boiling water and immediately transfer to cold water. This step prevents spinach from cooking further and retain the bright green colour.

After 1 minute, drain from cold water and keep on a plate.

Preparing lsooni Palak:

Divide drained spinach into 2 portions. Take one half and grind to a puree adding water. Roughly chop the other half.

Divide the chopped garlic into 2 portions.

Heat a pan and dry roast half of the chopped garlic till it loses raw smell.

Add onion and sauté further. Keep adding spoonful of water time to time to prevent onion from sticking to the bottom of the pan.

Once the onion turns pink, add crushed coriander and sauté.

Add chickpea flour / besan and sauté further.

Add roughly chopped spinach and slit green chillies.

Keep sauteing to mix everything thoroughly.

Now add the pureed spinach and some water.

Keep stirring and boil for few minutes adding salt and garam masala.

Once done, remove in a bowl.

Heat a pan and add the other half of garlic pieces and roast for few minutes.

After few minutes add cumin seeds and red chilli.

Sauté till garlic becomes brown and cumin and chilli get roasted well.

Pour it over the cooked spinach.
Notes
I preferred to crush the garlic in my mortal and pestle. However, if you prefer you can chop garlic into small bits.
If you prefer, you may use a little oil / ghee for final tempering.