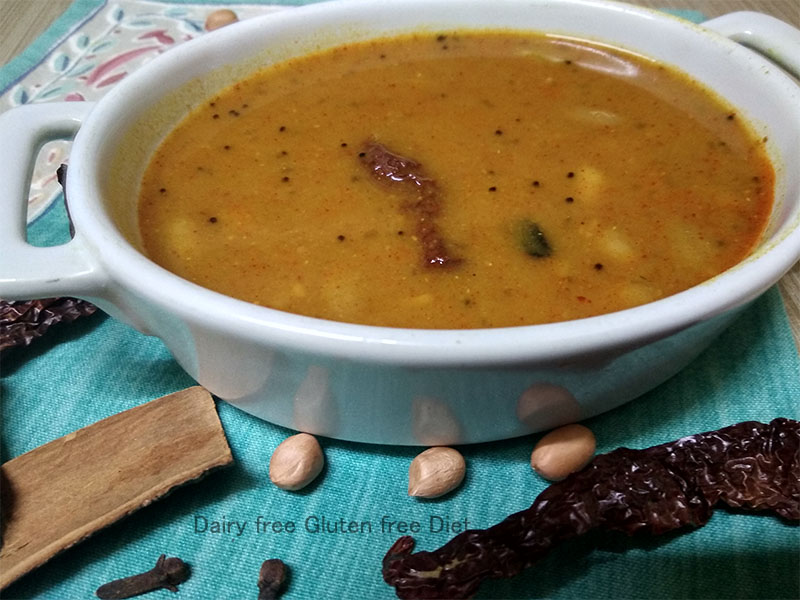 21 Jun

Gujarati Dal Wedding style

No veggies stock? No worries. There is a comfort food for both body and soul. It is simple dal with rice. This is the attitude with many of us. But the accent here is 'simple' dal. Its is so simple, that you just boil, add salt and other spices and it is ready to serve.  Maharatshtrians call it Varan, Andhraiites call it Pappu, in Tamil Nadu it is Paruppu and just Dal in Gujarat and many other parts. But, this wedding style Gujarati dal is by no means simple. It is a little more elaborate. After all weddings are elaborate affair, right? No, don't get petrified. The ingredients list may look lengthy. But trust me, it is very easy to make. Once the preparation is done, cooking is cake walk.

No gujarati wedding is complete without this spicy, sweet and sour (khatta meetha) dal. This dal is the most cherished and something to look forward to in their weddings. It has a distinct flavour. When served with the aromatic basmati rice, it makes you ask for another cup of dal again and again!

All said, it might be difficult to replicate it. Because the traditional recipe uses Kharek (dry date) as one ingredient which I did not have. Also I have avoided the ghee for tempering. Other than that I have attempted to make it as close as possible to the traditional dal.
What are the secrets behind this Wedding Style Gujarati dal?
Firstly, you will be surprised to know that the secret ingredient in this dal is Yam (suran / chenai). Yes. Yam. ? When cooked with dal and mashed together, it gives that added bounce to the dal.
Secondly, the most important factor is to boil the dal. When I say boil, I mean boil for good 15 minutes on a low flame to achieve that superior taste.
Lastly, in my view, why eat only simple dal all times? Surely, once a while we can make such dal to please our palate.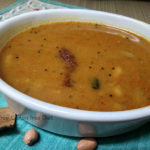 Print Recipe
Wedding style Gujarati Dal
Ingredients
½ cup - tur dal

3 tbsp raw peanuts

¼ cup yam cut into big pieces (suran / Chenai)

1 tomato chopped

½ tsp fenugreek seeds (methi seeds)

1 small gooseberry size tamarind / 2 kokum flowers

2 tbsp Jaggery

________________

For tempering:

1 tsp mustard seeds

2 broken red chillies

1" piece cinnamon

4 cloves

Asafoetida

1 tbsp grated ginger

___________________

Make a paste of:

1 tsp red chilli powder

½ tsp turmeric powder

½ tsp garam masala powder

1 tsp coriander cumin powder (Dhania jeera powder)
Instructions
Pre cooking:

Keep in a vessel along with yam, methi seeds and tomatoes. Keep the vessel in a pressure cooker with water at the bottom.

Cover the vessel with a plate and keep the peanuts in a separate vessel on the plate.

Cover the cooker and pressure cook for 5 to 6 whistles. (differs from cooker to cooker).

Once the cooker cools down, open and remove the peanuts.

Blend the dal, tomato and yam with a hand blender or in a mixer with some water. It should become a pulp.

Soak the tamarind / kokum in ½ cup water and squeeze the pulp.


Mix red chilli powder, turmeric powder and coriander cumin powder & garam masala powder in ¼ cup water.

Cooking:

Heat oil and add whole spices and let them crackle.

Mix the masala paste and sauté.

Add asafoetida and ginger and sauté further.

Add tamarind water and the peanuts.

Add the jaggery, blended dal and salt.

Add 2 cups water and allow it to boil for 15 minutes on a slow flame.
Notes
Traditionally, tempering is done in ghee. You can do so if you wish. 
Adjust the spices as per your comfort level. 
You can squeeze a lime at the end after boiling if you want more tanginess
Pressure cooking time differs from cooker to cooker. Go as per your cooker. The idea is to get the dal cooked till soft.