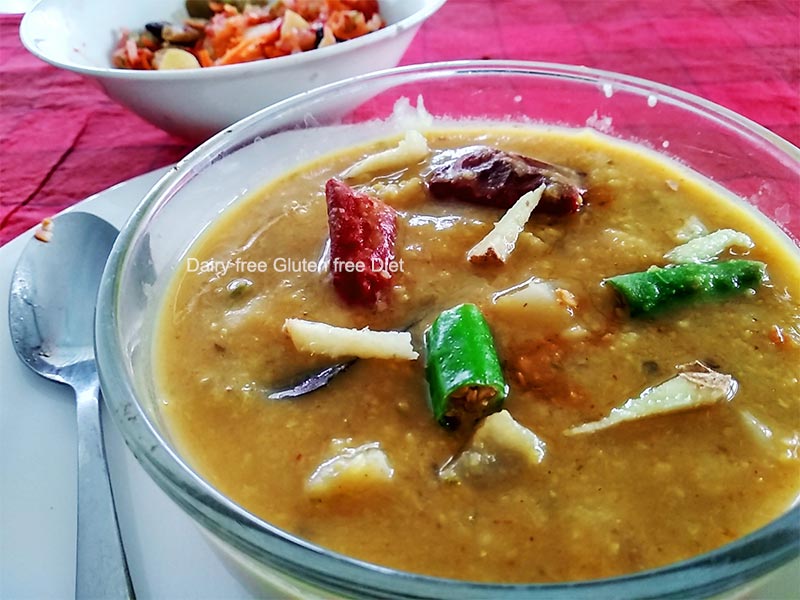 17 Aug

Mooli Moong Dal / Radish yellow Dal

Mooli Moong Dal is another popular recipe from the deserts of Rajasthan. South India makes use of Muli (Mullangi) in sambhar. But otherwise, in North, it is mostly used in raw form as in salad or chatni. Rarely is it used in cooked form. This Mooli Moong dal is an exception from Rajasthan.

The word dāl derives from the Sanskrit verbal root dal- "to split". Dal as we all know is the simplest soul food of Indian community. It takes different avatars in different states of India. Sambhar & Pappu are the favourites in South India. Infinite varieties of Dal with or without vegetables is the favourite in North & East India while simple Varan and Amti are popular in West India. I have posted quite a few varieties of dal such as Gujarati Dal, Sindhi dal, Amritsari Dal, etc here
Muli Moong Dal is a Satwik dal
It tastes good without onion or garlic. The traditional recipe does not use these. However, you can add some if you wish. Before making this dal, I wondered where does it get its flavours from. Because it does not use tomatoes or tamarind nor any other flavouring agents like dhania jeera powder or garam masala powder nor coconut. Added to it, it uses split yellow mung dal which is very light as against heavy Tur dal. Will it not be bland? I doubted. After making it and tasting, I realised that the aroma for this dal comes from the cloves and bay leaf that is used in the tempering apart from the slight pungency from Mooli of course. These ingredients make this Dal stand out from all other types of its counterparts.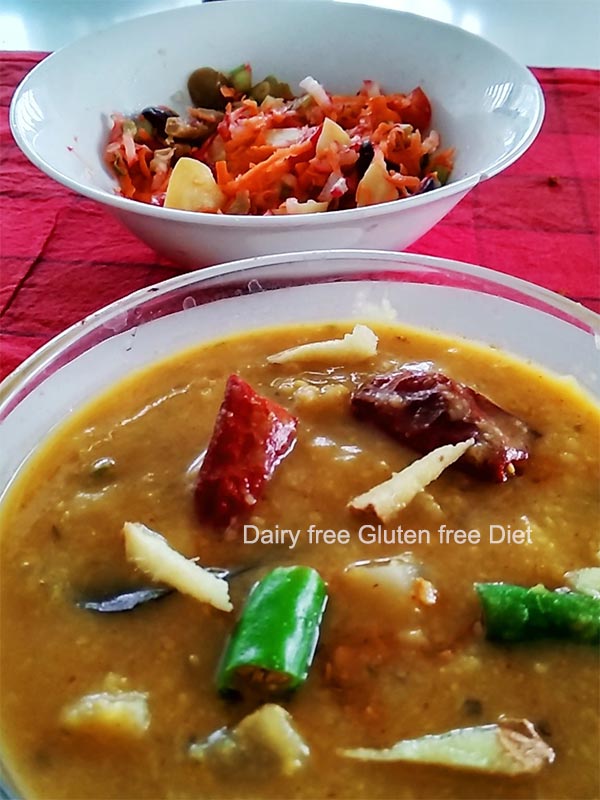 Many people make the tempering for this dal in the pressure cooker and add the dal and vegetables with spices and cook all together in the pressure cooker. This way, there is chance of Mooli getting over cooked and mushy when you churn the dal. I preferred it as whole in the Dal. Hence I steam cooked them as I always do with any vegetable.  And pressure cooked the dal separately so that I can churn it without any fear. Secondly, needless to say that Rajasthani dishes use ghee for tempering, which I did not. ? I used just a tsp of oil. Rajasthanis add the leaves of the Mooli too. Since I didn't have them I couldn't. If you happen to get Mooli with leaves, please try.
After adding the tempering, I just needed to boil the dal for a little while and the delicious dal was ready. It tasted fabulous with hot millet rice that we normally have in our house. Because it uses Moong dal, it is easy to digest too. Hence you can have it without any guilt feeling.
Final verdict ? : Mooli Moong Dal is a simple, easy to cook, healthy and delicious Dal that can transport you to a different world.
Print Recipe
Mooli Moong Dal
Mooli Moong Dal is another popular recipe from the deserts of Rajasthan. South India makes use of Mooli (Mullangi / white radish) in sambhar. But otherwise, in North, it is mostly used in raw form as in salad or chatni. Rarely is it used in cooked form. This Mooli Moong dal is an exception from Rajasthan.
Ingredients
½ cup Moong dal

1 cup Mooli (White Radish / Mullangi)

(cut into mall chunks)

3 to 4 green chillies

1" piece ginger

salt to taste

½ tsp turmeric powder

For Tempering

1 tsp oil

4 to 5 cloves

1 bay leaf

1 tsp cumin seeds

2 to 3 dry red chillies broken

¼ tsp asafoetida

½ tsp chilli powder
Instructions
Wash, peel and dice Mooli into small cubes

Steam cook with a pinch of salt till they become soft.

Pulse ginger and green chillies to a coarse paste adding water.

Pressure cook the dal adding 3 cups water and turmeric powder.

Mix the cooked dal and cooked Mooli.

Heat oil in a pan and add cumin seeds, red chillies, cloves and bay leaf.

Once it is done, add the green chilli ginger paste, asafoetida and red chilli powder and sauté for a minute.

Add the dal with Mooli, salt and boil for few minutes.

Pour in a serving bowl, garnish and serve hot with rice.