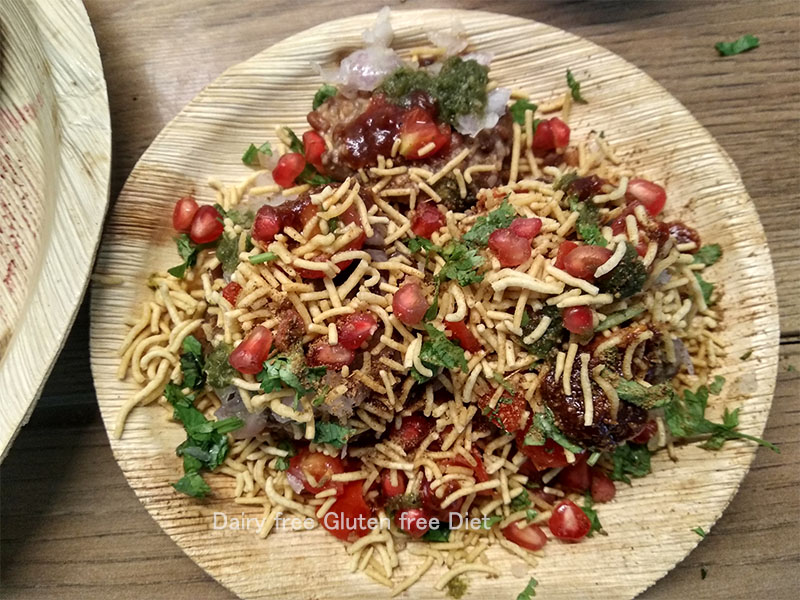 06 Jul

Ragda Patties / Red Ragda Patties

Street food / Fast food culture exists from the days of first urban settlements. But over the years, this culture has gained popularity all over the world. Ragda Patties is a part of this culture in Maharashtra and Gujarat. Firstly, if you are concerned about cleanliness and freshness of street foods, you will be happy to know that this dish is also served at many fast food restaurants. Secondly, are you concerned about health aspects of fast foods too? This Red Ragda Patties is the answer.

As the name suggests, Ragda Patties is a two part preparation. Original ragda is a gravy of boiled white peas cooked with spices. Patties are mashed and cooked potato tikkis.

This Red Ragda Patties is one with a difference. Red Poha replaces the potato in patties. Sprouted Red Cow Peas (lal chawli, karamani, red lobia) replaces the white peas in the usual Ragda.

Is fast food good for health? Fast foods are popular because they are inexpensive, convenient, and taste good. It is so because they make use of cheaper ingredients such as refined grains and fatty oils, with added sugar and salt. Due to these factors most fast foods can still be classified as junk foods. Be it children or older generation, it can lead to poor nutrition, poor health, and weight gain. Hence, there is a growing concern among mothers if this culture is good for children.

However it may be reassuring to know that the damage happens only when  you replace fast food frequently with nutritious foods in your diet.  Secondly, when you often eat out in places who do not have your wellness in mind. Which means that fast foods can still become healthy foods when we substitute the ingredients with healthy vegetables, pulses and non-processed items. This is one such recipe.

Try these easy to make and healthy Ragda Patties. You can look here for sweet chatni and green chatni recipe.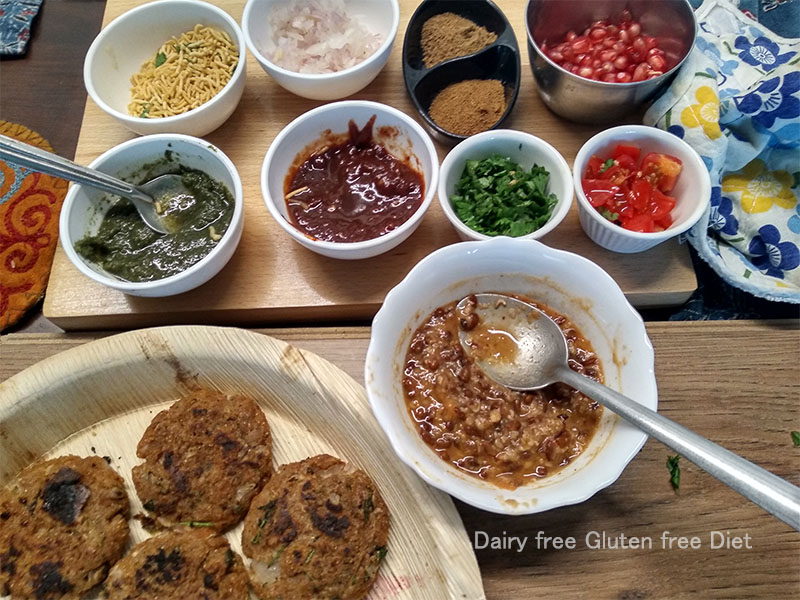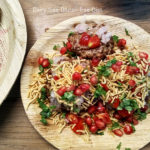 Print Recipe
Ragda Patties / Red Ragda Patties
Ingredients
For Patties:

2 cups red poha

1 cup finely chopped onion

1 tsp chilli powder

2 tsp dhania powder

½ tsp cumin power

1 tsp amchur powder

2 tsp kasuri methi (optional)

Finely chopped coriander leaves

***************

For Ragda:

1 cup sprouted Red cowpeas (Red Karamani, red lobia)

1 tsp turmeric powder

1 tsp green chatni

1 tsp sweet chatni

1 tsp red chilli powder

Salt to taste

****************************

Garnishing:

1 tsp chaat masala

1 tsp cumin powder

¼ cup green chatni

¼ cup sweet chatni

¼ cup finely chopped tomato

¼ cup finely chopped onion

¼ cup sev

Finely chopped coriander leaves

Pomegranate seeds (optional)
Instructions
Take the poha in a colander, wash and set aside in the colander itself. If you are using thick poha, you may have to soak in just enough water.

Cook the sprouts as per your convenience, till they are well cooked.

Unlike white peas, they do not become soft and smudgy. Mash them well.

Add all the ingredients for patties with the poha and knead to a tight dough.

Make patties and roast on cast iron tawa, till both sides become brown.

Add all ingredients to mashed dal and bring it to gravy consistency adding little water.

Just before serving, take the patties, top with lots of red ragda and garnish with all the ingredients.
Notes
Unlike white peas, red cowpeas do not become soft and smudgy. Mash them well with a masher.
Alternately, you can take a ladelful of boiled cowpeas, pulse them in the mixer and add it to the rest of the dal so that they bind well.
Make sure the dough is tight enough to make patties. If it is too tight, add tsps. of water. If it is too runny, add powdered poha.