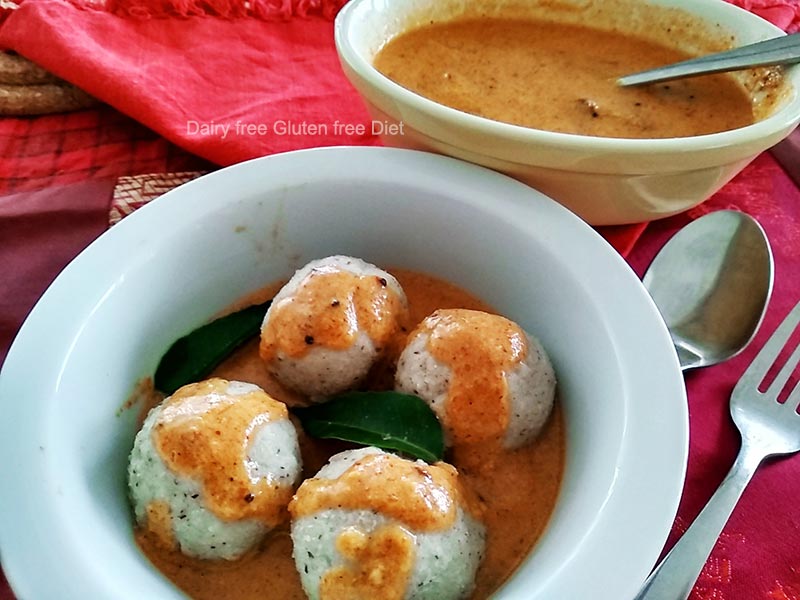 25 Sep

Sama Millet Pundi in Methi coconut gravy

Pundi or Rice Dumplings comes from the cuisines of Udipi and Mangalore. These regions are famous for its healthy steamed breakfast recipes. Inspired by their Rice Pundi I made this Sama Millet Pundi. 

Pundi is traditionally made with rice rava. In olden days, the elders would soak the rice, dry it under the shade and make coarse powder of the rice like semolina. Nothing can beat those homemade rice rava. However, obviously, it involved great efforts and time. We live in an "instant-everything" world. Ever since idli rava / rice rava made its entry in the market, it made lives easy for people. And understandably. More so, for making Pundi.

All said, the traditional way of making coarse rava at home had its own taste. Hence, I decided to use Sama in place of rice. It needs very less soaking time and easy to grind because it is already in rava form almost. The Sama Millet Pundi turned out to be easy to make without compromising on the taste of original Pundi.

In recent times, there are many who are shifting to millets due to various reasons. I have spoken a lot about Millets in my earliest post on 'why millets.' Millets which were once considered poor man's food are gaining their well-deserved entries back, thanks to agencies such as Millet Networks India who promote millets.

Down Karnataka, they serve this Pundi with choice of coconut based chutneys and curries. Non vegetarians have this with meat curries. My favourite to go with Pundi is the Fenugreek Coconut Gravy which I normally make at home. The use of roasted fenugreek seeds (methi seeds) in this coconut based curry adds an unique flavour to this gravy. However, you have to use the right amount else it might become bitter, though coconut counteracts the bitterness.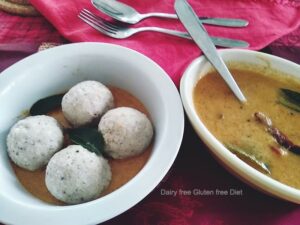 This is an easy recipe to make. Since Sama is already in Rava consistency, you can eliminate the entire process of making rava at home. I just ground it coarsely with water and cooked it till it formed a lump. The trick is to add 3 times water and freshly grated coconut. Desiccated coconut or roasted coconut gives a different flavour.
Try this Sama Millet Pundi with the fenugreek coconut gravy. This is a very healthy and easy to make breakfast or dinner item for both elders and children.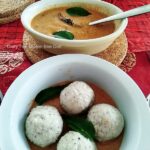 Print Recipe
Sama Millet Pundi in Methi Coconut Gravy
This is the inspiration from Mangalore famous Rice Rava Pundi.
Ingredients
For Pundi

½ cup Sama

⅓ cup fresh grated coconut

1½ cups water

salt to taste

For methi coconut gravy

1 tsp fenugreek seeds

(methi seeds / vendhayam)

1 tbsp channa dal

3 to 4 dry red chillies

½ cup fresh grated coconut

1 tbsp tamarind paste mixed with 1/2 cup water

(small gooseberry sized tamarind soaked in 1/2 cup water)

salt to taste

For Tempering

1 tsp oil

1 tsp mustard seeds

1 tsp cumin seeds

1 dry red chilli broken

Few curry leaves
Instructions
For Pundi

Drain and make a coarse paste adding ½ cup water slowly.

Remove in a vessel and add salt, balance 1 cup water and coconut gratings.

Cook the paste on a low flame, stirring continuously till it forms a lump.

Remove in a vessel and allow to cool.

Make lemon sized balls and steam for 7 to 10 minutes.

For the gravy

Dry roast methi seeds, channa dal and dry red chillies till they become brown.

Add coconut and grind to a paste adding water.

If using tamarind, soak it in water and extract the pulp.

Heat 1 tsp oil and add mustard seeds, cumin seeds and dry red chilli.

When they are done, add ground paste, salt and tamarind water.

Boil till it thickens. Adjust the consistency. It should be like thick curry.

To Serve

Pour little gravy in a plate / bowl.

Keep the dumplings on the gravy and top with more gravy.
Notes
I have used Sama. You can try with other millets, but the colour might change.