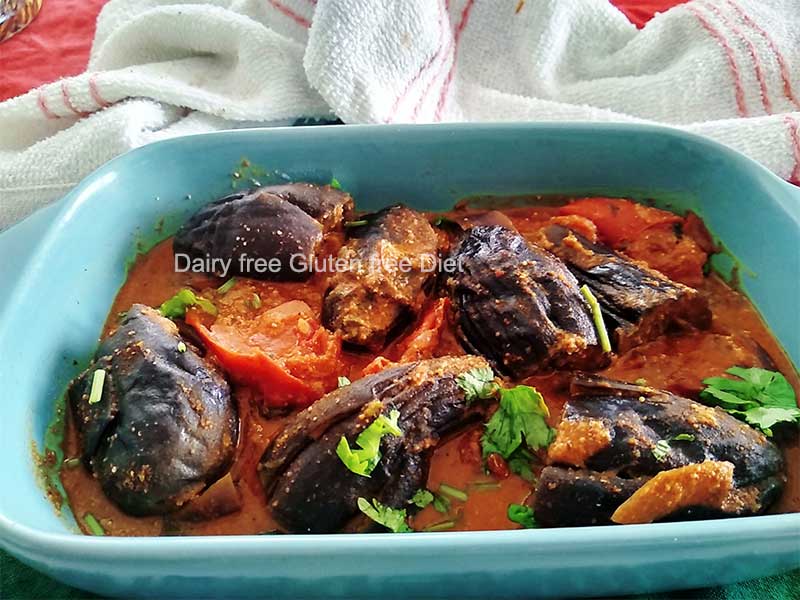 06 Sep

Stuffed Eggplants in Tomato Gravy

Stuffed Eggplants are popular in Indian Cuisine. Every cuisine has its own recipe for making stuffed brinjal (eggplant).  I preferred to cook this Stuffed Eggplants in Tomato Gravy to go with Rice.

Each State in India prepares brinjals (eggplants) in different forms.  From Begun Bhaja of Bengal to Eggplant Chatni of Andhra, brinjals take different avatars. Not only India, Middle Eastern cuisine also uses eggplant lavishly. Baba Ganoush is one popular dish from Lebanon. The speciality is, all these have their own unique palate and taste delicious.

Brinjal or Eggplant is one vegetable which is very amenable and friendly. You can make salads, chatnis, add them in sambhar, dals and stuff with wide varieties of interesting stuffing and make dry or wet curries. Perhaps that is why eggplants get its nick name King of Vegetables. Interestingly, in ancient China, there was a tradition where a woman should know at least 12 eggplant recipes before her wedding Day. ?

Do we know that there are many varieties of eggplants out there, all unique in their own way? The most common ones that we come across are purple in colour. But there are white, green, yellow coloured brinjals that exist too. The striped variety with Thorns in the stem (Katein wala brinjal as they call it in Mumbai) are very delicious.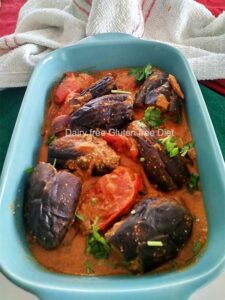 Our Ayurvedic texts have written about health benefits of eggplant as early as 100 BC. I have shared a few in my earlier post on Venkaya Pachadi. However, repeating here for easy access.
In this recipe, I have used the long thin variety which are the only ones I could access. So I cut them into 2 pieces and slit them as we do for our round brinjals.  But you can use the regular round varieties that are available in India everywhere. Again, you can customise the consistency of this recipe as per your preference. If you want to consume it with Rice, you can make it thinner and for Roti, you can make reduce the water and make it thicker.
Try this Stuffed Eggplants in Tomato Gravy and enjoy it with Rice or Roti. My personal preference for this is Millet Rice.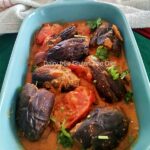 Print Recipe
Stuffed Eggplants in Tomato Gravy
Stuffed Eggplants are popular in Indian Cuisine. I have cooked the Stuffed Eggplants in Tomato Gravy. It goes very well with Rice.
Ingredients
5 to 6 brinjals (eggplants)

2 medium sized tomatoes

1 medium onion sliced

1 tsp oil

1 tsp fennel seeds

Asafoetida

chopped coriander for garnish

For stuffing:

1 tbsp each sesame seeds, roasted peanuts, desiccated coconut and poppy seeds (khus khus)

1 tsp jaggery powder

1 tsp chilli powder

2 tsp coriander powder

salt to taste
Instructions
Make a cross at the top of brinjals and slit through.

Quarter the tomatoes. Keep them big chunks.

Dry roast sesame seeds, peanuts, poppy seeds and desiccated coconut individually.

Add rest of the ingredients for stuffing and powder coarsely.

Divide the powder and into 3 parts.

Stuff 1 part in the slit brinjals and keep aside.

Add the second part to the tomatoes with a few chopped coriander, mix well and keep aside.

Heat oil in a pan and add fennel seeds.

Once they splutter add asafoetida and add sliced onions.

Sauté till onions become pink.

Add the third part of the spice powder and ½ cup water and mix well.

Reduce flame and arrange the spiced tomatoes over the onion.

Arrange stuffed brinjals above the tomatoes.

Pour ½ cup water around the sides.

Cover and cook on a slow flame.

After few minutes, gently toss and mix everything making sure not to break the brinjals.

Cook till brinjals become soft and the gravy thickens.

Serve garnished with chopped fresh coriander.
Notes
Adjust the gravy as per your preference by adding or reducing water.