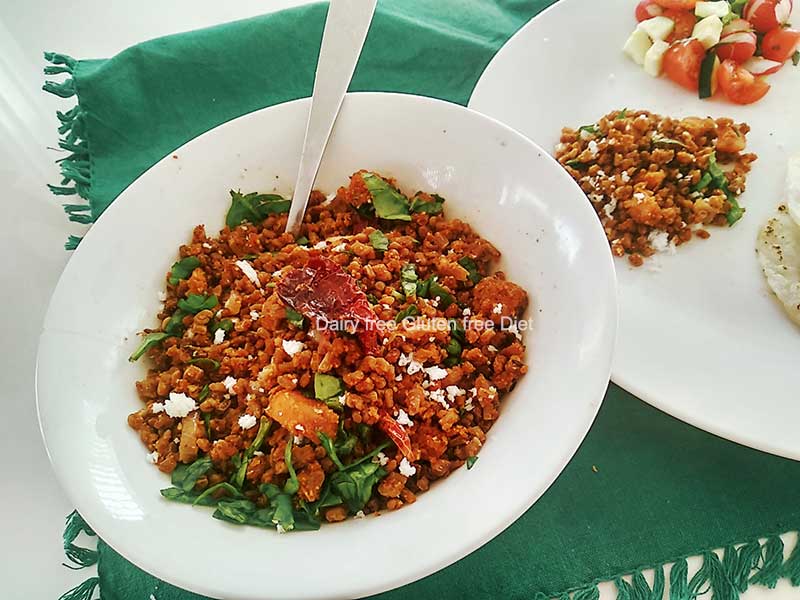 08 Nov

Methi Seeds Sabzi | Fenugreek Curry

Methi (Fenugreek / vendhayam / uluva / menthulu / menthe) is one of the few plants that you can use in both seed form and leaf form. Others being Coriander, Amarnath, Mustard etc. Alu methi sabzi, using methi leaves, is a household name in Indian cuisine. This Methi Seeds Sabzi is one variant using methi seeds.

Fenugreek is widely used in Turkish, Persian & Egyptian cultures. It is also one of the oldest medicinally used plants, both in Indian and Chinese systems of medicine. Methi seeds have varied health benefits. They contain a good amount of fibre and minerals, including iron and magnesium. However, some people have had allergic reactions to fenugreek, although this is rare. Hence, if you have any such known allergy, it is better to consult your physician.

Methi based dishes have a wonderful palate despite being slightly bitter. Gujarat famous Methi Muthia  & Methi thepla using methi leaves are the most popular ones. Normally when we cook methi leaves, we combine it with potato. Mainly because the potatoes absorb the bitterness to some extent and makes it more palatable. In this recipe I have used sweet potato. As we all know methi seeds are more bitter than the leaves. Hence, I realised, that sweet potato can reduce the bitterness to some extent simultaneously adding its inherent sweetness. However, you can use potato too in its place.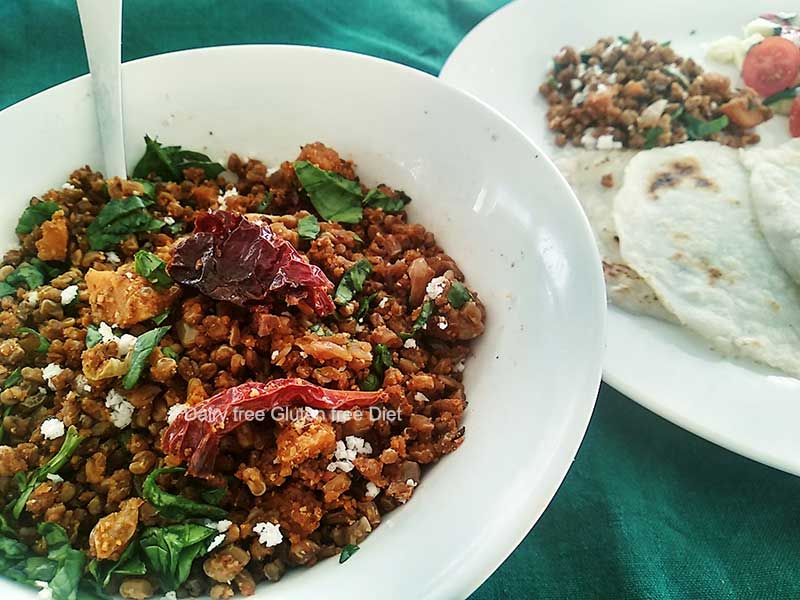 You need to soak the methi seeds overnight or 7 to 8 hours. Soaking removes the bitterness to great extent. But I feel, the slight bitterness is what is unique to this sabzi. It is better not to obscure or remove inherent nature of the seeds entirely. The benefits lie in the bitterness. Let us make the optimum use of this. You can add a dash of jaggery at the end to balance the bitterness. That is however, a personal choice.
There are many recipes using methi seeds. Mostly all of them use tomatoes to add a little sourness to complement the bitterness. The tomatoes make it a wet sabzi. But I preferred  a dry sabzi. So, in this recipe I have not used tomatoes, but a little amchur powder in the spices. The dry roasted channa and roasted peanuts add flavour and fullness to the recipe.
Enjoy this Methi seeds sabzi with Rice Bhakri and a fresh salad and you will feel satiated for long hours.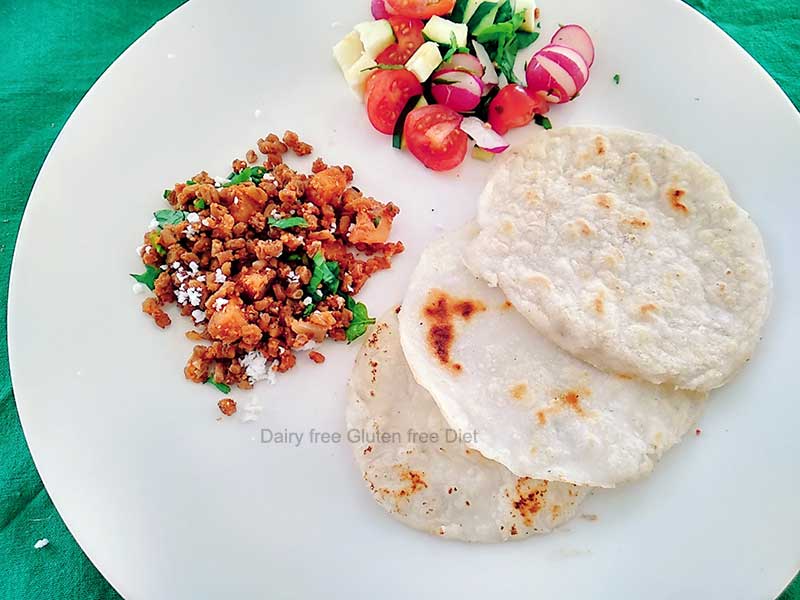 Methi seeds sabzi | Fenugreek dry sabzi
This is a dry Indian sabzi using Fenugreek (methi) seeds.
Ingredients
1 cup methi seeds

(fenugreek seeds)

1 onion chopped fine

¼ cup sweet potatoes cut into small cubes

1 tsp oil

1 tsp cumin seeds

asafoetida

1 dry red chilli

salt to taste

1 tsp jaggery powder

(optional)

Grind to a coarse powder:

2 tbsp roasted channa dal

(pottukadalai / dalia / chatni dal)

2 tbsp roasted peanuts

2 tbsp fres / dsiccated coconut

1 tsp chilli powder

2 tsp coriander seeds powder

1 tsp amchur powder

½ tsp garam masala powder
Instructions
Soak methi seeds in water over night and drain next day morning.

Dry roast all the ingredients for the powder on a low flame and powder coarsely.

Heat oil and add cumin seeds, asafoetida and red chilli and sauté.

Add onions and sauté till the onions become translucent.

Add sweet potato pieces and drained methi seeds, salt and mix well.

Sprinkle some water and cook covered on a low flame.

Keep checking and sprinkling more water if required. The sweet potatoes need to be cooked.

Once the potatoes are done, sprinkle the masala powder, mix well and cook further for 2 minutes.

Garnish with coriander, fresh grated coconut and serve with Rice bhakri and some fresh salad.
Notes
I preferred a dry sabzi/ However you can add more water to make a gravy, if you wish.
I did not add jaggery powder. It is purely optional.