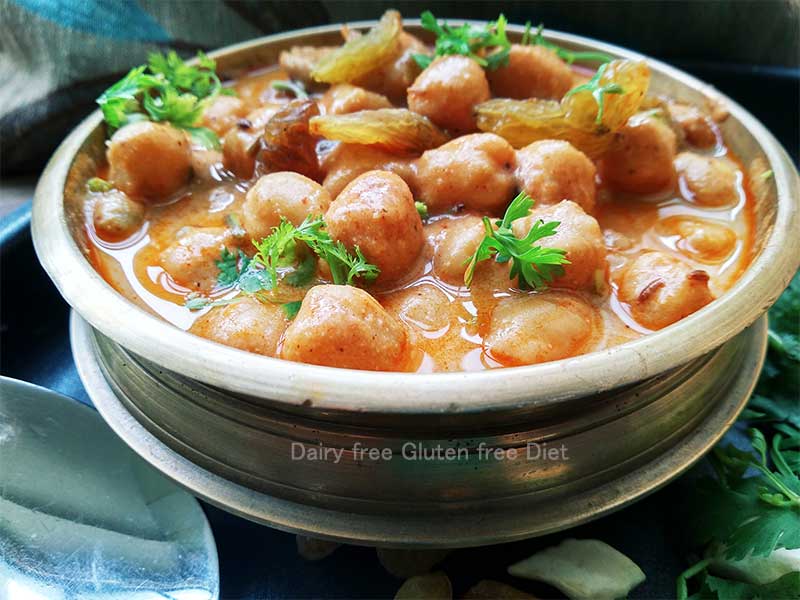 23 Jul

Channa Madra / With Dairy Free Yogurt

Channa Madra (Garbanzo beans cooked in yogurt gravy) is a very popular and flavourful, mildly sweet and spicy, yoghurt based curry from the hills of Himachal Pradesh. Channa Madra is a satwik dish that does not use onion or garlic. This is one dish that is sure to find a place in Himachal Food festival called Dham.

Traditionally brahmins called Boti from Himachal region cook this dish for Dham. There was a time when Botis were almost extinct but now many young boys learn this art and have again taken up this profession. Chef Sanjay Mishra recalls that the typical menu for Dham starts with rice, moong dal and rajma or chole, which is cooked in yogurt, prepared in unique style by adding approximately 20 spices called as madrah.

True to hilly regions, madra uses raisins and dry fruits like almonds and cashews. Along with those, spices such as red chilli powder, fennel seeds powder and coriander powder are also added in the gravy.
I had to tweak the following in this recipe:
I have used

cashew curd

instead of dairy curd for a dairy free recipe. Since Madra anyways uses dry fruits like almonds and cashews, I thought I might as well replace dairy curd with cashew curd to make it vegan.
Himachal being a hilly region and cold, dishes from the region use lots of ghee to bring warmth to the body. This Madra is no exception. The curd is fried in a lots of ghee that is spiced up. But I had to compromise on this issue. I added minimal oil. No doubt the original taste of the Madra might have been lost to some extent in the absence of ghee. ☹ Couldn't help.
Few tips for making a tasty Madra
Firstly, the curd should NOT be sour. This ruins the taste of the dish. It is sweet and spicy not sweet and sour.
Secondly, the authentic recipe stresses to cook the curd first with all the spices and dry fruits and then add the cooked channa. The idea is to have the curd as the gravy. This is the most important and crucial step.  But it is a little tricky too as there are chances of the curd curdling in the process. However, by cooking in a slow flame and by continuous stirring we can avoid this damage. So I have tried to follow traditional method and cooked the cashew curd first. Besides, this curd has little chances of curdling unlike dairy curd.
To end, try this no onion no garlic yet delicious and rich Channa Madra cooked in cashew yoghurt sauce.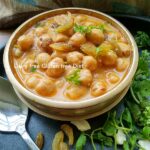 Print Recipe
Channa Madra / With Dairy Free Yogurt
Channa Madra is a very popular and flavourful, mildly sweet and spicy yoghurt based curry from the hills of Himachal Pradesh.
I have used standard measuring cup here. 1 cup=250 ml




Ingredients
2 cups boiled Channa (garbanzo beans)

1 cup channa soaked overnight, pressure cooked and drained

1 cup cashew curd

1 tbsp oil

1 tsp cumin seeds

1 black cardamom

4 cloves

½ tsp fennel seeds

saunf / sombu

1 bay leaf

½ tsp peppercorns

I had white pepper, so added it

2 cardamoms

1 tsp chilli powder

½ tsp asafoetida

1 tsp coriander powder

1 tbsp raisins

salt to taste
Instructions
Soak 1 cup chickpeas / channa / chole overnight, pressure cook with just enough salt, drain and keep. Yields almost 2 cups after cooking. Reserve the drained water.

Crush both the cardamoms, cloves, peppercorns and fennel seeds in a mortar and pestle to a coarse powder.

Add cumin seeds & bay leaf.

Add asafoetida, red chilli powder, coriander powder, crushed spices and raisins and sauté for few seconds. Make sure the spices do not burn.

Reduce flame to minimum possible and add the curd and keep stirring continuously for 5 to 10 minutes.

Once the curd is cooked well and leaves the sides of the pan, add the cooked channa.

Adjust the salt and spices and cook covered for 10 more minutes in low flame. Add the drained water if need be.
Notes
I had used cashew curd that was creamy and did not curdle. However, if you are adding normal curd, make sure to cook on a low flame to not curdle the curd.
You can add nuts such as almonds to make it more richer