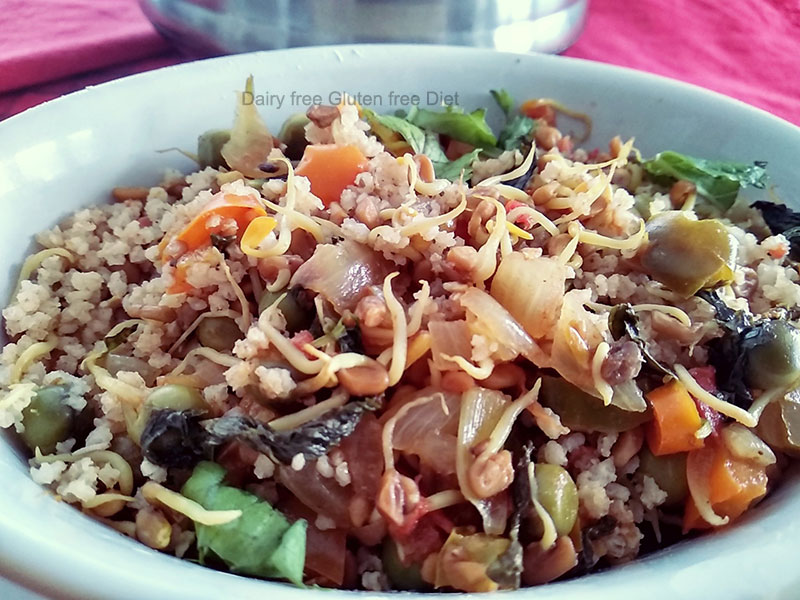 12 Nov

Sprouted Methi Seeds Pulao

For my previous post on methi seeds sabzi, I had soaked excess methi seeds. I allowed them to sprout and made this Sprouted methi seeds pulao.

Winter is around the corner. It is all the more important to keep your body warm during the winter. No one knows better than the Creator as to what to provide to mankind for each season. Mangoes for summer, fresh greens for winter, corn for the monsoon and rains and so on. Methi is what is gifted to mankind for winter. As per Ayurveda, Fenugreek is warming to the body and is highly recommended as a winter diet. That is the reason you see fresh methi leaves in abundance in the markets during winter. Don't reach out for paracetamol if you're down with a cold, instead, try out fenugreek in your curry to keep yourself warm, says a study.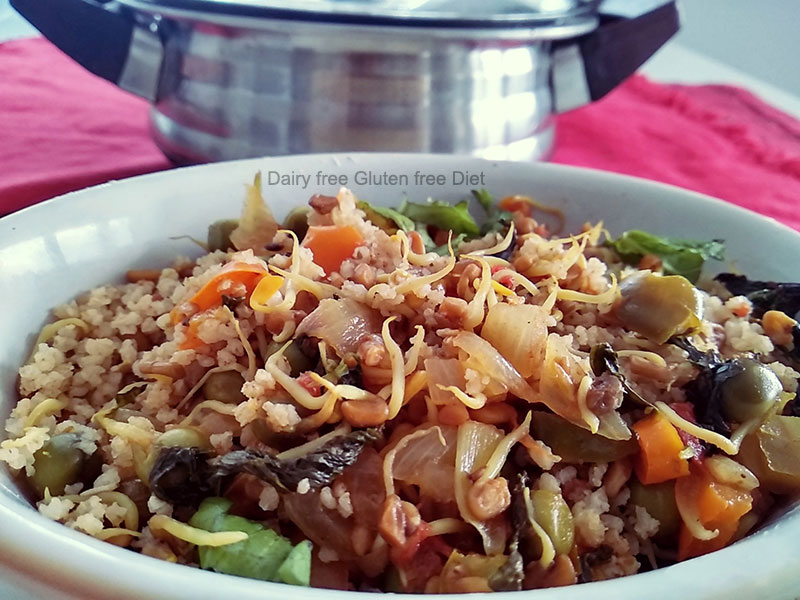 How does sprouting help us?
It is a good idea to sprout seeds to get all its essential fibres and minerals. Methi seeds is no exception. We are all aware that sprouting seeds increases its nutritional value. Several studies show that sprouting helps increase protein content. But the downside is that they should be soaked in clean water and sprouted in a congenial environment. You can see sprouts easily available in the market these days. However, I would recommend you to be cautious when buying them. Because, they might induce foodborne illness if they are not sprouted in a clean environment. And sprouting seeds at home is not a rocket science. Our elders have always done it at home. Our Indian conditions where the weather is mostly warm, aids in quick sprouting.
You can consume these methi seeds in many different ways. I realised Sprouted seeds Pulao is the best way to do this. This dish is so tasty that you will be surprised to see that the bitterness is found nowhere. In this recipe, I have used Kodo Millet for the pulao. However, you can use any millet, any rice as per your preference. It will have the same effect, same taste, if not better.
I would try to bring more recipes based on methi seeds for this winter. Keep watching. In the meanwhile enjoy this Sprouted methi seeds pulao for a wholesome food.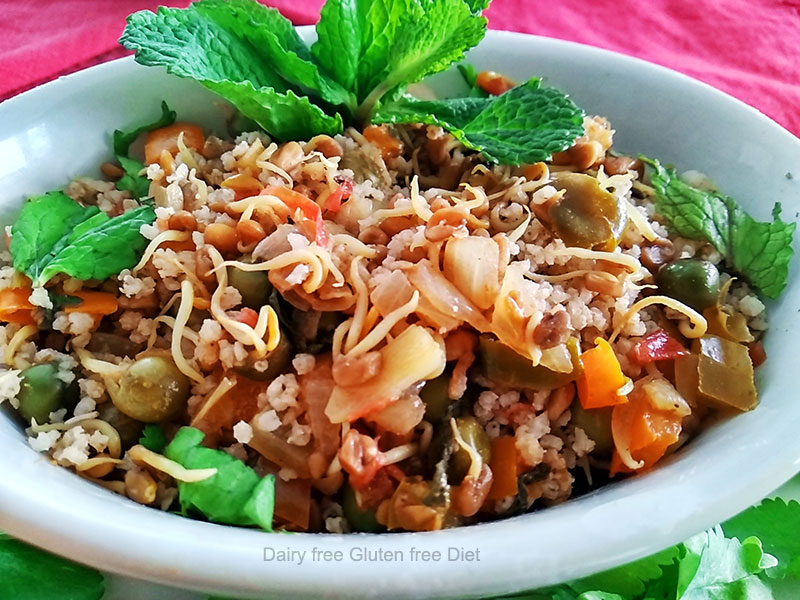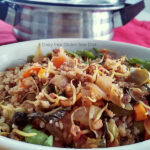 Print Recipe
Sprouted Methi seeds Pulao
Fenugreek (methi) have a wide variety of usage in Indian cuisine. Try this Sprouted methi seeds pulao.
Ingredients
1 cup sprouted Methi (fenugreek ) seeds

1 cup any millet

I used Kodo millet. You can use any millet / rice / quinoa

1 onion diced

1 tomato chopped

2 green chillies minced

1" piece ginger chopped fine

2 cloves garlic

(optional. i didn't use them)

1 tsp garam masala

few coriander and pudina leaves chopped fine

½ cup mixed vegetables of your choice

(peas, carrots, bell peppers, etc)

2 tsp oil

1 bay leaf

4 cloves

1" piece cinnamon

2 cardamom

1 tsp fennel seeds

(saunf / sombu)

salt to taste
Instructions
Wash and drain Millet / rice.

Heat 1 tsp oil and add bay leaf, cloves, cinnamon, cardamom and fennel seeds.

Once they are sautéed, add rice / millet and enough salt.

Add enough water and cook as per your convenience to make sure that each grain is separate. I normally steam cook them.

Heat balance 1 tsp oil and sauté till onions become translucent.

Add green chilli, ginger, garlic, tomato and sauté further few minutes till the mixture blends well.

Add sprouted methi seeds, vegetables, salt and garam masala. 

Mix everything, sprinkle water, cover and cook till the vegetables and methi seeds become soft but crunchy. Do not over cook.

Add coriander and mint leaves and saute further for few minutes.

Switch off, cool for few minutes and add the cooked rice / millet.
Notes
You can use any millet, quinoa or any rice.
Make sure to cook rice / millet so that each grain is separate.
You can add a tsp of jaggery if you wish. Its a personal preference. 
We dot use dry spice powders here other than garam masala. So adjust the green chilli as per your family's preference.