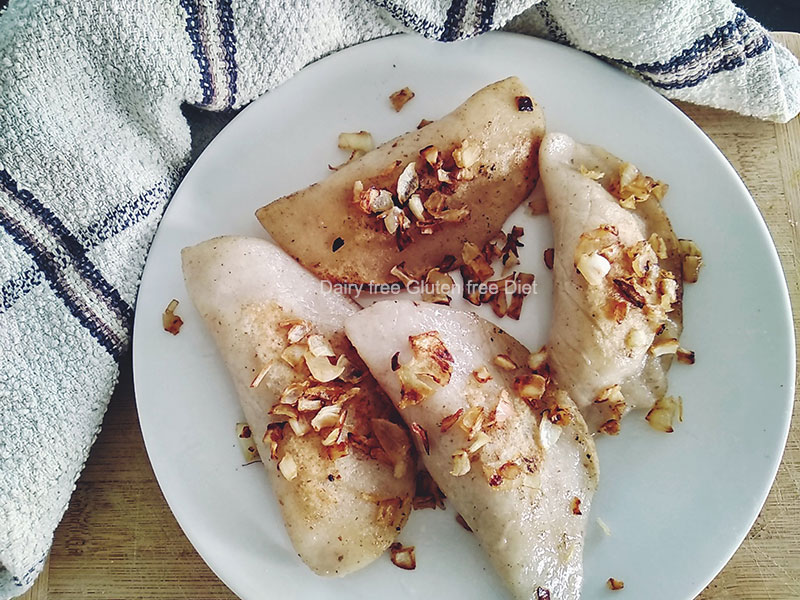 21 Nov

Homemade Pierogi | vegan & gluten free

Pierogi (pronounced as perogi) is a popular dish native to Poland. Polish documents as early as the 17th century talk about Pierogi. It is a savoury dumpling that has crossed its boundaries and has become popular world wide. Homemade Pierogi form an important part of Christmas celebrations in many homes in Poland. But pierogi is not limited to celebrations. Polish enjoy pierogi all through the year.

Recently I was introduced to this dish by a Polish family friends. When I asked them for some polish recipes for my blog, they said most polish dishes are meat based and hardly any vegetarian dish. But this is one dish that is most flexible. Though popular filling for pierogi is potato, they can be stuffed with many savoury as well sweet fillings including sauerkraut, spiced meat, berries, etc.

For us Indians, dumplings are not new. Pierogis are close cousins of Momos of North East India and Modaks of South and Western India. Each of them has their own variations, though basically they are all dumplings. While you steam momos and modaks, pierogis are cooked in boiling water and sautéed in butter.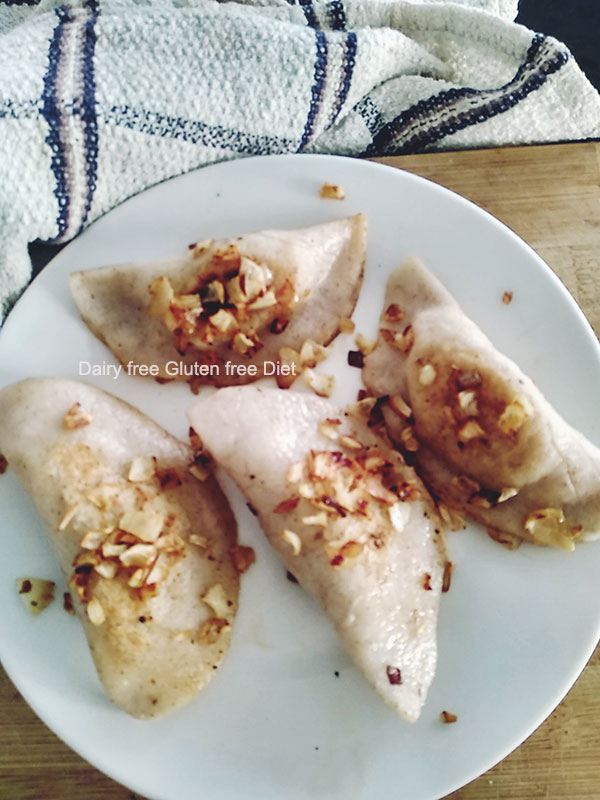 These are the tweaks I had to work out for these homemade pierogi to turn them to vegan and gluten free
Firstly, traditional pierogi uses all purpose flour (maida) which makes it easier to roll. But making pierogi with a gluten free flour was a challenge. I failed in my initial few attempts. The pierogi was hard and tasteless. After few attempts I finally cracked a gluten free flour mix that was easy to roll and the pierogi turned out soft. Also, for that extra softness, I used just a tablespoon of almond flour made from almond pulp.
Secondly, traditional Polish roast the cooked pierogi in loads of butter. I had to compromise here. I roasted them in cast iron pan, that was just brushed with oil.
Thirdly, pierogi uses egg for binding the flour whereas I have used psyllium husk for binding. Instead of sour cream, I used thick non-dairy yoghurt.
Lastly, traditional pierogi uses Farmers' cheese along with potato for the filling. Though lately, people have started using processed commercial cheese. However, I have used Ricotta cheese made with almond milk. Will post the recipe soon. But if you are a non-vegan, you can very well use paneer (cottage cheese).
Best part is you can freeze the boiled pierogi in zip lock bag after cooling them to room temperature. And thaw them and sauté just before serving. In the West, frozen pierogi is available off shelves. Present days, people prefer to buy them for want of time to make them at home. True, homemade pierogi takes time to prepare and needs that extra effort. But, if you have prepared momo or modak already, making pierogi is cakewalk for you. Trust me, these are so delicious and addictive.
Homemade Pierogi | Vegan & Gluten free
Pierogi is a popular dish native to Poland. Homemade Pierogi form an important part of Christmas
celebrations in many homes in Poland. But pierogi are not limited to celebrations. Polish enjoy pierogi all through the year.
Ingredients
⅓ cup brown rice flour

⅓ cup white rice flour

⅙ cup tapioca flour

⅙ cup + 1 tbsp potato starch

1 tbsp psyllium husk powder

1 tbsp almond flour

½ tsp salt

½ cup almond milk

(you can use normal dairy milk)

½ cup water

(approximately)

For the filling

1 cup boiled, peeled and mashed potatoes

½ cup finely chopped onion

2 to 3 tbsp thick non dairy yoghurt

⅓ cup shredded cheese

(I used dairy free Ricotta cheese)

salt and pepper powder to taste

1 tbsp oil

(optional. I didnt use)
Instructions
In a large bowl, mix all ingredients for the dough and combine well to form a soft dough. The dough will not be completely smooth (as roti dough) as this is non glutenous dough. Just make sure it holds together without being overly wet and sticky.

Cover the dough loosely and set it aside to rest while you prepare the filling.

Heat oil (butter) in a pan and sauté the onions till they become translucent.

Mash the potatoes with sautéed onions, cheese, curd, oil, salt and pepper.

The filling mixture should be smooth. If it is too loose, keep in the refrigerator for some time.

Take small portion of the dough, roll between 2 parchment sheets, oiled or floured.

Roll gently to make it ⅛ inch thickness.

Cut out rounds 4 inches in diameter. If you find them thick, roll them further to make thinner.

Place about 1 tblsp of filling in the centre of each roll.

Fold over and pinch the edges together to form a tight seal, as you would for modaks.

Boil water in a large pot and add salt.

Gently drop the pierogis, in batches. Do not over fill the pot.

Boil till they float to the surface of the water (about 3 minutes).

Remove and keep on a clean towel to drain. (At this stage, if you want, you can freeze them in ziplock bags for future use).

Sauté the towel-dried pierogis in a thick bottomed / cast iron skillet until browned on both sides.  

Serve immediately topped with more browned onions.

You can eat with cream / white butter.
Notes
Make sure the edges are sealed tightly so that the filling does not come out while boiling. You can use some water to seal the edges, if your dough does not stick properly.
If you do not have brown rice flour, either you can grind 1/3 cup raw brown rice in your mixer OR you can use equal quantity of white rice flour (that will make total 2/3 cup of rice flour).
If you wish, you can eat the cooked pierogi as such without sauteing in oil / butter.