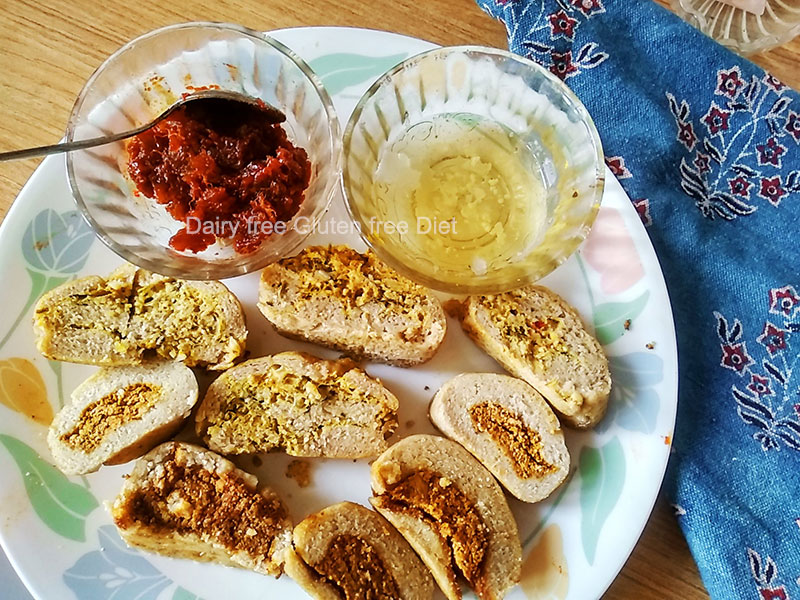 13 Jun

Siddu Himachali | Gluten-free steamed buns

If you have travelled in Kullu, Manali and Shimla regions, you would have never missed this dish. Siddu Himachali as the name suggests is the favourite and popular breakfast of Pahadi (Hilly) region locals of Himachal Pradesh. They generally prepare this in winter when there is snow and the weather is very cold. Desi ghee accompanies siddus to keep you warm. Being hilly region, walnuts and poppy seeds are the popular stuffing for the Siddu in Himachal. However, you are free to use your own stuffing. Here I have made Siddu with two varieties of filling–one with walnuts & khus khus and one with urad dal. 

It is amazing to know how each region in Indian cuisine has its own steamed dishes with its own distinct quality. Be it Kozhukkattai in Tamil Nadu, Puttu in Kerala, Momos in North East and Modak in other parts of India, the food is different in terms of taste, variety and style of cooking yet woven together with the common thread of spices and mouth-watering flavors. Siddu of Himachal is no exception. It is a steamed and stuffed bun as it uses yeast.
Can Siddu Himachali be Gluten free?
Coming back to Siddu, it happens to be a bread traditionally made from wheat flour and yeast. As one with gluten intolerance, I didn't want to be left out of tasting this delicious piece. Hence I tried it with a combination of Jowar (Sorghum) flour and Rice flour. The mixture needs to rise before you can make Siddu. In Himachal Pradesh where it is cold, they normally leave the dough to rise for about 4 to 5 hours. However, this being non glutenous flours, they do not rise as much as wheat flour. But, rest assured that it is as tasty.
The cuisine of Himachal Pradesh uses curds and ghee or clarified butter lavishly. I have already posted a brown chana preparation Chana Madra from this region that uses curd as the base. Since fresh vegetables are not easily available they use a lot of lentils and seeds to make their food.
Traditionally, Siddus are either half moon shape (like Karanjis), or round shaped balls. As for making Gluten free Siddu, we should keep in mind that it does not stretch like wheat flour and tends to break. Hence I found it difficult to make the half moon shaped Siddu with fluted edge. The edges do tend to break. However, you can try your luck. ? But it does not matter. They taste the same whatever be the shape. So, I'm happy as long as I'm able to eat Gluten free Siddu.
The fun part is, you can try any filling of your choice for this dish. People make it with peanut filling, paneer filling as well. And you can make a sweet filling or a spicy filling as I have done. Let your creativity loose and enjoy Siddu Himachali with hot Desi ghee ? (if you are a non- vegan). I had it with hot Chutney.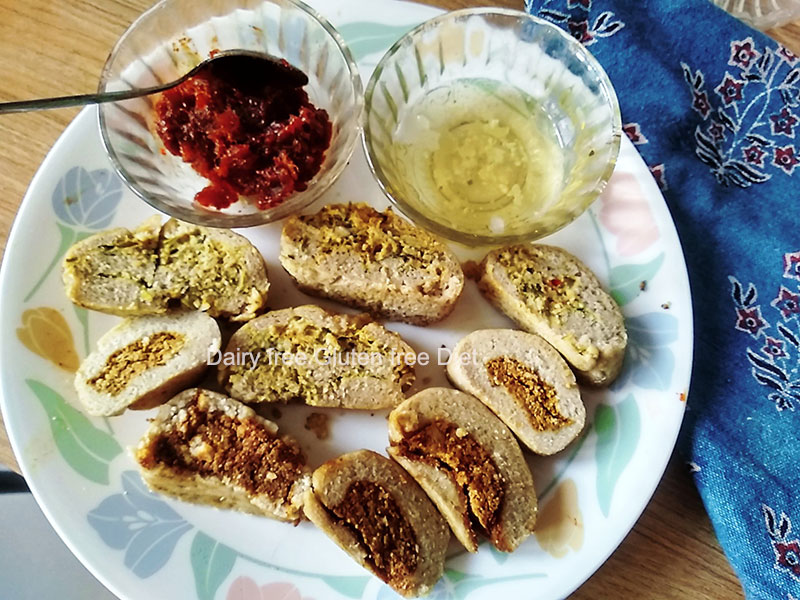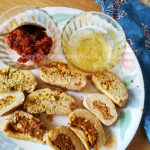 Print Recipe
Siddu Himachali | Gluten free version of stuffed and steamed buns
Traditionally Siddu is made with wheat flour in Himachal region. As one with gluten intolerance, I didn't want to be left out of tasting this delicious piece. Hence I tried it with a combination of Jowar (Sorghum) flour and Rice flour




Ingredients
For the dough:

1 cup Jowar Flour

(Sorghum flour)

¼ cup Rice flour

(you can use brown rice flour too)

½ tsp active dry yeast / instant yeast

salt to taste

½ cup luke warm water

(approximately)

***********

For Urad filling:

¼ cup Urad dal

(split white dal)

2 tbsp finely chopped onions

2 green chillies chopped finely

1" piece ginger chopped finely

½ tsp chilli powder

½ tsp turmeric powder

asafoetida

salt to taste

Fresh coriander leaves chopped fine

*******************

For the Nut filling:

¼ cup walnuts

3 tbsp Khu Khus

(poppy seeds)

1 tsp chilli powder

½ tsp turmeric powder

2 tsp coriander powder

½ tsp roasted cumin powder

½ tsp garam masala powder

1 tsp amchur powder

(dry mango powder)

salt to taste
Instructions
To make the dough:

In a big bowl mix the flours, yeast and salt.

Add enough lukewarm water to make a soft but stiff dough.

Knead well for few minutes.

Leave the dough covered in a well-oiled vessel to rise for 4-5 hours.

For Urad dal filling:

Wash and soak the urad dal for 30 minutes.

Drain well and coarsely grind in a mixer jar without adding water. If at all needed, just add few tablespoons of water. The batter should be thick.

Remove in a bowl and add rest of all other ingredients and mix well.

For Nut filling:

Soak walnuts and khus khus (poppy seeds) separately for 30 minutes and grind together to a coarse paste as for urad dal.

Add all other spices and mix well.

To make the Siddu:

Make big lemon sized balls of the dough.

Place on a slightly oiled baking sheet / parchment paper

Roll out to a small disc with hand or keep the ball between 2 sheets and roll with the roller. Traditionally this is done by hand.

Spread about 2 tablespoons of the stuffing in disc leaving about 1/2 cm at the edge.

Gently gather all the edges and bring together to make a ball (as in a kachori).

Make all balls similarly and steam the Siddu in a lightly greased steamer for 15 to 20 minutes.

Insert a knife to check if the siddus are cooked.

Remove, cool and cut into slices.

Enjoy hot with Chutney or Desi Ghee!! 🙂
Notes
Quantity of water for the dough depends on the flours used. 
You can make any filling of your choice. It can be sweet filling too.
Since this is gluten free flour, making a ball with the filling inside has to be done carefully. Do not bother if you find cracks on the surface. Try to close the cracks with slightly wet hands.