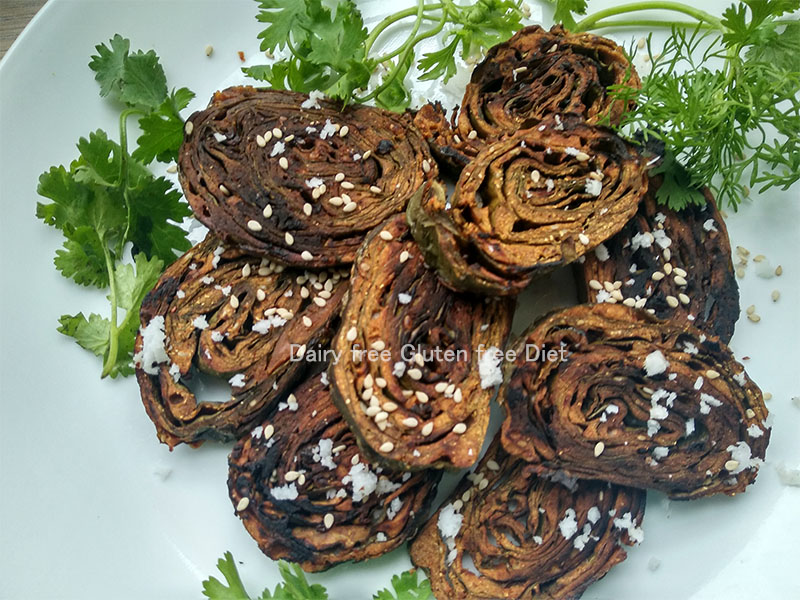 17 Jul

Alu Vadi / Arbi Leaves Patra

To begin with let me tell you that Alu Vadi has no connection with potato. ? It is a popular Maharashtrian snack using Colacasia (Arbi / Chembu) leaves. In Marathi Colacasia leaves are called Alu (अळू),  'La'  pronounced as in 'play'.

In Gujarat it is known as pathrode / patra. Alu Vadi is a staple snack in most Maharashtrian homes.

Incidentally, these leaves are available in plenty during monsoon. Basically this preparation includes smearing the leaves with sweet and spicy gram flour paste, rolling and steaming and cut into slices. These are then deep or shallow fried. You can store the steamed vadis in the refrigerator. They stay good for week too. They come in handy when you feel like having a healthy snack. You can just take them out, sauté and consume whenever you feel like.

These Taro leaves (Colacasia leaves) have immense health benefits too. From Omega- 3 fatty acids to dietery fibres these leaves are dense with nutrients. However some leaves are itchy. If not prepared properly, these leaves can be toxic. So when we use these leaves, we need to make sure that they are fresh and not the itchy ones. The itchy leaves cause heavy allergic reactions. So before making these vadis, make sure to buy the non itchy leaves.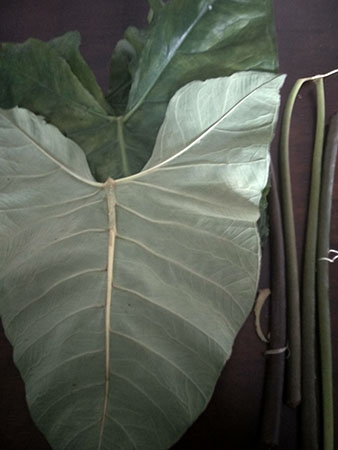 Traditional recipe demands deep frying the vadis. However, if you are health conscious you can enjoy the steamed Alu wadi as it is. The steamed rolls are very tasty as such and do not need frying. On festive occasions, you may deep fry / shallow fry the Alu Vadis in oil till they turn crisp golden brown on both sides. But I have roasted them in cast iron pan, without oil.
Finally, one more important tip. You need to stack minimum 4 leaves on top of each other to get a thick role. I had 5 big leaves and used all of them for one roll. Also i used the already prepared and stored Sweet and Sour Chatni instead of using the tamarind and jaggery pulp. However if you do not have it ready, you can soak both and squeeze the pulp as directed in this Alu Vadi  recipe.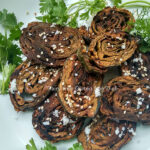 Print Recipe
Alu Vadi / Arbi leaves Patra
To begin with let me tell you that Alu Wadi has no potato in it. It is a
popular Maharashtrian snack using Colacasia (Arbi) leaves. In Marathi Colacasia
leaves are called Alu (अळू ), 'La'  pronounced as in 'play' .
Ingredients
4 to 5 Colacasia (Arbi) leaves

1 cup gram flour / besan

2 tsp coriander seeds powder

2 tsp red chilli powder

1 lemon sized tamarind

½ cup jaggery grated

1 tsp sesame seeds

1 tsp garam masala (optional)

salt to taste
Instructions
Mix jaggery and tamarind in ½ cup water and leave it for 15-20 minutes. Squeeze the juice to get a sweet and sour pulp.

Wash the leaves, cut the stalk as close to the leaves as possible and wipe the leaves with a clean and dry cloth.

In a bowl take gram flour, add all dry masalas, salt and the tamarind- jaggery mixture.

Keep adding little water from time to time to form a thick batter. The batter should neither be very thick nor thin. It should be a spreadable consistency.

Check for the spice level at this stage. Once it is cooked, it cannot be altered.

Take the biggest leaf first.

Keep the leaf pointed side up and apply a layer of the besan mix to cover the entire leaf.  

Place the next leaf on top of it with pointed side down and apply another layer of gram flour on the entire leaf.

Alternating this way make rolling easier.

Continue this with all leaves.

Fold both sides 1'' towards inside and apply the paste.

Start rolling from down till you get a fairly tight roll. Apply more paste as you roll and also where the ends meet so that they hold together.

Place the roll on a steamer. You may cut the roll into 2 as I did, if it does not fit into the steamer.

Cover and steam cook for 20 to 25 minutes.

Remove from steamer and allow it to cool.

Once the roll cools cut it into thin slices.

Roast them on a tawa / heavy bottomed skillet till both sides turn crisp.

Garnish with roasted sesame seeds and freshly grated coconut.
Notes
Spreading the paste with hands is better to hold the leaves in place. However, if you do not like to do so, you can use a spatula for spreading. 
If the leaves are very curved, you can gently roll with a rolling pin to make them flat. 
You may deep fry / shallow fry as you wish. 
Some add little rice flour with gram flour. I prefer to use only the gram flour. 
Start with the biggest leaf if all leaves are not same size.
Make sure that the leaves are not the itchy variety.