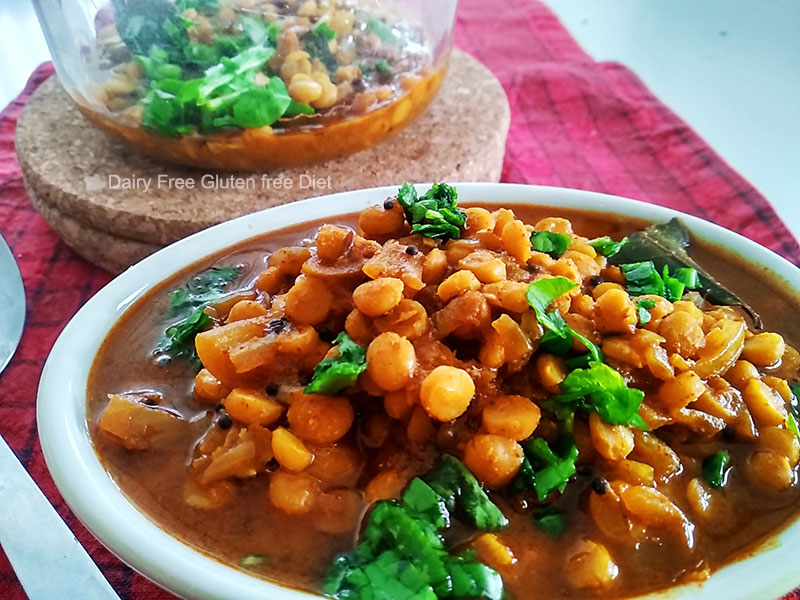 25 Nov

Dal Kanda | Saoji special

Dal Kanda (kaanda / कांदा ) is a speciality from Maharashtra. This is the traditional dish of Saoji community (also spelt as Souji, Sauji), having their origins in Malwa region. Kanda in Marathi means Onion and not surprisingly this dish has onions in abundance. Dal Kanda is a simple and authentic Maharashtrian dish using Chana dal and onions. Chana dal, infused with cumin, ginger and garlic and a generous amount of red chilli & coriander powder & spicy masala, extend an authentic flavour to this dish.

Saoji cuisine is noted for its spicy non vegetarian dishes. It is traditionally so spicy that it makes your eyes and nose watery. But the spice levels have been tempered down lately. The story goes that traditionally, this community were handloom weavers. Since the Industry was doomed, they turned to their second best option—that of making spicy non-veg dishes using their own unique masala which was their speciality. Thus evolved the Saoji cuisine. A specialty cuisine from the Vidarbha region which is gaining popularity in other parts of India is the Saoji food. In and around Pune and Vidarbha region, you can come across many restaurants that serve authentic Saoji food. Interestingly, each eatery has its own twist to the recipe, and they are fairly secretive about it.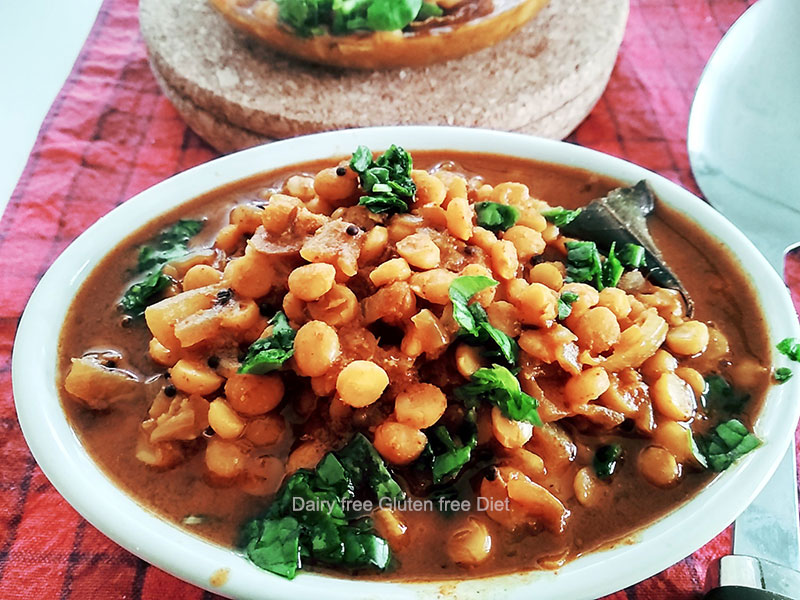 What are the tweaks I had to make in this Dal Kanda? 
Since Kanda (onion) is the main ingredient in this recipe, obviously generous amount of oil is necessary to roast the onions till they turn pink and reduce in size. Else, you might lose out on the taste. But I was not prepared to use that much oil. As a consequence, I dry roasted the chopped onions in my cast iron pan initially. So that the onions became pink and reduced considerably in size. This way, I could reduce the oil for the recipe to just 2 teaspoons.
Secondly, since I used less oil, there was a possibility of the chilli and coriander powders getting burnt. To avoid that, I made a paste of these powders and added to the tempering. Kanda masala is available in the market and I had a packet of that. Hence I used it. However, you can always use any masala of your preference.
Lentils / dals are the staples in all Indian homes. They come in handy in many ways—snacks, main course and even desserts at times. Chana dal in addition to protein provides a good source of iron and fibre. Some may find it heavy on the stomach. That's why our elders have always used Asafoetida (hing) in all dishes that use large amount of chana dal / besan to counteract the heaviness.
You may also check my other Dal recipes here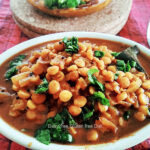 Print Recipe
Dal Kanda | Saoji special
Dal Kanda (kaanda / कांदा ) is a speciality from Maharashtra. This is the traditional dish of Saoji community (also spelt as Saoji, Souji, Sauji), having their origins in Malwa region.
Ingredients
1 cup soaked Chana dal

(1/2 cup chana dal soaked for minimum 2 hours)

3 big onions chopped finely

2 tsp oil

4 -5 cloves

2 bay leaves

1 tsp mustard seeds

1 tsp cumin seeds

asafoetida

(Hing / perungayam / kayam)

5 cloves garlic and 1" piece ginger finely chopped

(Or 2 tsp ginger garlic paste)

½ tsp turmeric powder

1 tsp chilli powder

2 tsp coriander seeds powder

1 tsp Kanda masala

(Or kala msala / garam masala / any masala of your choice)

salt to taste

finely chopped coriander leaves for garnish

approximately 2 cups water
Instructions
Dry roast the onions till they become pink and reduce in size (See the write up for this step).

In a pan heat 2 tsp oil and add mustard seeds, cumin seeds, cloves, bay leaves and asafoetida.

Once done add garlic and ginger and sauté.

In the meantime mix chilli powder, turmeric powder and coriander powder in ¼ cup water and add to the pan and sauté further for few more minutes.

After few minutes add the pre-roasted onions and sauté further.

Now drain the chana dal and add to the pan. (reserve the water)

Add salt and sauté well till the dal absorbs all flavours of the spices. 

Add reserved water plus some extra water as per your desired consistency.

Cover & cook on low flame till the dal gets cooked well (test by mashing few dals between your fingers).

Garnish with coriander leaves and serve with roti, rice or bhakri.
Notes
This Dal is traditionally spicy. You can adjust the spice to your desired levels. 
It is not required to pre cook the dal. The dal has to get cooked along with the spices. 
To avoid excess oil, I have pre roasted the onions in my cast iron skillet. However this is my personal choice. You can use extra oil and roast the onions directly after the tempering is done.